Gold little changed ahead of U.S. inflation data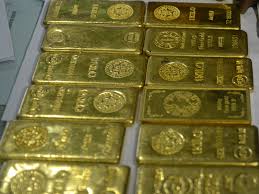 Gold prices were little changed on Friday as traders awaited U.S. inflation data, due later in the day, to gauge the Federal Reserve's stance on further interest rate hikes.
Spot gold was flat at $1,927.99 per ounce as of 0234 GMT, while U.S. gold futures were off 0.1% at $1,928.30.
Investors are now awaiting U.S. personal consumption expenditures (PCE) data, the Fed's preferred inflation measure, at 1330 GMT for cues on the central bank's path forward.
Traders are in wait-and-see mode, said IG Market strategist Yeap Jun Rong, adding that a downside surprise in inflation may point towards a less-hawkish Fed, which could drive longer-term upward moves in gold prices.
On Thursday, bullion prices fell 1% after data showed the U.S. economy grew at a faster pace in the December quarter than economists had expected, prompting bets that the Fed to keep interest rates higher for longer.
However, this could have been the last quarter of solid growth before the impact of the Fed's aggressive tightening spree starts reflecting, with most economists expecting a mild recession by the second half of 2023.
The GDP data points to a resilient U.S. economy but there were some signs of challenges to the economy, which kindled some hopes of a less aggressive Fed, Yeap said.
Investors broadly expect the Fed to scale back rate hikes to 25 basis points (bps) at its Jan. 31-Feb. 1 meeting, from 50 bps in December.
Lower interest rates tend to be beneficial for bullion as it lowers the opportunity cost of holding the non-yielding asset.
Spot silver fell 0.2% to $23.86 per ounce.
Platinum lost 0.4% to $1,013.88, and palladium also slipped 0.4% to $1,670.87. Both the metals were headed for a third straight week of declines.