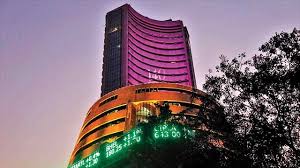 Market Live: Sensex holds 300 pts gains, Midcap index turns flat; PSU Bank dips 2%
12:35 pm Asia Update: Asian stocks got off to a strong start to the week, tracking stateside gains in the last session on expectation-topping jobs data.
In Tokyo, the Nikkei 225 was up 1.65 percent and in Seoul, the benchmark Kospi index advanced 1 percent.
Hong Kong's Hang Seng Index advanced 1.63 percent while China's Shanghai Composite gained 0.55 percent.
12:25 pm Buzzing: ITC shares gained more than 3 percent after the GST Council kept tax rates on cigarettes unchanged in its meeting on Saturday.
"No mention of cigarette taxation in GST meet provides upside trigger for the stock," Deutsche Bank said while maintaining Buy call on the stock.
ITC remains top pick in staples alongside HUL, Dabur, Nestle, GSK Consumer, it added.
The research house said the reprieve for cigarette industry can trigger ITC stock's P/E rerating in the interim.
Cigarette business contributed around 40-45 percent to total revenue of the ITC.
12:15 pm VoLTE services launch: Telecom major Bharti Airtel announced the launch of its VoLTE services in Kolkata.
Airtel VoLTE, which works over 4G, will enable customers across the city to enjoy HD quality voice calls with faster call set up time, the company said in a statement.
Airtel had been launching VoLTE based services in parts of the country in the recent months.
Customers can make calls to any mobile or landline network using Airtel VoLTE. Presently, most of the new 4G handsets are VoLTE compatible.
12:05 pm Sugar Stocks turn Bitter:
Here are the top headlines at 12 pm from Moneycontrol News' Anchal Pathak
11:55 am Rajya Sabha Disruption: The Rajya Sabha proceedings were adjourned today till 2 pm due to unrelenting protests by the TDP, the AIADMK and some opposition parties on various issues including special status to Andhra Pradesh and the Cauvery row.
The Upper House did not function the entire last week due to uproar by the opposition as well as NDA ally TDP, barring one hour on March 8 when members participated in a discussion to mark the International Women's Day.
For the sixth day in a row, members continued to protest on issues such as bank fraud, special status to Andhra Pradesh and setting up of Cauvery water management board.
11:40 am Order Win: L&T Special Steels and Heavy Forgings Private Limited, a joint venture of Larsen & Toubro Limited (L&T) and Nuclear Power Corporation of India Limited (NPCIL), has received an order worth Rs 442 crore from NPCIL to supply forgings for steam generators.
These forgings will be used in the manufacture of the critical equipment for six new indigenous 700 MWe Pressurised Heavy Water Reactors (PHWRs).
11:25 am Market Check: Benchmark indices continue to trade strong in late morning deals but the broader markets underperformed, with the Nifty Midcap index turning flat.
The 30-share BSE Sensex was up 307.64 points or 0.92 percent at 33,614.78 and the 50-share NSE Nifty gained 97.60 points or 0.95 percent at 10,324.50.
PSU banks extended losses as the Nifty PSU Bank index was down more than 2 percent.
11:15 am Auto Sales: Domestic passenger vehicle sales rose 7.77 percent to 2,75,329 units in February from 2,55,470 units in February 2017.
Domestic car sales were up 3.7 percent to 1,79,122 units as against 1,72,737 units in February 2017, according to data released by the Society of Indian Automobile Manufacturers (SIAM).
Motorcycle sales last month rose 26.48 percent to 10,53,230 units as against 8,32,695 units a year earlier.
Total two-wheeler sales in February rose 23.77 percent to 16,85,814 units compared with 13,62,043 units in the year-ago month.
Sales of commercial vehicles were up 31.13 percent to 87,777 units in February, SIAM said.
Vehicle sales across categories registered a rise of 22.77 percent to 21,11,383 units from 17,19,806 units in February 2017, it added.
11:05 am Fundraising: JSW Steel said it is contemplating raising funds through issue of dollar-denominated senior notes.
"The company is contemplating issuing of debt instruments in the form of US dollar denominated senior notes, subject to market conditions," JSW Steel said in a BSE filing.
The company said a preliminary offering circular has been prepared and shall be made available to the prospective investors in relation to the contemplated issue of notes.
"The notes will not be offered or sold in India," it added.
In May last year, the board of directors of JSW Steel had approved to raise long-term funds through the issuance of non-convertible foreign currency/rupee-denominated senior unsecured fixed rate bonds up to USD 1 billion in one or more tranches, in the international market.
Here are the top headlines at 11 am from Moneycontrol News' Sakshi Batra
10:55 am Intraday Calls: Chandan Taparia, AVP- Equity Derivatives & Technical advised buying Jubilant Foodworks with a stoploss of Rs 2,025 and target price at Rs 2,150 per share.
He also suggested buying Tech Mahindra with a stoploss at Rs 620 and target price at Rs 648 per share.
10:45 am Market Outlook: Gautam Chhaochharia, Head of India Research of UBS Securities said the rising rates, inflation, the PNB scam, all these issues are adding up and hurting India's narrative and therefore, India's underperformance is not necessarily a surprise.
He further said, "Let's also look at the perspective that India is already an overweight market for many investors, they have trimmed their overweight on India but it still remains an overweight market. So the incremental flows which emerging markets are getting globally, India is not getting the similar level of flows in proportion that it used to earlier because investors are also getting opportunities in other markets because of the recovery they have seen over the last year, year and a half."
On the banking fraud front, he said there is nervousness building up post the PNB Scam, whether this could lead to further NPL's in these banks linked to that scam per se and also in general, there are more negative surprises ahead. Bank stocks and investing is also about confidence and how they deliver and that confidence has obviously taken a hit and secondly, the RBI's measure in terms of acknowledging all NPLs faster than usual is also at the margin worrying for many investors.
UBS Securities retained positive view for corporate lenders and among them, it remains positive on corporate private banks.
The research house remains neutral on state-owned banks from a portfolio positioning perspective. "We have only one individual state-owned bank on a buy rating, the rest of them are neutral or sell. So, for SOE banks, these are still early days to get in. We need much more clarity on the banks governance and reforms, specifically after the PNB Scam. So, the recap trade was promising earlier but now post PNB, the investor would look for further clarity on reforms and governance going ahead than just recapitalisation of balance sheets," he said.
10:35 am Closing of Operations: Eicher Motors informed exchanges that the board of directors of Eicher Polaris Private Limited (EPPL), EML's equal joint venture with US-based Polaris Industries Inc., on March 9, 2018, passed a resolution to close the operations of EPPL with immediate effect. T
10:32 am Rupee Update: The rupee strengthened by 17 paise to 64.99 against the US dollar at the interbank forex market on fresh selling of the greenback by exporters and banks amid foreign capital inflows.
Dealers said dollar's weakness against a basket of currencies despite strong US jobs report data and early gains in domestic equity markets supported the rupee.
On Friday, the rupee had lost 3 paise to end at 65.17 against the US dollar.
10:24 am Trader War Impact: US President Donald Trump's decision to hike duties on steel and aluminium could result in retaliatory action from EU and China, triggering a trade war and hurting global economic growth, S&P Global Ratings said.
It said the overall economic impact of the tariffs on the United States in the near term is likely to be minimal, with a mixed impact on corporate sectors.
"Posing a greater threat is the risk of retaliatory action by major US trade partners such as the European Union (EU) and China triggering a trade war, hurting American exporters, global trade, and global economic growth," S&P said.
The US had last week raised import duties on steel and aluminium products to 25 percent and 10 percent, respectively.
According to trade experts, the decision is unlikely to impact exports of these items to America. However, they have expressed fear that such protectionist measures would impact global trade.
10:14 am Market Update: Benchmark indices extended rally, with the Sensex rising 352.01 points to 33,659.15, driven by private banks, FMCG and technology stocks.
The Nifty rallied 111.30 points or 1.09 percent to 10,338.20.
The Nifty Midcap index also gained further, rising 0.8 percent on positive breadth. About two shares advanced for every share falling on the BSE.
ITC, HDFC, Infosys, IOC, HDFC Bank, Reliance Industries, TCS, ICICI Bank and HCL Technologies gained up to 3 percent.
Here are the top headlines at 10 am from Moneycontrol News' Anchal Pathak
10:00 am ARSS rallies: Shares of ARSS Infrastructure Projects rose 5 percent as company received work order worth Rs 15.44 crore.
The company's JV ARSS-KIPPL has received work order worth Rs 15.44 crore for supply of ballast in connection with third and fourth line work between Dhenkanal to Hindol road in KUR-division by East Coast railway.
9:50 am DB on Maruti: Deutsche Bank has maintained its Buy call on Maruti Suzuki with a target price of Rs 10,000 per share.
The research house observed that the stock has declined 10 percent YTD due to the overhang of potential negative surprises. Forex and raw materials pose a risk to margins, but the impact should be low, it feels.
The company continues to be in a sweet spot in its model cycle, it said, adding that it has cut its EPS forecasts by 6-8 percent due to a reset in forex assumptions.
9:40 am PSU banks underperform: PSU banks caught in bear trap as the Nifty PSU Bank index was the only loser among sectoral indices, falling over a percent after Andhra Bank case.
Andhra Bank itself lost nearly 12 percent, followed by OBC, Canara Bank, IDBI Bank, Union Bank, Allahabad Bank, Indian Bank, Syndicate Bank and SBI which were down 1-4 percent.
9:30 am Andhra Bank in focus: Andhra Bank shares tanked 11 percent after the Enforcement Directorate has filed prosecution complaint against Anup Prakash Garg, ex- director of the bank under PMLA in Rs 5,000 crore bank fraud case involving Sterling Biotech, its directors & others.
9:22 am Buzzing: L&T shares gained nearly a percent after its construction arm has bagged orders worth Rs 2,597 crore.
Transportation infrastructure business has received an order worth Rs 1,047 crore and water & effluent treatment segment has won an order worth Rs 949 crore.
Buildings & factories division has secured an order worth Rs 601 crore.
9:19 am Order Win: Suzlon Group, India's largest renewable energy solutions provider, announced its order win for development of 75 MW wind power project from a leading Independent Power Producer
(IPP) through Maharashtra State Electricity Distribution Company Limited (MSEDCL) bid.
Suzlon will install around 36 units of S111-140m wind turbine generators (WTGs) with rated capacity of 2.1 MW each.
Suzlon will execute the entire project on a turnkey basis and will also provide comprehensive operation and maintenance services for the complete project lifecycle.
9:15 am Market Check: Benchmark indices opened the first day of the week on a strong note, following positive lead from Asian peers and Wall Street after better-than-expected US jobs data.
The 30-share BSE Sensex was up 279.23 points at 33,586.37 and the 50-share NSE Nifty gained 88.10 points at 10,315.
Nifty Micdap index was up 160 points and Nifty Bank gained 121 points.
United Spirits, MOIL, SpiceJet, Ashok Leyland, Castex Technologies, Reliance Communications, Adani Power, Gammon Infra, HDIL, Shree Renuka and Suzlon Energy gained up to 4 percent.
Asian stocks started off on a strong note, tracking stateside gains in the last session on expectation-topping jobs data. The Nikkei 225 was up 1.3 percent while the Kospi index gained 1.2 percent.
Wall Street's main stock indexes climbed more than 1 percent on Friday, giving investors some solace after a week of huge swings that shook the market out of months of calm.
The Dow Jones Industrial Average rose 330.44 points, or 1.38 percent, to 24,190.9, the S&P 500 gained 38.55 points, or 1.49 percent, to 2,619.55 and the Nasdaq Composite added 97.33 points, or 1.44 percent, to 6,874.49.
Discussion
Rules of Discussion on Live Index
1. This forum is for discussion of financial markets. Please respect others view even if they are contrary to you.
2. Member's comments should lead to value addition in forum discussion.
3. If anyone is found making repetitive Explicit/Abusive/Racial comments, his account shall be banned and old posts will be deleted.