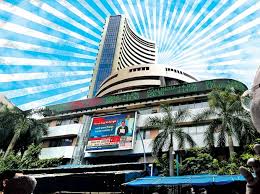 Market Live: Nifty nears record high, Bank index holds 25,000; pharma stocks slip
1:22 pm Market Check: Equity benchmarks maintained morning uptrend, following rally in global peers on easing on North Korea tensions. Investors looked for cues from two-day Federal Reserve meeting that will begin on Tuesday.
The 30-share BSE Sensex was up 199.05 points at 32471.66 and the 50-share NSE Nifty gained 76.25 points at 10,161.65. About two shares advanced for every share falling on the BSE.
Dixon Technologies hit an intraday high of Rs 2,999, showing a 70 percent rally over its issue price of Rs 1,766.
1:10 pm Buzzing: Crompton Greaves Consumer Electrical shares rallied more than 5 percent intraday as the stock could be rerated on management's growth strategy.
While maintaining its buy call with a target price of Rs 270, CLSA feels the stock could rerate as investor confidence increases towards management's growth strategy.
It expects pumps business to post 16 percent revenue CAGR over FY17-19 as agricultural pumps is a large opportunity.
The company has been increasing focus on agricultural pumps as a growth area, it said.
Focus on go-to-market capability & orders from Energy Efficiency Services will support growth, it added.
12:55 pm ICICI Pru in focus: ICICI Prudential Life Insurance Company is among top picks in the sector, CLSA said while maintaining its buy call with a target price of Rs 560 per share.
The research house sees a RoEV (return on embedded value) of 17-19 percent in FY18-20.
The life insurance company has return on embedded value at 16.5 percent for the year ended March 2017, increased from 15.5 percent in FY16 and 15.4 percent in FY15.
It has maintained its second position in terms of market share (9.2 percent) in FY17.
ICICI Prudential is well capitalised with a solvency ratio of 290 percent, it said, adding cut in dividend payout would improve embedded value growth.
12:42 pm Europe trade: European markets opened higher, as global investors returned to perceived riskier assets amid cooling geopolitical tensions.
The pan-European Stoxx 600 was up by around 0.41 percent shortly after the opening bell, with almost all sectors and major bourses in positive territory.
After a dip in risk appetite towards the end of last week, Asian shares bounced back to hit decade highs on Monday, with South Korea's benchmark leading the gains, brushing aside concerns of escalating tensions in the Korean Peninsula.
12:35 pm Management interview: Dixon Technologies manufactures products in consumer durables, lighting and mobile phone market.
"The company is present across different verticals and we provide complete solutions, we are in consumer electronics, in home appliances, in the segment of mobile phone manufacturing and lighting," Sunil Vachani, Promoter & Chairman said in an interview to CNBC-TV18.
Across these verticals, the company does have anchor customers with whom it has deep relationships. It values relationships with anchor customers, he added.
Penetration level in India in washing machine segment is as low as 6 percent level, LED televisions penetration level is as low as 11-12 percent, said Vachani.
India is going to be the largest market for smartphones in the next three years, he further mentioned.
12:25 pm Tax uniformity on petroleum products: Oil Minister Dharmendra Pradhan said he has requested the Ministry of Finance to bring petroleum products under the ambit of Goods and Services Tax (GST) in the interest of consumers.
Justifying the move, he said there has to be a "uniform tax mechanism" all over the country.
"This is the proposal of the Ministry of Petroleum. We have appealed to all the states and finance ministry (to bring petroleum items under GST). Looking into the consumer interest, there must be tax rationalisation. GST is a well thought mechanism by the Government of India and the states, they developed the GST Council…
"There are two kinds of taxes (on petroleum products). One is the central excise and the other one is state VAT. That is the reason we are expecting uniform tax mechanism from the industry point of view," Pradhan told PTI.
12:20 pm Tower deal: Negotiations are now in the final stages for the sale of a controlling stake in telecom tower giant which will be created by merging Bharti Infratel and Indus Towers, according to a report by CNBC-TV18.
Bharti Infratel is promoted by Bharti Airtel, while Indus Towers is a joint-venture between Vodafone, Bharti Airtel and Idea.
Private equity firm KKR, CPP Investment Board (CPPIB), Bharti Airtel, Bharti Infratel, Vodafone and Idea, among others are locked in negotiations which are now in the advance stages.
Bharti Infratel and Indus Tower combined will likely be bought by KKR and CPPIB. However, Idea and Vodafone do not want to cede their stake in the venture.
Bharti Airtel, Vodafone and Idea are likely to hold onto a minority stake, while KKR-CPPIB could be the majority controlling stakeholders of this venture.
12:09 pm Market Check: The Nifty50 as well as Midcap index continued to trade near record highs in noon, following upside in Asian peers ahead of monetary policy cues from Federal Reserve meeting that will begin on Tuesday.
The 30-share BSE Sensex was up 203.86 points at 32,476.47 and the 50-share NSE Nifty rose 79.30 points to 10,164.70.
About two shares advanced for every share falling on the BSE.
L&T, Bharti Infratel, IndusInd Bank and Bajaj Auto were top gainers with 2-3 percent rally while Sun Pharma, Dr Reddy's Labs and Aurobindo Pharma fell 0.5-1.5 percent.
11:55 am Buzzing: Shares of Punj Lloyd gained nearly 9 percent intraday as it has won order worth Rs 120 crore.
The company has won a prestigious order worth Rs 120 crore for the supply and commission of five full body truck scanners (FBTS) from the Ministry of Home Affairs.
The company will become first private sector company in India to install these X-ray based FBTS at the country's borders, which can detect concealed arms, ammunition, explosives, detonators, IEDs, narcotics, and fake currency.
11:40 am Current account deficit: India's current account deficit is expected to widen to 1.5 percent of GDP in 2017, from 0.6 percent in 2016, but net capital flows are expected to more than fund this deficit, says a Nomura report.
The Japanese financial services major said that the wider current account deficit in the second quarter and still- elevated trade deficit so far in July-August suggest that the current account deficit is set to widen sharply this year. Nomura expects current account deficit likely at 1.5 percent of GDP in 2017 but noted that funding will not be a constraint.
The current account deficit increased to USD 14.3 billion, or 2.4 percent of gross domestic product (GDP) in the April-June quarter of this year. On a sequential basis, the CAD widened from USD 3.4 billion or 0.6 percent of GDP in the January-March quarter.
11:25 am Buzzing: Shares of Nucleus Software Exports advanced 7.7 percent intraday as it has bagged order from South African company.
Atlas Finance, a micro-finance company in South Africa, has chosen Nucleus lending analytics to help them leverage the insights provided by their data to make faster, more informed lending decisions.
Nucleus lending analytics is a powerful and user-friendly solution enabling informed decision making through data visualization and business insight generation.
11:15 am 52-week highs: Tracking the momentum, over 90 stocks on the NSE hit fresh 52-week highs.
As much as 93 stocks on the NSE hit fresh 52-week highs which include names like Page Industries, Honeywell Auto, Britannia Industries, Bajaj Auto, Dixon Technologies, HDFC Bank, L&T, Bata India, TVS Motors, JBM Auto, HEG, and Gillette India among others.
11:00 am Tata Motors above Rs 400: Bank of America Merrill Lynch has maintained its buy rating on the stock, with a target price of Rs 515 as it believes new launches and change in hedging policy will aid second half of FY18.
It expects Chinese imports to improve which should aid pricing and profits.
FY18 isn't a true measure of earnings capability, it said, adding production ramp-up would be quicker in the coming months.
10:57 am Management Interview: Carbon and graphite product manufacturing company, HEG has had a dream run with the stock up nearly 350 percent in the last one year.
The price increase has been there since January 2017. Some of the players were able to encash the price increase immediately but we generally book our orders at least a year in advance, Raju Rustogi, CFO said in an interview to CNBC-TV18.
He expects to see increase in volumes and prices this year by about 40 percent, in FY18, over last year.
EBITDA margins would be much healthier than what it has been in FY17, said Rustogi.
10:54 am Rupee higher: The rupee appreciated by 7 paise to 64.01 against the US dollar today on selling of the greenback by banks and exporters.
The dollar's slide against some currencies overseas ahead of the Fedral Reserve's meet beginning tomorrow and a stronger opening of domestic equities took the rupee high.
On Friday, the rupee had gained 4 paise to end at 64.08 against the US dollar.
10:50 am Bharti Airtel in focus: Proxy advisory firm Stakeholders Empowerment Services (SES) has advised Bharti Airtel's shareholders to reject the company's proposal to acquire Telenor India when it comes up for voting on Tuesday, according to a report from The Economic Times.
10:40 am Resignation: Infosys Senior Vice President Sanjay Rajagopalan has resigned from his post, a month after Vishal Sikka stepped down as the company's MD and CEO. In his Linked In profile, Rajagopalan described himself as a "free man."
He also mentioned that he was employed with Infosys from August 2014 to September 2017, a duration of three years and two months. It was widely anticipated that Rajagopalan would quit after Sikka put down his papers. Sikka had brought some of his former SAP colleagues to Infosys to help him implement his new initiatives. One among them was Rajagopalan, in October 2014.
10:35 am Buzzing: Petronet LNG gained around 2 percent as investors reacted to target price upgrade on the stock.
Jefferies placed its bet on the stock and maintained its buy call. It also raised its target price to Rs 280, implying 21 percent upside as of Friday's closing price.
The global research firm said that the EPS could grow at a CAGR of 13 percent over FY17-21, while the utilization from its Kochi unit may rise to 11/29/39 percent in FY19/20/21.
The stock was in the news recently after it announced that it will partner with Japan's Mitsubishi and Sojitz Corp to set up Sri Lanka's first liquefied natural gas (LNG) terminal near Colombo. "Petronet will be the leader of the joint venture with the largest shareholding," the management had told reporters after the company's annual general meeting.
10:27 am USFDA inspection: Shares of Alkem Laboratories tumbled 3.6 percent intraday as it has received inspection report from USFDA.
The company has received the inspection report from USFDA which contains two 483 observations.
USFDA had conducted an inspection at the company's manufacturing facility located at Baddi, India from September 11-15, 2017.
The company shall put together a detailed response with adequate corrective and preventive measures to address the USFDA observations and the same is proposed to be filed within the timeline stipulated by USFDA.
10:15 am Market Check: Equity benchmarks remained strong in morning, tracking positive global cues as investors anticipated clues on the direction of monetary policy from central banks later in the week.
The 30-share BSE Sensex was up 195.81 points at 32,468.42 and the 50-share NSE Nifty gained 73.80 points at 10,159.20.
About three shares advanced for every share falling on the BSE.
10:05 am Tepid debut: Shares of Bharat Road Network had a tepid listing as in the opening tick, the scrip traded flat against the higher end of the price band of Rs 205.
Soon, the stock saw sharp swings, as it fell over a percent in the first few minutes, but has now gained around 4 percent.
The Rs 600-crore IPO of Bharat Road Network, a SREI Infrastructure Finance company, was oversubscribed 1.81 times.
10:00 am Solid listing: Consumer electronics manufacturer Dixon Technologies made a strong debut on bourses Monday as the stock has opened at Rs 2,725, up 54 percent over its issue price of Rs 1,766.
The share price touched a high of Rs 2,899 in early trade, up as much as 64 percent over IPO price. It traded with volumes of 14 lakh shares at 10:05 hours IST.
It deserved such a stellar listing, especially after the solid oversubscription and hefty grey market premium.
9:50 am Pre-opening: Dixon Technologies settled at Rs 2,725 in pre-opening trade, up 54 percent over its issue price of Rs 1,766 on the National Stock Exchange.
Bharat Road Network settled at its issue price level of Rs 205 in pre-opening trade.
Also read – Time to make your portfolio electric, and bullet proof; 20 stocks to bet on
9:37 am USFDA nod: Shares of Laurus Labs added 2 percent as it has received the EIR from USFDA.
The company has received the establishment inspection report (EIR) from US Food and Drug Administration (USFDA) for its Finished Dosage Formulations (FDF) and Active Pharmaceuticals Ingredients (API's) manufacturing plant, Unit 2, located at Achutapuram, Vishakhapatnam, for the inspection completed in May 2017.
It has also completed the BGV Hamburg (German Regulatory Authority) inspection of Unit 2 (FDF) and WHO inspection of Units 1 and 3 located at Parawada, Visakhapatnam, which was inspected during this month.
9:29 am FII View: Inderjeet Bhatia of Macquarie said domestic liquidity is a sign of financialisation of savings but also the lack of options to invest in productive enterprises.
A significant primary market pipeline along with large government issuances will challenge market valuations, according to him.
"Our stock selection is entirely bottom-up based either on the maintaining of trend growth or on significant earnings upgrades over consensus," he said.
The brokerage house moved from an overweight stance on IT from underweight earlier, with HCL Tech as a top pick, he said.
He added that the house continued its overweight stance on private banks, infra, materials and autos and underweight on pharma, telecom, NBFCs and PSU banks.
"Other top picks include HUL, Titan, L&T, Eicher Motors, HDFC Bank, Crompton, Prestige and NCC," Bhatia said.
9:15 am Market Check: Equity benchmarks started off the week on a strong note as the Nifty50 and Midcap opened at fresh record highs while the Nifty Bank soared over 25,000 level, tracking global cues.
The 30-share BSE Sensex was up 175.72 points at 32,448.33 and the 50-share NSE Nifty rose 63.20 points to 10,148.60.
L&T, Bharti Infratel, HDFC Bank and Tata Motors were leading contributors to Nifty's gains. Sun Pharma, Adani Ports, Dr Reddy's Labs and ONGC were only losers among Nifty50 stocks.
About four shares advanced for every share falling on the BSE.
Nifty Midcap was up 0.8 percent. Among midcaps, Goa Carbon, Bombay Dyeing, Graphite India, HEG, Speciality Restaurants, Jubilant Foodworks, Cadila Healthcare, ICICI Prudential and TVS Electronics gained up to 10 percent.
Asian shares gained as investors anticipated clues on the direction of monetary policy from central banks later in the week.
South Korea's benchmark Kospi index rose 1.07 percent. The S&P/ASX 200 tacked on 0.55 percent. The Hang Seng Index rose 1.08 percent. On the mainland, the Shanghai Composite rose 0.25 percent.
Japan markets are closed for a public holiday.
Discussion
Rules of Discussion on Live Index
1. This forum is for discussion of financial markets. Please respect others view even if they are contrary to you.
2. Member's comments should lead to value addition in forum discussion.
3. If anyone is found making repetitive Explicit/Abusive/Racial comments, his account shall be banned and old posts will be deleted.