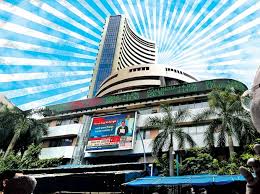 Market Live: Sensex, Nifty, Midcap strong; Bharat Financial, IndusInd most active
1:15 pm MLAs and MPs on radar: The Central Board of Direct Taxes (CBDT) is investigating seven Lok Sabha MPs and 98 MLAs for "substantial increases" in their assets, after a preliminary investigation by the Income Tax Department brought the matter to light.
According to a Times of India report, the I-T department will forward the names of the politicians in a sealed envelope to the Supreme Court on Tuesday.
This was after the Supreme Court (SC) asked for a detailed report from the Centre detailing its plan of action for investigating the sudden bloating of assets of MLAs and MPs during their tenures.
12:59 pm Jaypee Associates asked to deposit Rs 2,000 crore: The Supreme Court has directed Jaypee Associates, parent Of Jaypee Infra, to deposit Rs 2,000 crore.
The apex court has restrained the MD and CEO of Jaypee Infra and Jaypee Associates from leaving the country. It ordered JP Associates to take its consent for sale of any property.
Granting a relief to Jaypee Infra, the court has stayed al proceedings until further orders.
12:42 pm Market Check: Equity benchmarks as well as broader markets remained strong in afternoon trade, tracking uptrend in global peers after no missile test from North Korea on September 9. On last Monday after hydrogen bomb test by North Korea, global stocks had corrected on reports of likely another missile test by North Korea on coming Saturday.
The 30-share BSE Sensex was up 204.92 points at 31,892.44 and the 50-share NSE Nifty gained 70.55 points at 10,005.35.
About two shares advanced for every share falling on the BSE.
IndusInd Bank surged 5 percent and Bharat Financial gained 4 percent after exclusivity agreement.
12:35 pm Europe trade: European stocks opened slightly higher, while investors monitored the economic impact of Hurricane Irma.
The pan-European Stoxx 600 was 0.46 percent higher shortly after the opening bell, with all sectors and major bourses in positive territory.
Hurricane Irma is approaching the Tampa Lakeland area and is still currently a category 2 hurricane. Over 4 million homes and businesses in the state of Florida are without power, according to major US utility companies.
European markets tracked a positive session in Asia, where stocks rallied after no North Korea missile was launched on September 9.
12:25 pm Oil prices rebound: Oil prices edged up on Monday after the Saudi oil minister discussed possibly extending a pact to cut global oil supplies beyond March 2018 with his Venezuelan and Kazakh counterparts.
News of the talks on Sunday helped offset downward pressure on oil prices amid worries that energy demand would be hit hard by Hurricane Irma and its aftermath.
The hurricane knocked out power to nearly 4 million homes and businesses in Florida on Sunday. It is forecast to weaken to a tropical storm over northern Florida or southern Georgia later on Monday.
US crude for October delivery was up 0.82 percent, at USD 47.87 a barrel, having tumbled 3.3 percent on Friday.
London Brent crude for November delivery was up 0.6 percent, at USD 54.12.
12:13 pm Buzzing: Panacea Biotec share price rallied 14 percent as it has expanded its existing collaboration with Apotex Inc, the largest Canadian-owned pharmaceutical company, for sales & distribution of Prasugrel 5mg and 10mg tablets (generic version of Eli Lilly's Effient) in the USA.
The company has signed an exclusive license and supply agreement with Apotex for this purpose.
Under the terms of the agreement, Apotex shall be responsible for sales & distribution of the product in the USA and the Company shall be responsible for manufacturing and supply.
12:08 pm Market Outlook: Hemant Kanawala, Head- Equity, Kotak Life Insurance said, "One key event to watch in next few weeks is the amount raised by the companies through primary and secondary offerings."
Based on the funds already raised in August and indicative pipeline for the month of September, equity supply of USD 5 bn is expected, which can absorb large part of liquidity available with the domestic institutions, he added.
However, the bright side of this fund raising is that it leads to listing of many new businesses, which were not previously available to investors. This can hence attract entirely new set of investors, he said.
According to him, the markets may look optically expensive on P/E basis as earnings have been depressed for last few quarters but on P/B basis, the markets are trading in line with long term averages and hence offers reasonable opportunity to long term investors.
12:00 pm Buzzing: IndusInd Bank share price touched a fresh record high of Rs 1,771.20, up more than 4 percent intraday after it entered into a confidentiality, exclusivity and standstill agreement with Bharat Financial Inclusion.
"The exclusivity agreement provides for a mutually agreed exclusivity period for due diligence and discussions to evaluate a potential strategic combination between the company and Bharat Financial by way of amalgamation through a scheme of arrangement, or any other suitable structure.
Bharat Financial Inclusion also hit a fresh 52-week high of Rs 969.50, up nearly 4 percent.
11:50 am Infosys' hiring plan: Unfazed by the recent upheavals at the board, Infosys will continue to hire about 6,000 engineers annually over next 1-2 years, same as last fiscal, according to a top company official.
The country's second largest software services firm has also ramped up its hiring process in the US and European markets as it looks to tap opportunities and tide over visa- related issues.
"…we continue to recruit. This year that just concluded we had a net addition of 6,000 and we expect similar kind of additions over the next 1 or 2 years, depending on the kind of growth you see in the market," Infosys interim-CEO and MD U B Pravin Rao said at an investor meet last week.
11:47 am Results reaction: Share price of Kamat Hotels and Asian Oilfield Services rose 8-12 percent intraday as companies turned profitable in the quarter ended June 2017.
Kamat Hotels has reported net profit of Rs 13 crore in Q1FY18 against a loss of Rs 1.4 crore in the same quarter last fiscal.
Asian Oilfield Services has turned profitable as it has reported net profit at Rs 10.9 crore in Q1FY18 versus loss of Rs 6.1 crore, in a year ago period.
The company's revenue was at Rs 51 crore and EBITDA was at Rs 12.2 crore.
11:43 am GST cess on cars: The increased GST cess on mid-sized, luxury and SUV cars will come into effect on September 11.
The GST Council on September 9 decided to hike cess on mid-sized cars by 2 percent, taking the effective GST rate to 45 percent.
Also, cess on large cars has been hiked by 5 percent, taking the total GST incidence to 48 percent while that of SUVs by 7 percent to 50 percent.
"Notification regarding the increase in the effective rates of the Compensation Cess on specified motor vehicles will be issued on September 11, 2017, effective from 00 hours the same day," the Central Board of Excise and Customs (CBEC) tweeted.
After the GST Council meet on September 9, Finance Minister Arun Jaitley had said that in large vehicles where affordability of consumers is high, the cess has been increased.
Also read – Matrimony.com IPO opens: Should you subscribe?
11:39 am Market Check: Equity benchmarks extended rally in morning, with the Sensex rising 209.21 points to 31,896.73 and the Nifty gaining 65.35 points at 10,000.15.
HDFC Bank (up 1.5 percent), L&T (2.6 percent), Reliance Industries (0.88 percent), HDFC (0.55 percent) were leading contributors to Nifty50′ gains.
GAIL was biggest gainer among largecaps, up 5 percent after India has renegotiated pricing of contract to import LNG from Australia's Gorgon project.
The broader markets also gained further, up nearly 1 percent. About 1,466 shares advanced against 809 declining shares on the BSE.
11:36 am Tie-up: The signing of the memorandum of understanding (MoU) on cooperation with Russia's Rosoboronexport last week has opened the door wider for commercial vehicle specialist Ashok Leyland to make an aggressive bid for the Army's Futuristic Infantry Combat Vehicle (FICV) project.
The Rs 60,000-crore project, which has been stuck since the past several years, is one of the first mega defence projects where private parties were invited to make a bid. A total of 2,600 of such combat vehicles are to be supplied to the Indian army over a period of a several years.
Speaking to Moneycontrol, Vinod Dasari, Managing Director, Ashok Leyland said, "We are quiet but we are there. We are doing the mobility part of it because that's what we specialise in while our partner from Rosoboronexport will handle the combat vehicle platform part of it".
11:25 am USFDA nod: Glenmark Pharmaceuticals has received final approval from the US health regulator for generic version of Rythmol SR capsules, an anti-arrhythmic medication, which treats illnesses associated with rapid heart beats.
"Glenmark Pharmaceuticals Inc., USA has been granted final approval by the United States Food & Drug Administration (US FDA) for Propafenone Hydrochloride extended-release capsules USP, 225 mg, 325 mg, and 425 mg," Glenmark Pharmaceuticals said in a BSE filing.
Propafenone Hydrochloride extended-release capsules is generic version of GlaxoSmithKline, LLC's Rythmol Capsules.
11:10 am North Korea fears: Japan's prime minister today called for a boost to the country's defences in the face of North Korean threats, warning that Tokyo needs to be able to protect itself.
The call is a common refrain from nationalist leader Shinzo Abe, who has long advocated a stiffening of Japan's military posture, despite its officially pacifist constitution.
In a speech to senior officers of the Self-Defense Forces — Japan's name for the military — Abe said: "No one else will protect you if you don't have the mindset of protecting yourself."
"We have to take all appropriate measures against (incidents such as) North Korea's missile launch over Japan," added the premier, who said he had asked his defence minister to draw up a blueprint for Japan's medium-term defence strategy.
10:59 am Auto sales: Domestic passenger vehicle sales grew 13.76 percent to 2,94,335 units in August from 2,58,737 units in the same month last year.
Car sales were up 11.8 percent to 1,98,811 units as against 1,77,829 units in August last year, according to data released by the Society of Indian Automobile Manufacturers (SIAM).
Motorcycle sales last month jumped by 12.93 percent to 11,35,699 units as against 10,05,654 units in August 2016. Total two-wheeler sales in August grew 14.69 percent to 18,91,062 units compared to 16,48,871 units in the year-ago month.
Sales of commercial vehicles rose by 23.22 percent to 65,310 units in August, the SIAM said. Vehicle sales across categories registered a growth of 14.49 percent to 23,02,158 units from 20,01,802 units in August 2016, it added.
10:50 am Commodity Market: Silver prices dipped Rs 435 to Rs 41,713 per kg in trade as speculators cut down their holdings to book profits amid a weak trend in global markets.
Analysts attributed the fall in silver in futures trade to a weak trajectory in global markets as the dollar strengthened against a basket of major currencies after Hurricane Irma's force waned and tension eased over North Korea, eroding demand for a safe haven.
Moreover, emergence of profit-booking at existing levels too weighed on prices.
10:40 am Buzzing: Shares of gas companies, Petronet LNG and GAIL, rose between 5 and 7 percent intraday as investors cheered Petronet's successful renegotiation with Australia's Gorgon project for lower LNG prices.
Over the weekend, oil minister Dharmendra Pradhan said they renegotiated the pricing of liquefied natural gas (LNG) imported from Australia's Gorgon project to make the imported fuel affordable to price-sensitive domestic customers.
India has been trying to leverage its position as one of the biggest energy consumers to strike better bargains for its companies. In 2015 it renegotiated the LNG pricing formula with Qatar's Rasgas to buy the gas at half the original price.
India's top gas importer Petronet LNG signed a deal in 2009 with Exxon Mobil Corp to buy 1.5 million tonnes of LNG annually from Gorgon for 20 years. At that time Petronet agreed to buy LNG at a cost equivalent to 14.5 percent of the oil price and to pay for the shipping freight as well.
10:22 am Acquisition: Infosys has completed the acquisition of Brilliant Basics, a London-based product design and customer experience (CX) innovator known for its world-class design thinking-led approach and experience in executing global programs.
The acquisition is in accordance with the terms set out in the agreement announced by the company on August 3, 2017. Through this acquisition, Infosys further expands its worldwide connected network of Digital Studios that are focused on fulfilling the needs of global clients for end-to-end Digital Transformation solutions required to meet customer demand for next-generation enhanced customer experiences.
10:10 am Market Check: Equity benchmarks continued to trade strong in morning, tracking positive Asian cues.
The 30-share BSE Sensex was up 177.41 points at 31,864.93 and the 50-share NSE Nifty rose 52.60 points to 9,987.40.
The broader markets outperformed benchmarks as the BSE Midcap and Smallcap indices gained 0.7 percent each on strong breadth. About two shares advanced for every share falling on the BSE.
Larsen & Toubro was biggest gainer again, up 3 percent on top of 4 percent upside in previous session.
Asian stocks rose on fading risk aversion as the dollar clawed back losses. Markets also digested headlines concerning developments out of the People's Bank of China and European Central Bank announced at the weekend. Japan's Nikkei, Hong Kong's Hang Seng, Australia's ASX 200 and South Korea's Kospi were up 0.8-1.4 percent.
10:02 am Japan's machinery orders: Japan's core machinery orders rose in July at the fastest pace since January 2016, rebounding from a third straight month of falls and an encouraging sign of the increased capital investment needed for sustained economic recovery, reports Reuters.
The 8 percent rise in core orders, which exclude ships and orders from electric power utilities, followed a 1.9 percent decline in June. Orders from manufacturers rose 2.9 percent in July, driven by railway cars, while service-sector orders grew 4.8 percent, led by computer equipment, Cabinet Office data showed on Monday.
9:55 am Acquisition: Share price of Cyient added 2 percent intraday as it is going to acquire 100 percent equity ownership in B&F Design Inc.
The company through its step down subsidiary Cyient Defence Services Inc. signed a definitive agreement to acquire 100 percent equity ownership in B&F Design Inc.
This transaction will further strengthen the automation on its key vertical aerospace and defence in line with strategy for growth.
"This is Cyient's sixth acquisition in the last three years as part of its design-build-maintain strategy," said by company.
9:48 am Rupee: The rupee weakened 9 paise to 63.87 against the US dollar in early trade on fresh demand for the greenback from banks and importers.
A strong dollar in overseas markets weighed on the rupee sentiment, currency traders told PTI.
The dollar gained against global currencies amid the United Nations' move to impose fresh sanctions on North Korea.
The rupee had continued its rising run for the third day, surging 27 paise to hit a fresh one-month high of 63.78 against the US currency on Friday.
9:45 am Order win: Shares of White Organic Agro has locked at 5 percent upper circuit on the back of prestigious path breaking order from Patanjali Ayurveda.
There were pending buy orders of 10,315 shares, with no sellers available.
"The acquisition of stake in Future Farms LLP has started showing great results and adding up to the value of the company, as Future Farms has recently bagged order of supplying aloe vera pulp from its Kanpar, Gujarat unit to consumer product manufacturer Patanjali Ayurveda," company said.
9:35 am IPO opens: The Rs 500-crore initial public offering of Matrimony.com has opened for subscription today, with a price band of Rs 983–985 per share.
This would be the first online matchmaking services provider to list on exchanges. The issue will close on September 13.
The public issue comprised of fresh issue up to Rs 130 crore and an offer for sale of up to 37,67,254 equity shares.
The offer for sale consisted of up to 14,61,006 equity shares by Bessemer India Capital Holdings II Ltd, 1,55,760 shares by Mayfield XII (Mauritius), 16,83,207 shares by CMDB II, 3,84,447 shares by Murugavel Janakiraman and 82,834 shares by Indrani Janakiraman. The offer also included a reservation of shares worth Rs 50 lakh for eligible employees.
Matrimony.com currently operates its business in two segments – one is matchmaking services and second is marriage services and related sale of products.
It already raised nearly Rs 225.88 crore from anchor investors on September 8, ahead of its initial share sale opening on September 11. It will allot 22.93 lakh shares to 10 anchor investors (including Goldman Sachs, Small Cap World Fund, HDFC Trustee Company, Baring Private Equity India AIF, DB International etc) at higher end of the IPO price band.
9:25 am Buzzing: Shares of IndusInd Bank and Bharat Financial Inclusion rose 1-2 percent in early trade as investors reacted to developments around a possible deal between the two entities.
Early on Monday, the private sector lender informed exchanges that it had entered into an 'exclusivity agreement' with the micro lender in a bid to explore a merger or expansion plans.
The transaction between the two companies would be subject to due diligence, agreement on the appropriate on the appropriate transaction structure, definitive documentation and Board, shareholders, regulatory, NCLT and other third-party approvals, as applicable, the release said.
The release also indicates that the deal is likely in its final stages, said SP Tulsian of sptulsian.com adding that the swap ration will be most important thing to look at.
According to a source-based report, the swap ratio being considered is one share of IndusInd Bank for 1.75 shares of Bharat Financial. A deal is likely to be announced by the end of September.
9:15 am Market Check: Equity benchmarks started off the week on a positive note, after a consolidation seen in previous week.
The 30-share BSE Sensex was up 183.49 points at 31,871.01 and the 50-share NSE Nifty gained 51.50 points at 9,986.30.
Bank of Baroda, Tata Motors, IndusInd Bank, L&T, Tech Mahindra and Reliance Industries were early gainers while Vedanta, Tata Steel, Tata Power and Power Grid were early losers.
Nifty Midcap 100 and BSE Smallcap indices outperformed benchmarks, rising 0.7 percent each on strong breadth. About five shares advanced for every share falling on the BSE.
Bharat Financial Inclusion, Future Enterprises, Future Retail, Future Consumer, Jyoti Structures, Kamat Hotels, Federal Mogul, Jain Irrigation, Bajaj Finance and Bombay Dyeing rallied up to 6 percent.
Discussion
Rules of Discussion on Live Index
1. This forum is for discussion of financial markets. Please respect others view even if they are contrary to you.
2. Member's comments should lead to value addition in forum discussion.
3. If anyone is found making repetitive Explicit/Abusive/Racial comments, his account shall be banned and old posts will be deleted.