Berkshire Hathaway Stock Hits Record, Lifts Major Indexes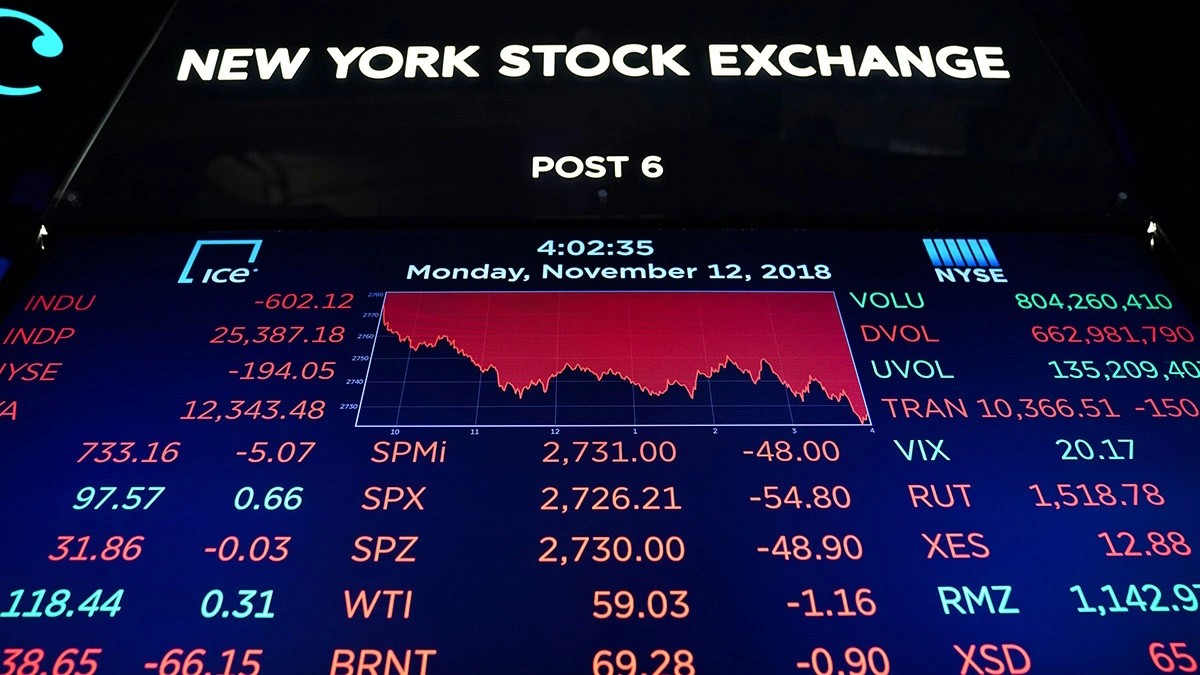 A climb in the shares of Berkshire Hathaway and other blue-chip companies led markets higher on Monday, helping Wall Street bounce back from a stretch of losses. The Omaha, Nebraska, company, which owns businesses including Geico and BNSF Railway, ended the session at a record stock price after swinging to a second-quarter profit. Berkshire's class B shares rose 3.6% to $362.58, marking their first new all-time high since March 2022—when the Federal Reserve began raising interest rates.
The climb helped lift the S&P 500 to a 0.9% daily gain, while the Dow Jones Industrial Average added 408 points, or 1.2%. The Nasdaq Composite looked set for losses in early trading, dragged lower by Tesla shares that slid as much as 4.4% after the departure of longtime Chief Financial Officer Zachary Kirkhorn. The electric-car maker finished 1% lower, and the tech-heavy index notched a 0.6% advance. "If you assume Berkshire is a microcosm of the broader economy, there's a bull case for the broadening out of the stock-market rally away from just tech stocks," said Catherine Seifert, vice president of equity research at CFRA.
A strong quarter for insurance and reinsurance and gains in Warren Buffett's investment portfolio boosted the conglomerate. Seifert said that underneath the hood, the behemoth's performance paints a different picture: Berkshire's railroad, energy and manufacturing holdings dragged. She expects higher rates to continue putting pressure on old economy sectors. Investors expect a fresh look at the prospect for rates from highly anticipated inflation data later this week. Inflation has slid toward the Fed's 2% target, but investors are leery that the final mile could prove tricky—encouraging policy makers to keep rates restrictive for months to come. Wage gains are outpacing inflation, and rebounding gas prices could boost headline figures.
Thursday's consumer-price index will be followed by supplier inflation data the following day. Wall Street will also look to University of Michigan's consumer survey on Friday for signs that Americans' confidence has waned or their expectations for inflation in the years ahead have become unmoored from the Fed's target. Investors are hoping for signs that inflation is steadily easing to aid in recovering from last week's losses.
"The inflation story is alive and well," said Ryan Belanger, founder and managing principal of Claro Advisors, a Boston-based money manager with $700 million under management. The 10-year yield rose to 4.076% from 4.060% on Friday. The yield on the 2-year Treasury note closed Monday at 4.756% from 4.791%. Long-term yields have risen partly in anticipation of the U.S. government's heavy slate of bond sales this week. A strong reception from investors could support bond prices and temper yields' recent climb.
The Fed raised rates to a 22-year high in July, signaling that further increases are on the table. On Monday, Fed governor Michelle Bowman said that additional rate increases will likely be needed to tame inflation. Her prepared remarks at a Fed Listens event in Atlanta echoed sentiment she expressed over the weekend: Inflation is too high, and solid job growth and economic expansion provide further fuel to it lingering.
The Federal Reserve is central to the U.S. economy today, but its power has been built over decades. Its decisions can lower inflation or spark a recession. WSJ explains how the Fed was formed and the role it plays. "Given these developments, I supported raising the federal-funds rate at our July meeting, and I expect that additional increases will likely be needed to lower inflation to the [Federal Open Market Committee's] goal," Bowman said."I will be looking for evidence that inflation is on a consistent and meaningful downward path as I consider whether further increases in the federal-funds rate will be needed, and how long the federal-funds rate will need to remain at a sufficiently restrictive level," she added.