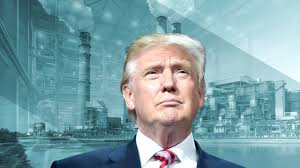 Trump loses two free trade advocates in one week
Two top free trade advocates have left the Trump administration in one week — just as fear of a trade war ramps up.
The departures of Gary Cohn as chief economic adviser and Rex Tillerson as secretary of state come as the president prepares to impose sweeping tariffs on steel and aluminum next week.
Cohn, a former Wall Street executive at Goldman Sachs, resigned last week because he was opposed to the tariffs.
Tillerson was a moderate voice on NAFTA, the trade pact with Canada and Mexico that has been under renegotiation since August. NAFTA talks are at a critical point: Trump says if progress isn't made, he will withdraw from NAFTA or extend the tariffs to Mexico and Canada, which have so far been excluded.
Related: Are Trump's tariffs legal?
"Tillerson was a steady hand. … He seemed to be a voice of reason," says Chris Gaffney, president of world markets at Everbank, a firm based in Florida. "That's what is scaring the markets a bit — if we get protectionist people."
Trump's tariff plans spooked the markets: The Dow dropped 420 points on the day he made the announcement. Cohn's resignation five days later also caused markets to dip.
JPMorgan CEO Jamie Dimon said Tuesday that Cohn's departure was a "loss because he's knowledgeable about economics around the world." Dimon called Tillerson "hugely competent."
As Cohn and Tillerson leave, Trump has promoted Peter Navarro, a longtime trade hawk who favors tariffs. Trump also appointed U.S. Trade Representative Robert Lighthizer, another free trade critic, to be the point of contact for nations seeking tariff exemptions.
Several leaders, from the European Union to Brazil to China, have hinted or explicitly said they will retaliate against the American tariffs on imported steel and aluminum. That rhetoric has stoked fears of a trade war.
Like Trump, Lighthizer, who is leading the negotiations with Canada and Mexico, has been bluntly critical of NAFTA.
"For countless Americans, this agreement has failed," he said in August.
Related: Tariffs, Trump and trade wars: Here's what it all means
Tillerson, like Cohn, had used more moderate language.
"I understand how important NAFTA is for our economy," he said in a speech in early February, adding that NAFTA just needs to be "modernized."
Concerns that a protectionist wing will dominate the White House may be overdone. Many trade experts say the fate of Trump's trade agenda rests to a large degree on whom he anoints as his next economic adviser.
Trump said Tuesday he's leaning toward hiring Larry Kudlow, a longtime free trade advocate, as his next economic adviser. And Tillerson's replacement, CIA Director Mike Pompeo, was once a congressman from Kansas, a state that depends heavily on trade with Mexico and Canada.
Some trade economists say the changing of the guard is healthy. Trump didn't listen much to Tillerson and Cohn on trade. They argue that perhaps Kudlow, a longtime friend of Trump's, can talk Trump out of his most extreme trade threats.
"We really have nowhere to go but up," says Phil Levy, senior fellow at the Chicago Council for Global Affairs and a White House economist in the George W. Bush administration. "You need to have voices that can tell the president just what the costs of these actions will be. And you need to have voices that he'll find credible."