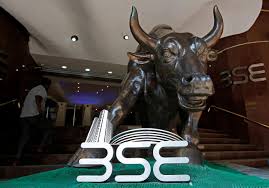 Market Live: Nifty inches towards 10,300 amid volatility; SBI, Tata Steel losers
1:23 pm Asia Update: Asian stocks closed higher on Friday following news that US President Donald Trump had agreed to meet North Korean leader Kim Jong Un. The move also tracked moderate gains seen on Wall Street following the implementation of US metals tariffs.
Japan's Nikkei 225 closed higher by 0.47 percent at 21,469.20 and South Korea's Kospi was up 1.08 percent while Hong Kong's Hang Seng gained 1 percent and China's Shanghai Composite rose 0.6 percent.
1:15 pm Tata Power launches automation solution: Tata Power, India's largest integrated power company, has selected Tata Communications to launch its IoT based, asset-tracking, automation solution in Mumbai.
Tata Power worked on a state-of-the-art IoT solution to create process efficiency in monitoring and harnessing insights from the data collected from an internal Geographical Information System (GIS).
"This solution also allows for various features like asset trace log on a periodic basis and Geo Fence breach alerts. It also allows for information to be converted into actionable insights in real-time which in turn will help drive operational efficiencies," the company said.
1:05 pm Oil Update: Crude oil futures rose as Asian stock markets gained on news that North Korean leader Kim Jong Un will meet with US President Donald Trump.
The two will likely meet by May and Kim has pledged to refrain from further nuclear or missile tests, South Korea's national security chief said late on Thursday after briefing White House officials on talks between Seoul and Pyongyang.
Brent crude futures were at USD 63.84 per barrel, up 26 cents, or 0.41 percent, from their previous close.
US West Texas Intermediate (WTI) crude futures were at USD 60.29 a barrel, up 17 cents, or 0.28 percent. WTI also fell by more than 2 percent the previous session.
Here are the top headlines at 1 pm from Moneycontrol News' Anchal Pathak
12:55 pm Buzzing: Bharat Heavy Electricals (BHEL) shares gained more than 1 percent on winning a Rs 11,700 crore order for setting up a 3×800 MW supercritical thermal power plant in Jharkhand.
The order for setting up the 3×800 MW Patratu Super Thermal Power Station Expansion, Phase-I (3x 800 MW) has been placed on BHEL by Patratu Vidyut Utpadan Nigam Limited (PVUNL – a subsidiary of NTPC in Joint Venture with Jharkhand Bijli Vitran Nigam Limited).
Significantly, this is the single largest order ever placed by NTPC or its subsidiaries and the second largest order ever won by BHEL, it said.
12:45 pm New AC Launch: Air conditioning and commercial refrigeration major, Blue Star, has launched 40 new models of highly energy-efficient 3-star and 5-star inverter split air conditioners, designed to deliver extraordinary benefits.
"This range promises up to 30 percent extra cooling power resulting in powerful cooling, faster temperature pull-down and extra energy savings," the company said.
Blue Star, which turns 75 this year, forayed into the residential segment in 2011 and has since, grown from strength to strength, year-after-year by outperforming the industry. Currently, it enjoys a market share of 11.5 percent.
12:35 pm CCI Approval: Capital First informed exchanges that the Competition Commission of India (CCI), on March 7, approved the amalgamation with IDFC Bank.
"The scheme remains subject to the receipt of approval from the Reserve Bank of India under the RBI (Amalgamation of Private Sector Banks) Directions, 2016, and other statutory and regulatory approvals, including the approvals of the stock exchanges, Securities & Exchange Board of India, the National Company Law Tribunal, and the respective shareholders and creditors of the Amalgamating Companies and the Amalgamated Company," the company said.
12:20 pm Order Win: Rolta India, a leading provider of innovative IP-led IT solutions announced that it has recently been awarded various large contracts worth Rs 365 crore in total by large and prestigious organisations from varied industries to fulfil their ambitions for digital transformation.
Shares gained more than 2 percent.
12:15 pm Lok Sabha Disruption: The Lok Sabha proceedings were
washed out for the fifth straight day, as members from parties including the TDP and the AIADMK, continued their protests on various issues.
This was the first week of Parliament's second leg of the Budget session, in which the Finance Bill 2018 and Demands for Grants are needed to be passed. However, the Lok Sabha continued to witness ruckus and failed to transact any business during the entire week.
Opposition Congress and TMC were up in arms against the government over the Rs 12,700 crore fraud at country's second largest PSU lender PNB and continued with their vociferous protests in the House.
Andhra Pradesh parties — TDP and YSR Congress — pressed for special status to be granted to the state.
12:10 pm Market Update: Benchmark indices continue to trade higher amid volatility, with the Nifty inching towards 10,300 levels, backed by HDFC Group, technology and oil stocks.
The 30-share BSE Sensex was up 127.37 points at 33,478.94 and the 50-share NSE Nifty gained 42 points at 10,284.70.
Nifty Midcap index erased gains to trade flat.
On the stock front, SBI, Tata Steel, Adani Ports and Yes Bank were top losers among Nifty50 stocks, falling over a percent each.
HDFC, TCS, Bajaj Finance, M&M, Eicher Motors, Bharti Infratel, Tech Mahindra and Aurobindo Pharma gained 1-2 percent.
Here are the top headlines at 12 pm from Moneycontrol News' Anchal Pathak
11:58 am GTL Infra in focus: Shares of GTL Infrastructure was locked at 20 percent lower circuit, hitting 52-week low of Rs 3.11, as it informed exchanges that its operations will be hit by client Aircel's bankruptcy.
"On March 1, Aircel filed for bankruptcy before the National Company Law Tribunal (NCLT) with an intent to undertake a resolution plan. At this stage, it remains unclear whether any restructuring or revival would be possible and the outcome of the insolvency proceedings remains to be seen," company said in BSE filing.
If no revival is possible and Aircel becomes insolvent, the company would lose all 23,727 of Aircel's tenancies.
The total tenancies could fall to 26,639 as on March 31, 2018 from 51,587 as of December 31, 2017.
11:45 am Buzzing: Shares of Gitanjali Gems declined by another 5 percent in after the CBI sent fresh summonses to billionaire jeweller Nirav Modi and his uncle Mehul Choksi.
Modi and Choksi, promoter of Gitanjali Group, are accused in the fraudulent issuance of Letters of Undertaking (LoUs) and Letters of Credit (LCs) worth USD 2 billion (approximately Rs 12,636 crore) by the Punjab National Bank.
This is the 17th straight session of fall for the stock. It has lost as as much as 74.86 per cent since February 14, the day the PNB fraud came to light.
11:35 am Resignation: Shree Renuka Sugars said its Vice Chairman and Managing Director Narendra Murkumbi has resigned.
In a regulatory filing, the company said "Narendra Murkumbi has tendered his resignation from his executive position as Vice Chairman and Managing Director of the company."
The board has accepted his resignation, Renuka Sugars, the country's leading sugar refiner, added.
Murkumbi will continue to hold this position during the notice period, which extends for 90 days or until completion of the open offer being made by Wilmar Sugar Holdings, whichever is later.
In a separate filing, Renuka Sugars said that it has allotted 48,18,43,884 equity shares to Wilmar Sugar Holding.
In connection with the implementation of a debt restructuring package, the company said Wilmar Sugar Holdings has exercised option to convert compulsorily convertible preference shares held by them into equity shares.
11:20 am Rajya Sabha Disruption: Rajya Sabha proceedings were disrupted again today with opposition members storming the Well over various issues including India's biggest bank scam and special package for Andhra Pradesh.
No sooner had listed papers been laid on the table of the House, opposition members trooped into the Well shouting slogans.
Chairman M Venkaiah Naidu did not wait long and adjourned the proceedings till 1430 hours.
"One week has gone waste. This is no good. This is sad," he said before adjourning the proceedings.
While Congress members led the charge against the Rs 12,700 crore fraud at Punjab National Bank, members of Tamil Nadu parties – AIADMK and DMK – were demanding constitution of the Cauvery Water Management Board for distribution of Cauvery river water between Karnataka and Tamil Nadu.
11:10 am Investment avenues: Given the current market backdrop, investing needs to be done judiciously. Investors participating in equity markets are advised to adopt cautious approach during these challenging environment. Equity trend amid high volatility around mid-cap funds while large-cap, on the other hand, can be considered as less risky. However, the past trends show only slight variance between the returns generated by large-caps over mid-cap. Hence, a million dollar question arises – which equity savings category can be considered as less risk and provide high returns future earnings for investors? However, one cannot select a specific category of funds that offer exposure to equities while minimizing the risk element, but doing proper asset allocation can help them to do so.
Investors in the current market conditions can consider equity investments whether be it a large-cap or a mid-cap that aims to generate income by investing in bluechip companies or emerging companies to get higher returns. However, while looking at capital appreciation through moderate exposure in equity, one can also go for hybrid equity funds option too.
The equity saving funds endeavours to wrap three benefits together – income opportunity, the growth potential of equity and tax efficiency.
Here are the top headlines at 11 am from Moneycontrol News' Anchal Pathak
Must Read: Should you bet on large-cap or mid-cap stock for better returns in current market?
10:55 am Market Outlook: While the market continues to react negatively to local and global newsflow, experts at BOBCAPS recommend looking at the brighter side of it — earnings recovery.
"The corporate performance is getting better. What the market has waited in the past 4-5 years is finally now here and will be here for the upcoming 4-6 quarters," Ratnesh Kumar, MD & CEO, BOBCAPS told CNBC-TV18 in an interview. The focus will be on overall earnings show and the first step to recovery has already been taken, he added.
In the short term, issues hitting the market were negative news flow back home involving the big banking scam, while trade tariffs and interest rates affected the Street globally.
Is there more correction likely ahead? Not in the long run, believes Kumar. Currently, there seems to be a cooling off effect taking place after 12-18 months of outperformance on the market. Even the flows could be cooling off in that context, he said, adding the market is just digesting these issues. "So, I don't see a big correction. It is a pause in a long term bull market," he told the channel.
10:40 am Market Update: The market was trading higher, following positive lead from global peers as the Sensex was up more than 100 points and Nifty was inching towards 10,300 levels.
Midcaps also traded in line with frontlines as Nifty Midcap was up half a percent
PSU banks continued to underperform, with the PSU Bank index falling 1 percent.
10:30 am Order Win: Highway developer Dilip Buildcon (DBL) said it has bagged a road project worth Rs 770.04 crore in Uttar Pradesh from NHAI.
"The company has been declared L-1 bidder by the National Highways Authority of India (NHAI) for a new engineering, procurement and construction (EPC) project in Uttar Pradesh," Dilip Buildcon said in a BSE filing.
The project is for rehabilitation and upgradation of two-lane to four-lane of national highway stretch Dagamagpur-Lalganj section of NH-7, it said.
The project completion period is 30 months.
10:20 am Market Outlook: Jinesh Gopani, Head – Equity, Axis Mutual Fund, said the market sentiment is currently negative globally. Equity markets faced stiff headwinds largely from global factors this month. Local factors including the unearthing of the PNB frauds have also added to this negativity.
In our opinion, all of this is short-term in nature. Longer term metrics on the economy and earnings growth continue to remain positive.
Company results for Q3 FY 18 have seen significant improvement across sectors the highlight being a recovery in the consumer businesses and housing sector, both partly helped by the low demonetization base.
Consensus NIFTY earnings also did not see any negative commentaries, highlighting that there is confidence in a likely step-up in growth going forward. Improving GDP growth and back to back strong IIP numbers point to a revival in manufacturing.
We continue to expect elevated volatility levels in the equity markets and hence advise investors to look at equity allocations from a medium to long-term investment horizon. Systematic investments into equity products could also help investors ride out short-term volatility.
10:10 am Rupee Trade: The rupee strengthened by 2 paise to 65.12 per dollar on some selling of the US currency by exporters and banks.
A positive opening for the stock markets also boosted the domestic currency, dealers said.
Yesterday, the rupee had lost 25 paise to 65.14 on fresh bouts of demand for the American currency from importers and banks amid rising uncertainty stemming from US President Donald Trump's possible trade war.
Here are the top headlines at 10 am from Moneycontrol News' Anchal Pathak
10:00 am Listing: HG Infra Engineering shares were flat, opening at issue price of Rs 270 on exchanges.
9:55 am Market Update: The market turned volatile and was moving in tight range after showing a positive opening led by global cues.
The 30-share BSE Sensex was up 130.73 points at 33,482.30 and the 50-share NSE Nifty gained 41 points at 10,283.70.
About two shares advanced for every share falling on the BSE.
Banks stocks were under pressure whereas index heavyweights HDFC twins, Reliance Industries, Infosys and ITC capped losses.
9:40 am Buzzing: Shares of Vedanta rose 2.5 percent as the company is going to consider interim dividend.
A meeting of the board of directors of the company will be held on March 13, to consider and approve first interim dividend on equity shares, if any, for the Financial Year 2017-18.
They will also consider dividend, if any, on the preference shares as per their terms of issuance.
9:30 am Market Update: Benchmark indices erased opened gains despite positive global cues, dragged by banks stocks.
The 30-share BSE Sensex was down 27.69 points at 33,323.88 and the 50-share NSE Nifty fell 7.10 points to 10,235.60 while the Nifty Midcap index slipped 0.34 percent.
PSU Bank index dropped 1.6 percent and Nifty Bank index was down half a percent.
9:26 am Asia Update: Asian stocks advanced as markets cheered news that US President Donald Trump had agreed to meet North Korean leader Kim Jong Un. The move higher also tracked moderate gains seen on Wall Street following the implementation of US metals tariffs.
Japan's Nikkei and South Korea's Kospi gained more than 1 percent while Hong Kong's Hang Seng was up 0.8 percent.
9:19 am GST Council Meet on Saturday: Gearing up for crucial measures against tax evasion, the GST Council headed by finance minister Arun Jaitley will finalise a simpler return filing process and give approval for the rollout of e-way or electronic-way bill from April 1 in its 26th meeting in New Delhi on Saturday.
The Council will also tweak certain rules pertaining to the anti-profiteering mechanism under Goods and Services Tax (GST), giving more flexibility and power to the apex body National Profiteering Authority (NAA) in its final decision making process before penalising any company for profiteering, a senior government official told Moneycontrol.
9:15 am Market Check: Benchmark indices opened mildly higher on last day of the week, following positive lead from global peers.
The 30-share BSE Sensex was up 43.17 points at 33,394.74 and the 50-share NSE Nifty gained 13.10 points at 10,255.80.
Vedanta, Bharti Airtel, Dr Reddy's Labs, Tata Steel, Aurobindo Pharma and UPL were early gainers while SBI, Coal India, NTPC, BPCL, Kotak Mahindra Bank, UltraTech Cement and Indiabulls Housing were losers.
Nifyt Midcap was up 64 points.
Canara Bank, Allahabad Bank, Adani Power, Bhushan Steel, Reliance Communications, GMR Infra, Suzlon Energy and Adani Enterprises were under pressure.
GTL Infrastructure plunged 20 percent after company's comments on developments and performance review.
Amtek Auto, Castex Tech, REC and Religare Enterprises rallied 1-5 percent.