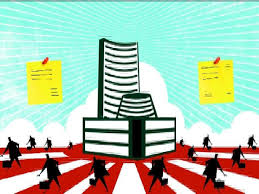 Market Live: Sensex up 100 pts amid volatility, Nifty inches towards 10,300
11:10 am Investment avenues: Given the current market backdrop, investing needs to be done judiciously. Investors participating in equity markets are advised to adopt cautious approach during these challenging environment. Equity trend amid high volatility around mid-cap funds while large-cap, on the other hand, can be considered as less risky. However, the past trends show only slight variance between the returns generated by large-caps over mid-cap. Hence, a million dollar question arises – which equity savings category can be considered as less risk and provide high returns future earnings for investors? However, one cannot select a specific category of funds that offer exposure to equities while minimizing the risk element, but doing proper asset allocation can help them to do so.
Investors in the current market conditions can consider equity investments whether be it a large-cap or a mid-cap that aims to generate income by investing in bluechip companies or emerging companies to get higher returns. However, while looking at capital appreciation through moderate exposure in equity, one can also go for hybrid equity funds option too.
The equity saving funds endeavours to wrap three benefits together – income opportunity, the growth potential of equity and tax efficiency.
Must Read: Should you bet on large-cap or mid-cap stock for better returns in current market?
10:55 AM Market Outlook: While the market continues to react negatively to local and global newsflow, experts at BOBCAPS recommend looking at the brighter side of it — earnings recovery.
"The corporate performance is getting better. What the market has waited in the past 4-5 years is finally now here and will be here for the upcoming 4-6 quarters," Ratnesh Kumar, MD & CEO, BOBCAPS told CNBC-TV18 in an interview. The focus will be on overall earnings show and the first step to recovery has already been taken, he added.
In the short term, issues hitting the market were negative news flow back home involving the big banking scam, while trade tariffs and interest rates affected the Street globally.
Is there more correction likely ahead? Not in the long run, believes Kumar. Currently, there seems to be a cooling off effect taking place after 12-18 months of outperformance on the market. Even the flows could be cooling off in that context, he said, adding the market is just digesting these issues. "So, I don't see a big correction. It is a pause in a long term bull market," he told the channel.
10:40 am Market Update: The market was trading higher, following positive lead from global peers as the Sensex was up more than 100 points and Nifty was inching towards 10,300 levels.
Midcaps also traded in line with frontlines as Nifty Midcap was up half a percent
PSU banks continued to underperform, with the PSU Bank index falling 1 percent.
10:30 am Order Win: Highway developer Dilip Buildcon (DBL) said it has bagged a road project worth Rs 770.04 crore in Uttar Pradesh from NHAI.
"The company has been declared L-1 bidder by the National Highways Authority of India (NHAI) for a new engineering, procurement and construction (EPC) project in Uttar Pradesh," Dilip Buildcon said in a BSE filing.
The project is for rehabilitation and upgradation of two-lane to four-lane of national highway stretch Dagamagpur-Lalganj section of NH-7, it said.
The project completion period is 30 months.
10:20 am Market Outlook: Jinesh Gopani, Head – Equity, Axis Mutual Fund, said the market sentiment is currently negative globally. Equity markets faced stiff headwinds largely from global factors this month. Local factors including the unearthing of the PNB frauds have also added to this negativity.
In our opinion, all of this is short-term in nature. Longer term metrics on the economy and earnings growth continue to remain positive.
Company results for Q3 FY 18 have seen significant improvement across sectors the highlight being a recovery in the consumer businesses and housing sector, both partly helped by the low demonetization base.
Consensus NIFTY earnings also did not see any negative commentaries, highlighting that there is confidence in a likely step-up in growth going forward. Improving GDP growth and back to back strong IIP numbers point to a revival in manufacturing.
We continue to expect elevated volatility levels in the equity markets and hence advise investors to look at equity allocations from a medium to long-term investment horizon. Systematic investments into equity products could also help investors ride out short-term volatility.
10:10 am Rupee Trade: The rupee strengthened by 2 paise to 65.12 per dollar on some selling of the US currency by exporters and banks.
A positive opening for the stock markets also boosted the domestic currency, dealers said.
Yesterday, the rupee had lost 25 paise to 65.14 on fresh bouts of demand for the American currency from importers and banks amid rising uncertainty stemming from US President Donald Trump's possible trade war.
10:00 am Listing: HG Infra Engineering shares were flat, opening at issue price of Rs 270 on exchanges.
9:55 am Market Update: The market turned volatile and was moving in tight range after showing a positive opening led by global cues.
The 30-share BSE Sensex was up 130.73 points at 33,482.30 and the 50-share NSE Nifty gained 41 points at 10,283.70.
About two shares advanced for every share falling on the BSE.
Banks stocks were under pressure whereas index heavyweights HDFC twins, Reliance Industries, Infosys and ITC capped losses.
9:40 am Buzzing: Shares of Vedanta rose 2.5 percent as the company is going to consider interim dividend.
A meeting of the board of directors of the company will be held on March 13, to consider and approve first interim dividend on equity shares, if any, for the Financial Year 2017-18.
They will also consider dividend, if any, on the preference shares as per their terms of issuance.
9:30 am Market Update: Benchmark indices erased opened gains despite positive global cues, dragged by banks stocks.
The 30-share BSE Sensex was down 27.69 points at 33,323.88 and the 50-share NSE Nifty fell 7.10 points to 10,235.60 while the Nifty Midcap index slipped 0.34 percent.
PSU Bank index dropped 1.6 percent and Nifty Bank index was down half a percent.
9:26 am Asia Update: Asian stocks advanced as markets cheered news that US President Donald Trump had agreed to meet North Korean leader Kim Jong Un. The move higher also tracked moderate gains seen on Wall Street following the implementation of US metals tariffs.
Japan's Nikkei and South Korea's Kospi gained more than 1 percent while Hong Kong's Hang Seng was up 0.8 percent.
9:19 am GST Council Meet on Saturday: Gearing up for crucial measures against tax evasion, the GST Council headed by finance minister Arun Jaitley will finalise a simpler return filing process and give approval for the rollout of e-way or electronic-way bill from April 1 in its 26th meeting in New Delhi on Saturday.
The Council will also tweak certain rules pertaining to the anti-profiteering mechanism under Goods and Services Tax (GST), giving more flexibility and power to the apex body National Profiteering Authority (NAA) in its final decision making process before penalising any company for profiteering, a senior government official told Moneycontrol.
9:15 am Market Check: Benchmark indices opened mildly higher on last day of the week, following positive lead from global peers.
The 30-share BSE Sensex was up 43.17 points at 33,394.74 and the 50-share NSE Nifty gained 13.10 points at 10,255.80.
Vedanta, Bharti Airtel, Dr Reddy's Labs, Tata Steel, Aurobindo Pharma and UPL were early gainers while SBI, Coal India, NTPC, BPCL, Kotak Mahindra Bank, UltraTech Cement and Indiabulls Housing were losers.
Nifyt Midcap was up 64 points.
Canara Bank, Allahabad Bank, Adani Power, Bhushan Steel, Reliance Communications, GMR Infra, Suzlon Energy and Adani Enterprises were under pressure.
GTL Infrastructure plunged 20 percent after company's comments on developments and performance review.