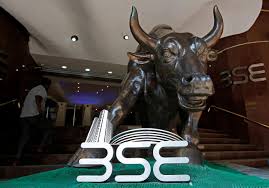 Market Live: Sensex extends gains, Nifty above 10,200; RIL, HDFC, ICICI Bank lead
1:25 pm Chinese exports: China's exports unexpectedly surged at the fastest pace in three years in February, suggesting its economic growth remains resilient even as trade relations with the United States rapidly deteriorate.
Trade tensions have jumped to the top of the list of risks facing China this year, with proposed U.S. tariffs on steel and aluminium imports suggesting more measures may be on the way, Zhou Hao, senior emerging markets economist at Commerzbank, told the Reuters Global Markets Forum this week.
China's February exports rose 44.5 percent from a year earlier, compared with analysts' median forecast for a 13.6 percent increase, and an 11.1 percent gain in January, official data showed on Thursday.
1:10 pm Management Outlook: The power sector companies and the power financiers are under stress. Big banks are worried about their exposure to power companies even as large as Tata Power, Adani Power said the Power Minister to CNBC-TV18.
Reacting to this, PV Ramesh, CMD, REC said for the company per se the there was no stress on the loan books and 85 percent of their lending is to the PSU entities and none of those assets are stressed.
The company has the lowest gross NPAs among power financiers, said Ramesh.
12:56 pm Buyback: FDC said the board of directors has approved a buyback of its fully paid up equity shares through tender offer route on February 7.
The company proposes to buyback 34,30,000 shares for a consideration of Rs 350 per share for an aggregate consideration of upto Rs 120.05 crore, which constitutes 9.50 percent of the total paid up share capital and free reserves as per the audited standalone financial statements of the company for the financial year ended March 31, 2017.
In this respect, we are enclosing the copy of the Letter of Offer dated March 07, 2018. The offer Schedule is as under:
Buyback opens on : Monday, March 12, 2018
Buyback closes on : Friday, March 23, 2018
12:44 pm Buzzing: Shares of TeamLease Services rose 4.6 percent on increasing foreign portfolio investment (FPI) limit.
The company received approval from Reserve Bank of India (RBI) for increase in FBI investment limits under portfolio investment scheme from 24 percent to 75 percent of the paid up capital of the company pursuant to board and shareholders approval.
Accordingly, the restrictions placed on the purchase of shares of the company by FPIs are withdrawn with immediate effect.
12:34 pm NCL Industries in focus: NCL Industries informed exchanges that the capacity expansion of clinker and cement production was successfully completed and commenced its commercial operations with effect from March 7, 2018.
12:24 pm Market Update: Benchmark indices extended gains in afternoon, with the Nifty trading back above 10,200 levels while the Nifty Midcap index recouped losses to trade flat.
The 30-share BSE Sensex was up 190.94 points at 33,224.03 and the 50-share NSE Nifty gained 56.80 points at 10,211.
Index heavyweights Reliance Industries, HDFC, ICICI Bank and Infosys gained 1-2 percent while Yes Bank and Sun Pharma were down around 2 percent each.
12:15 pm Asia Update: Markets in Asia traded higher after sliding in the last session on trade-related fears. Gains in the region came after US stocks closed above session lows on fresh developments related to planned metals tariffs.
The benchmark Nikkei 225 index rose 0.54 percent and the South Korea's Kospi was up 1.22 percent while Hong Kong's Hang Seng gained 1.34 percent.
12:05 pm Wind Power Auction: Inox Wind informed exchanges that the company has won 50MW in the Maharashtra State auctions.
The bid was won at a fixed price of Rs 2.86 per unit for 25 years.
"This win is on back of the 300MW order win from the SECI-I auctions, 300MW in SECI-II auctions and 200MW from SECI- III auctions. This win enhances our auction based order book to a section leading 850MW," Inox said.
Here are the top headlines at 12 pm from Moneycontrol News' Anchal Pathak
12:01 pm Order Win: KNR Constructions has bagged its second Hybrid Annuity Project (HAM) with bid project cost of Rs 482.04 crore from National Highways Authority of India.
The project includes work of two laning with paved shoulder of Meensurutti to Chidambaram section of NH-227 under Bhartmala Pariyojana, Phase I (Residual Project under NHDP) in Tamil Nadu with a concession period of 17 years including construction period of 2 years from the appointed date.
11:50 am Videocon falls 5% despite clarification: Videocon categorically asserts there is no substance to rumours that the company's offices have been raided by any investigating agency, the company said in its clarification note to exchanges.
The contention of the said reports regarding chairman Venugopal Dhoot is totally false and malicious, it added.
11:45 pm Parliament Disruption: The Lok Sabha proceedings were adjourned till noon today as members from various parties, including NDA ally TDP and AIADMK, continued their protests on various issues for the fourth consecutive day.
Members from the TDP, AIADMK, TRS and TMC trooped into the Well, with many holding placards and raising slogans.
While the TDP was demanding special status for Andhra Pradesh, the AIADMK sought immediate setting up of Cauvery River Management Board. Members from the TRS were demanding an increase in quota.
11:40 am Tie-Up for Drug Research: Pharma major Lupin announced the signing of an agreement with CSIR-National Chemical Laboratory (CSIR-NCL, Pune) and Department of Science and Technology, (DST, Delhi) for conducting research on a continuous purification process development of a biosimilar monoclonal antibody therapeutic.
Monoclonal antibodies represent the most important biopharmaceutical product class, serving the high demand treatment area of immuno-oncology diseases.
Speaking about the partnership, Dr Rustom Mody, Senior Vice President and Head — R&D, Biotechnology, Lupin said, "Biotech is one of Lupin's key growth drivers and we are committed to advancing our biotech R&D capabilities through strategic partnerships. Our collaboration with a premier institution like CSIR is an exemplary industry-academia collaboration that can further the development and commercialisation of
biologics and biosimilars for a better and more affordable healthcare to customers across the globe."
11:25 am Power Generation: Tata Power, India's largest integrated power company, has registered the highest ever gross electricity generation of February 2018 at 4647 million inits.
It has demonstrated a 3 percent increase in gross generation capacity when compared to the same month last year where it generated 4518 million units.
All of its power generation stations, including Trombay, Jojobera, Haldia, Maithon, IEL, CGPL, TPREL, WREL, Cennergi, ITPC, Dagachu, Hydro, and
TPCL Wind witnessed higher availability.
11:16 am Market Update: Benchmark indices gained some strength amid volatility as the Sensex was up 93.37 points at 33,126.46, driven by index heavyweights Reliance Industries, ICICI Bank, Infosys, HDFC and HDFC Bank that gained 1-1.5 percent.
The Nifty gained 26.70 points at 10,180.90 while the Nifty Midcap index was off day's low, falling half a percent.
Yes Bank was the biggest loser among Nifty50 stocks, shedding more than 4 percent.
About three shares declined for every share rising on the BSE.
11:12 am Rupee Trade: The rupee was trading lower by 7 paise at 64.96 against the dollar as the American unit strengthened overseas amid foreign fund outflows.
Forex dealers said increased demand for the US currency from importers and the greenback's gains against other currencies overseas after news of potential US tariff exemptions put pressure on the rupee.
In the opening session, the domestic unit fell by 2 paise to 64.91.
Yesterday, it had gained 7 paise to close at a one-week high of 64.89 against the US currency due to sustained dollar selling by exporters and banks.
11:02 am Market Outlook: "Overall sentiment continues to remain weak on account on both domestic as well as global cues. The important support to watch out for in Nifty would be 10,000," Hemang Jani, Head – Advisory, Sharekhan said.
Here are the top headlines at 11 am from Moneycontrol News' Sakshi Batra
10:55 am Drug Launch: Share price of Cadila Healthcare added nearly 2 percent as it has entered into partnership with Medicure to launch cholesterol drug in the US market.
Zydus Cadila has entered into a definitive agreement with Medicure International Inc., a subsidiary of Medicure Inc. to commercialize its 505(b)(2) new drug application (NDA) product, pitavastatin magnesium (ZYPITAMAG) in the United States.
The launch of ZYPITAMAG, which is used to manage cholesterol levels, marks the first branded product launch for Zydus in the US.
Medicure is a US pharmaceutical company and has a proven track-record of successful commercialization of products in the therapeutic segments of
cardiovascular and metabolic diseases.
10:47 am Market Update: Benchmark indices turned volatile after wiping out opening gains, with the Nifty trading below 10,200 levels despite positive trade in Asia.
Midcaps continued to underperform, with the Nifty Midcap index falling over a percent.
All sectoral indices were in the red barring IT.
10:33 am Buzzing: Shares of Gitanjali Gems declined by another 5 percent after the CBI registered a fresh FIR against diamond merchant Nirav Modi in the PNB fraud case.
Modi and his uncle Mehul Choksi, promoter of Gitanjali Group, are accused in the fraudulent issuance of Letters of Undertaking (LoUs) and Letters of Credit (LCs) worth USD 2 billion (approximately Rs 12,636 crore) by the Punjab National Bank.
This is the 16th straight session of fall for the stock. It has lost as as much as 73.58 percent since February 14, the day the PNB fraud came to light.
10:23 am Market Outlook: Radhika Gupta is the Chief Executive Officer of Edelweiss Asset Management Limited said 2017 was the least volatile year in the last decade, as depicted by the Volatility Index. This, coupled with premium valuations led to the market becoming more sensitive to any negative news.
What we are experiencing now is a phase of heightened volatility and not a bear market. Such markets present a good case for a "buy on dips" kind of strategy.
The Indian market has been trading at a premium for a long time and we will have to wait for the earning revival going forward. Looking at the last two-quarter earnings, we expect the momentum to continue in the coming quarters as well.
There are certain macro headwinds, however, the ongoing reform continues to aid market and makes a good case for long-term investments.
10:10 am Buzzing: Amtek Auto shares were locked at 5 percent upper circuit at Rs 23.80 on Thursday after Liberty House, the global industrial and metals group, has chosen as preferred H1 bidder for buying company's assets.
There were pending buy orders of 319,003 shares, with no sellers available on the BSE, at 10:10 hours IST.
With this development, Liberty House is poised to make its maiden manufacturing presence in India. The company is part of the USD 10 billion GFG Alliance and is owned by Sanjeev Gupta, a British industrialist of Indian origin.
"Liberty House, part of Sanjeev Gupta's global industrial group GFG Alliance, is set to make a dramatic entry into India after being chosen as preferred H1 bidder for Amtek Auto Pvt Ltd assets which include 35 automotive component plants across India, Japan, Thailand and Spain, employing some 6,000 people," the company said in a statement.
10:00 am Market Outlook: Navneet Munot of CIO, SBI MF said, "I think 2018 will be a tough year, not only the elections and the politics but also look at the global environment, look at the trade war."
I think there is a synchronised global recovery which is getting stronger by the day. "We will have to wait and how much central banks unwind in terms of monetary policy and how much impact it has on real economy. But India won't be completely insulated on what happens outside India just because we have lot of flows from domestic investors," he said.
"Of course it will reduce volatility, which historically we would have witnessed. Billion dollar selling by FIIs can see the magnitude of all we would have had but today because we have PF and retail investors, IP flows etc, they will provide some stability to the market but it is going to be a tough year," Munot said.
9:50 am Market Update: Benchmark indices were off their opening highs on profit booking at higher levels despite positive Asian cues.
The 30-share BSE Sensex was up 127.04 points at 33,160.13 and the 50-share NSE Nifty gained 31.30 points at 10,185.50.
PSU Bank index turned negative, falling half a percent amid NPA crisis.
9:40 am Buzzing: Shares of Bhushan Steel and Tata Steel rose 19 percent and 2 percent, respectively as Tata Steel emerged as the highest bidder to acquire Bhushan Steel.
In a regulatory filing Bhushan Steel said that the compliant resolution plans were presented to the committee of creditors (CoC) and the resolution plan submitted by Tata Steel has been identified as the highest evaluated compliant resolution plan.
There will be further discussions with Tata Steel on their resolution plan before it will be considered for final approval by the CoC, it added.
Tata Steel had emerged as the highest bidder with a bid of Rs 35,000 crore, with JSW Steel finishing second with a bid of Rs 29,700 crore.
9:29 am Market Outlook: "The beginning has been pretty challenging and we came out in 2018 after having a spectacular year in 2017. So one of the reasons of this toughness is also those extraordinary returns which got created in the last two years specifically last year," Market Expert, Madhusudan Kela said.
He further said some kind of correction was due may be not as sharp as it came in the last month or so.
"Having said that I am not in this school which believe that 2018 will make no returns. I think it will not be a repeat of 2017. You just have to be in the market to make money. I think in 2018 you have to work hard to make money," he said.
9:20 am Buzzing: Shares of Alembic gained 2.6 percent as the company is going to consider buyback of equity shares.
A meeting of buyback committee of Alembic is scheduled to be held on March 12 to consider the buyback of its equity shares.
The board will consider the buyback price and number of equity shares to be bought back by the company.
9:15 am Market Check: Benchmark indices opened sharply higher, tracking positive Asian cues. All beaten down stocks saw buying interest.
The 30-share BSE Sensex was up 238.55 points at 33,271.64 and the 50-share NSE Nifty gained 71.60 points at 10,225.80 while the Nifty Midcap index gained 1 percent.
Bharti Airtel, Vedanta, Reliance Industries, Indiabulls Housing Finance, Bajaj Finance, Hindalco, GAIL and Dr Reddy's Labs gained a percent each.
Fortis Healthcare gained 5 percent as the stock went out of F&O ban.
Bhushan Steel rallied 19 percent and Tata Steel gained 1.5 percent. Adani Power and Tata Power were marginally lower.
KEC International, Adani Enterprises and Adani Transmission rose over 2 percent. Amtek Auto, Castex Technologies and Metalyst Forgings rallied 5 percent each.