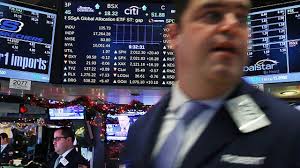 'Dow Vigilantes' Are Retaliating Against President Trump After Tariff Announcement
Donald Trump's yardstick for his own success is going rogue.
That's the Dow Jones Industrial Average, a regular feature in the U.S. president's commentary over the past year as the equity bull market raged on. Take early January, when the index sailed past 25,000 for the first time: "This is all about the Make America Great Again agenda! Jobs, Jobs, Jobs. Six trillion dollars in value created!"
Contrast that with now, when the Dow's being whipsawed by Trump's own plan to impose tariffs on steel and aluminum imports, and the tweets have dried up. "Dow vigilantes" are signaling their disapproval, according to Ed Yardeni, who coined the term bond vigilantes in 1983 to describe investors who protest monetary or fiscal policies by dumping debt. He says that in relation to Trump and equities, the strategy may have merit.
"The bears could make a comeback if President Donald Trump turns into an outright protectionist," the founder of his namesake research firm wrote in a note. "More likely is that he will back off if the market continues to react badly to his protectionist pronouncements."
The Dow reversed losses to rally Monday as House Speaker Paul Ryan made a rare public break with Trump, urging him to reconsider. Economic adviser Gary Cohn has also mounted a last-ditch effort to head off the tariffs, summoning executives from U.S. companies that depend on the metals to meet this week with Trump. The Dow fell almost 5 percent from Feb. 26 through the end of last week as speculation about the levies surfaced, and fluctuated in Tuesday morning trading.
The planned tariffs — 25 percent on imported steel and 10 percent on aluminum — have already seen iconic American brands from Levi Strauss & Co. jeans to Harley Davidson Inc. motorbikes and Kentucky bourbon named as targets for potential countermoves. But more directly affected is Boeing Co.: the heaviest-weighted stock in the Dow is one of the biggest global users of aluminum, and derives 55 percent of its revenue from outside the U.S.
"The Achilles Heel for the Dow is clear enough: hurt Boeing by pulling orders (for example), and the Average will suffer disproportionately," Nicholas Colas and Jessica Rabe, founders of DataTrek Research LLC, wrote in a note. "And, presumably, President Trump's affinity for that measure will force him to take notice."
Wall Street strategists such as Fundstrat Global Advisors LLC's Tom Lee say the declines are an overreaction and a buying opportunity. Still, the bigger they are, the bigger the warning they may send to Trump. The president has sent at least a dozen tweets mentioning the Dow since taking office, and told reporters in November that "the reason our stock market is so successful is because of me."
Carnage in equities played a part in changing policymakers' minds after George W. Bush slapped a tariff on steel imports in 2002, says Barry James, president and portfolio manager at James Investment Research in Xenia, Ohio. After that levy, the S&P 500 Index — engulfed in the aftermath of the dot-com bubble and September 2001 terror attacks — fell more than 30 percent from March to October, while the dollar and bond yields also sank. The tariffs were scrapped the next year.
"Tariffs alone did not cause the market swoon, but timing is eerily coincidental and they certainly exacerbated the situation," James said. This time around, "in this game of chicken, the stock market is in the lane of oncoming traffic and we are concerned if it will swerve to safety."