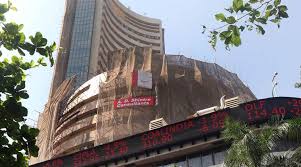 Sensex holds on to gains, Nifty above 10,400; TCS, Infosys decline
11:35 am Jubilant Life falls: Shares of Jubilant Life fell around over 10 percent intraday on Friday after the stock witnessed a block deal.
Around 59.8 lakh shares of the company were traded in six blocks on the NSE at the price of Rs 914-940.05 per share.
This makes up around 3.8 percent of the equity and the deal value is seen at Rs 554.3 crore.
11:25 am IPO plans: Vectus Industries, a Noida-based manufacturer of water storage products, is exploring a Rs 500-crore initial public offering and is currently in talks with merchant banks to help it list on the exchanges, officials from two different investment banks told Moneycontrol. Private equity firm Creador has around 20 percent stake in the company and is expected to at least partially monetise it, one of the officials said.
"The company is eyeing a valuation of around Rs 2500 crore. The merchant banker is yet to be selected. Most of the issue will comprise fresh shares with the PE encashing some of its stake," the second official said.
According to the information available on the company's website, the more than two-decade-old company has 15 manufacturing plants in India and a manufacturing facility in Kenya. It makes water storage tanks like loft and moulded tanks as well as underground tanks. It also makes plumbing, column pipes, water piping systems and garbage bins for public use.
11:05 am Market Check: Strength in the market continued through the morning, with the Sensex and Nifty holding on to the gains.
The Sensex is up 137.80 points or 0.41% at 33957.30, and the Nifty up 48.10 points or 0.46% at 10430.80. The market breadth is positive as 1699 shares advanced, against a decline of 584 shares, while 166 shares are unchanged.
Tata Steel and Yes Bank are the top gainers on both indices, while TCS, Infosys, and GAIL have lost the most.
10:55 am Metals chart: Metals are one of the top gainers among all sectoral indices. Here's a look at the heatmap of that index. (Image source: NSE)
10:45 am Buzzing Stocks: Shares of Merck, KSB Pumps and ITD Cementation India added 3-5 percent intraday Friday on the back of strong third quarter numbers. Merck has posted 42 percent increase in its Q3FY18 net profit at Rs 27 crore and revenue was up 22 percent at Rs 304 crore.
10:30 am Market Outlook: The year 2018 is unlikely to see a repeat performance of 2017 when benchmark indices rose by about 29 percent and mid & smallcap stocks outperformed by a wide margin, Sandeepa Arora, President, IIFL Institutional Equities said in an interview with CNBC-TV18. "The trajectory looks a lot more volatile this year. Unlike 2017 which had a clear up run, that's not going to be the case in the year 2018. Considering we are sitting in a pre-election year, things are likely to remain volatile amid challenging macro environment," she said.
10:15 am PNB Investigation: Punjab National Bank (PNB), which is reeling under a major financial fraud, has appointed auditor PwC to conduct an investigation into the alleged Rs 11,300-crore fraud involving luxury jewellers Nirav Modi, Mehul Choksi and their companies. A report in The Economic Times stated quoting sources that the auditing company has been asked to gather evidence against Nirav Modi and his associates so that it can be presented in court.
10:00 am Market Check: Shares have extended their gains from the opening bell, with the Sensex trading around 150 points higher, while the Nifty is comfortably trading above 10,400.
The Sensex is up 147.45 points or 0.44% at 33966.95, and the Nifty up 40.70 points or 0.39% at 10423.40. The market breadth is positive as 1412 shares have advanced, 483 shares declined, and 140 shares are unchanged.
Sun Pharma and Tata Steel are the top gainers on both indices, while Asian Paints, M&M, GAIL and Eicher Motors lost the most.
9:55 am Management Speak: Ministry of Commerce has recommended anti-dumping duty on import of dimethylacetamide. This is a product that Balaji Amines manufactures.
In an interview to CNBC-TV18, D Ram Reddy, JMD of Balaji Amines said that we are seeing support for dimethylacetamide post anti-dumping duty imposition.
He further said that anti-dumping duty on dimethylacetamide won't add to revenue but will improve bottomline.
9:40 am Federal Bank gains: Shares of Federal Bank gained 4.5 percent in the early trade on Friday as the company is going to acquire stake in Equirus Capital.
The board of directors of the bank has approved acquisition of significant minority stake of up to 26 percent of the paid-up share capital of Equirus Capital, a financial services company.
The said acquisition is subject to statutory and regulatory approvals and satisfactory completion of the financial and legal due diligence.
9:25 am Rupee Update: The Indian rupee opened higher by 9 paise at 64.95 per dollar on Friday versus previous close 65.04.
Bhaskar Panda of HDFC Bank said, "Worries of US rate hike, consequent rally in US yields, coupled with uncertainties due to the PNB episode has brought back pressure on the INR."
"The USD-INR pair has broken through crucial 64.80 levels and traded above 65 yesterday. Today, I expect the pair to consolidate in a range of 64.85-65.15 given the dollar fall overnight."
"The 10-year benchmark bond yield has been rallying higher after the latest MPC minutes. I expect the trend to sustain while today's range would be 7.72-7.78 percent," he added.
The dollar sagged broadly after its recovery this week faded as US treasury yields declined from their recent peaks.
The dollar index against a basket of six major currencies was little changed after bouncing from a three-year trough of 88.253 late last week.
9:15 am Market Opens: Equities have begun the day on a positive note, with the Nifty clocking 10,400 in the first few minutes of the trade.
The Sensex is up 98.71 points or 0.29% at 33918.21, and the Nifty is up 36.40 points or 0.35% at 10419.10. The market breadth is positive as 554 shares have advanced, 216 shares declined, while 94 shares are unchanged.
All sectoral indices have commenced trade in the green, while, in the broader market, midcaps are up around half a percent.
Sun Pharma has continued its gain from the previous sessions and is the top gainer on the Sensex. Along with it, Tata Steel and Aurobindo Pharma were the other gainers. Meanwhile, Hero MotoCorp, Coal India and Asian Paints were the top losers.
Among global markets, Asian shares rebounded as comments from a Federal Reserve official eased worries that the central bank might raise rates more aggressively this year, while the safe-haven yen held on to its gains amid heightened volatility across markets.
Financial markets have fluctuated wildly this month as investors fretted about how fast the Fed might raise rates in the wake of data showing a pick up in US inflation. That in turn has stoked anxiety that many central banks will start to tighten policy in a hit to earnings, which have boomed thanks to a synchronized uptick in global growth.
MSCI's broadest index of Asia-Pacific shares outside Japan climbed 0.4 percent, but was still on track to end the week barely changed.
US stocks advanced, putting major indexes on track to snap a recent spate of declines, buoyed by gains in industrial and energy shares as US Treasury yields eased.
The Dow and S&P dropped for a second consecutive session and the Nasdaq fell for a third straight on Wednesday after minutes from the US Federal Reserve's January meeting showed the central bank's rate-setting committee grew more confident in the need to keep raising rates.
Concerns about a faster pace of rate hikes from the central bank were eased by comments on Thursday from St. Louis Fed President James Bullard that expressed concerns a "bunch of hikes" could turn Fed policy restrictive, and benchmark 10-year US Treasury yields retreated from the more than four-year highs hit on Wednesday.