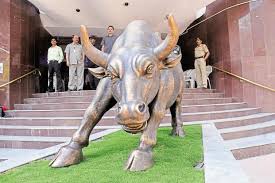 Market Live: Sensex, Nifty trade mildly higher; IT stocks see a surge
12:10 am Management Speak: Nucleus Software reported a strong set of Q3 numbers. In an interview to CNBC-TV18, Vishnu R Dusad, MD & CEO of the company spoke about the results and gave his outlook for the future.
Dusad said that we will be able to maintain margins at Q3 levels.
On the business front, he said that most of the customers we have added are for cloud computing.
Talking about cash, he said the current cash balance of Rs 430 crore will be utilised for acquisitions.
11:45 am Order win: Dilip Buildcon is in focus on the back of a National Highways Authority of India (NHAI) order win in Odisha worth Rs 1,522 crore, which is 74 kilometers in length with a construction period of about 30 months. In an interview with CNBC-TV18, Rohan Suryavanshi, Head-Strategy and Planning of the company discussed this and more.
The letter of award (LoA) for NHAI's Odisha project should come in the next seven days, he said.
The company has entered its 17th state with this project.
11:20 am Busy route: Mumbai to Delhi air route is the third busiest one in the world with 47,462 departures in 2017, according to UK-based aviation data monitor OAG. That means, every 11 minutes, a flight takes-off along this route.
Bengaluru to Delhi air route also features in the list of the busiest air routes in the world at 12th position with 29,427 flights being operated last year.
The busiest route in the world is Jeju to Seoul Gimpo in South Korea with 64,991 departures in 2017. Jeju is the largest island off the Korean peninsula and it is sometimes labelled "the Hawaii of South Korea" thanks to dramatic volcanic landscapes, hiking trails and stunning beaches. The number of departures indicates that despite Jeju being UNESCO World Natural Heritage Site, most of the tourists are domestic.
11:05 am Market Check: Sharp swings are seen in the trade today. The market has now risen again after trading lower in the past hour or so.
The Sensex is up 71.88 points at 36211.86, while the Nifty is up 19.30 points at 11103.00. The market breadth was negative as 838 shares advanced, against a decline of 1660 shares, while 212 shares are unchanged.
10:45 am Results update: Indiabulls Real Estate on Tuesday reported a 45.82 percent rise in its consolidated net profit at Rs 85.35 crore for the third quarter ended December 31.
The company had posted a PAT (profit after tax) of Rs 58.53 crore for the same period of previous fiscal.
Total revenue from sales rose to Rs 2,164.44 crore for the third quarter as against Rs 492.90 crore in the same period last fiscal, Indiabulls Real Estate said in a regulatory filing.
10:30 am IndiGo rises higher: A year after dropping off from the list of top 10 Asia Pacific airlines on the basis of on-time performance (OTP), IndiGo has regained its place in the hallowed group. IndiGo – India's largest airline by market share – has been ranked ninth in the Punctuality League study published by OAG, an air travel intelligence company based in the UK.
"Japanese airlines continue to perform well with three carriers in this category and India's largest carrier, IndiGo, returns to the Top 10 Asia Pacific airlines with an OTP of 81.22%," the report said. The first three in the list are Hong Kong Airlines, Qantas Airways and Japan Airlines.
In 2015, IndiGo was ranked sixth with an OTP of 84.57 per cent. Jet Airways too featured that year, and was ranked 9th.
10:11 am Market Check: At 10:11 hrs IST, the Sensex is up 38.61 points or 0.11% at 36178.59, and the Nifty up 5.00 points or 0.05% at 11088.70. About 704 shares have advanced, 1584 shares declined, and 192 shares are unchanged.
9:55 am Buzzing Stock: Share price of JMC Projects (India) rose 7.6 percent in the early trade on Wednesday on the back of orders worth of Rs 751 crore.
The order includes, two commercial projects and a residential project in South India totalling Rs 448 crore.
Also, two residential projects and one industrial project in Northern and Eastern India totalling Rs 303 crore.
S. K. Tripathi, CEO & Dy. Managing Director of JMC Projects said, "We continue to build on our solid base in South India with success in the EPC contracts for these projects."
9:32 am Gains extended: The bulls have tried to carry forward the momentum from last session. After seeing a flat opening, the market has extended its gains, led by a surge in PSU banks. The Nifty is trading around 11,100-odd levels, while the Sensex is up around 100 points.
HDFC, ONGC and GAIL gained the most, while Bharti Airtel, ICICI Bank, and Hindalco lost the most.
9:15 am Market Opens: The benchmark indices opened lower amid mixed global cues with Sensex holding above 36, 000 mark.
The Sensex was down 16.71 points at 36123.27, and the Nifty down 16.90 points at 11066.80.
About 437 shares have advanced, 668 shares declined, and 163 shares are unchanged.
ITC, HDFC, Wipro, Maruti Suzuki, ONGC, GAIL, Indiabulls Hsg and Dr Reddy's Labs are the top gainers on the indices, while top loser includes Bharti Airtel, ICICI Bank, Tata Motors, Reliance Industries, Tata Steel, Vedanta, Hindalco and Eicher Motors.
Asian markets traded mixed early on Wednesday after Wall Street closed mostly higher as investors stateside focused on earnings releases.
US stocks advanced on Tuesday, as strong results from Netflix helped lift the S&P and Nasdaq Composite. Asian markets were trading mixed. The Nikkei 225 slipped 0.42 percent after the index hit a fresh 26-year high on Tuesday while the benchmark Kospi index rose 0.37 percent.
The Indian rupee opened higher by 4 paise at 63.73 per dollar on Wednesday against previous close 63.77.
Pramit Brahmbhatt of Veracity said, "There would be rangebound trade in the rupee in absence of any cues."
"We expect the spot USD-INR pair to trade in a range of 63.80-64," he added.