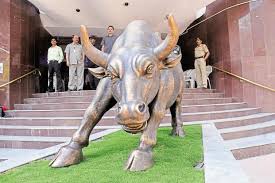 Market Live: Banks lift Sensex over 350 pts; RBL, Federal, DCB other regional lenders may rally
1:31 pm Economic growth prospects: India Ratings and Research today projected the country's economic growth to improve to 7.1 per cent next fiscal from 6.5 per cent this year, buoyed by robust consumption demand and low commodity prices.
In its outlook for 2018-19, the agency said there will be a gradual pick up in growth momentum owing to structural reforms like GST and Insolvency and Bankruptcy Code (IBC) in place.
"While the implementation of GST is likely to benefit the economy over the medium to long term, the same cannot be said about the impact of demonetisation," India Ratings & Research (Ind-Ra), a subsidiary of Fitch Ratings, said.
1:10 pm Buzzing Stock: Shares of Hindustan Unilever (HUL) witnessed profit booking, before gaining over 2 percent intraday on Thursday, on the back of the announcement of December quarter results.
The company's net profit grew over 27 percent at Rs 1,326 crore against Rs 1,038 crore posted during the same period last year. A poll of analysts by CNBC-TV18 pegged this figure to be at Rs 1,156 crore.
Meanwhile, the company's revenues grew over 14 percent at Rs 8,590 crore against Rs 7,512 crore year on year.
1:00 pm Expert view: India's banking landscape could undergo a massive overhaul — CNBC-TV18 learns that the government is considering a proposal to allow 100% foreign direct investment (FDI) in private banks – and is also mulling a hike in FDI cap from 20 percent to 49 percent for public sector lenders as well.
To discuss if this development could meaningful change the outlook for the banking sector, CNBC-TV18 spoke to Munish Dayal, Senior Partner, Baring Private Equity Partners India.
Any opening of the sector was overdue and would be good, says Dayal, adding that it was earlier proposed in 2015 but did not go through. Moreover government going forward with its reform agenda is opening up sectors like aviation, retail, and now banking, which is a step in the right direction, says Dayal.
12:50 pm Earnings: DB Corp's third quarter consolidated net profit fell 33.9 percent year-on-year to Rs 78.1 crore and revenue declined 4.6 percent to Rs 598.6 crore despite tax expenses declined to Rs 41 crore from Rs 59 crore.
Operational performance was also weak as EBITDA fell 29.6 percent to Rs 139.5 crore and margin contracted to 23.3 percent from 31.6 percent YoY.
DB Corp said advertising revenue declined 6 percent year-on-year to Rs 426.3 crore from Rs 453 crore but circulation revenue increased 6 percent to Rs 132 crore from Rs 124.3 crore.
12:40 pm Market Update: Benchmark indices continued to trade near record highs as the Sensex was trading with 400 points gains but midcaps lose ground with the Nifty Midcap falling nearly half a percent.
Nifty Bank index remained strong, rising nearly 500 points on buzz of allowing 100 percent FDI in banking sector.
Investors await Yes Bank, Bharti Airtel, UltraTech Cement earnings due later today.
12:31 pm Drug Patents: Suven Life Sciences announced today that the grant of one product patent from China and one product patent from Sri corresponding to the New Chemical Entities (NCEs) for the treatment of disorders associated with Neurodegenerative diseases and these Patents are
valid through 2033 and 2032 respectively.
The granted claims of the patents include the class of selective 5-HT4 and H3 compounds respectively and are being developed as therapeutic agents for major depressive disorders and are useful in the treatment of cognitive impairment associated with neurodegenerative disorders like Alzheimer's disease, Attention deficient hyperactivity disorder (ADHD), Huntington's disease, Narcolepsy, Parkinson and Schizophrenia respectively, the company said.
12:20 pm Budget Expectations: Leading property consultant JLL India today suggested that additional tax incentive to first time home buyers should be doubled to Rs 1 lakh in the upcoming budget to boost sluggish housing demand.
The consultant also said that states should be asked to exempt stamp duty on the Real Estate Investment Trusts (REITs) to make them viable.
The current provision is for additional tax deduction of up to Rs 50,000 per financial year under section 80EE of the Income Tax Act, it said.
"The bracket should be increased up to 1 Rs Lakh to incentivise first-time home buyers. This deduction is over and above the Rs 2 lakhs limit under section 24 of the Income Tax Act," JLL India CEO and Country Head Ramesh Nair said in a report.
12:10 pm Market Check: Benchmarks may be off the day's highs, but are still trading on a good note.
The Sensex is up 355.30 points or 1.01 percent at 35437.12, and the Nifty up 76.10 points or 0.71 percent at 10864.60. The market breadth is narrow as 1166 shares have advanced, 1459 shares declined, and 256 shares are unchanged.
11:50 am Edelweiss on banks: A smooth passage of this proposal will pave the way for inclusion of HDFC Bank, IIB, Federal Bank, BoB and PNB in the Standard Index. It could also result in an increase in weights of existing standard constituents like ICICI Bank and State Bank of India, Edelweiss said in a report.
The brokerage firm anticipates some rally in regionally focused banks, particularly attractively valued stocks — Karnataka Bank, South Indian Bank, among others — given the outside possibility of them being probable acquisition targets.
11:45 am Management Outlook: Tata Sponge Iron reported an over three-fold jump in its consolidated net profit at Rs 36 crore for the December 2017 quarter. Its revenue from sponge iron segment rose to Rs 199.30 crore from Rs 145.56 crore.
Talking about the company's third quarter performance and the outlook going forward, Sanjay Pattnaik, MD, Tata Sponge said the company was on track to meet their FY18 sales guidance of 4.1 lakh tonnes.
He said for the third quarter they had volume growth of 22 percent and sales growth of 25 percent. The Q3FY18 sales volumes were at 1.09 lakh tonnes.
11:30 am Order win: Highway developer Dilip Buildcon (DBL) said it has bagged a road project worth Rs 730 crore in Madhya Pradesh from NHAI.
"The company has been declared L-1 bidder by the National Highways Authority of India (NHAI) for an engineering, procurement and construction (EPC) road project in Madhya Pradesh," Dilip Buildcon said in a BSE filing.
The project is for construction of four laning from km 624.480 to km 653.225 (delinked stretch of Seoni-MP/MH border) of NH-7 in Madhya Pradesh.
11:18 am IPO Update: Software products firm, Newgen's initial public offering (IPO) was oversubscribed over 1 times on Thursday, the last day of the issue. The issue was subscribed 70 percent on Wednesday.
The IPO, which aims to raise Rs 425 crore, received bids for 1.34 crore shares against the total issue size of over 1.22 crore scrips, data available with the NSE as of 11 am showed on Thursday.
The company had raised over Rs 127 crore from anchor investors on Monday.
11:05 am Budget Expectations: In the run up to the budget, retailers have asked the government to simplify GST system and grant industry status to the sector for easier access to finance and attract more investments.
Besides, the industry is also seeking relaxed FDI regime for multi-brand retail trade (MBRT) as also incentives to be provided for setting up warehousing and cold-chain storage facilities.
In a pre-budget wish list, the Retailers Association of India (RAI) said invoices issued to BTC (bank transfer compliant) consumers must be simplified and the need for manual signature and multiple copies to get GST refund must be removed.
Here are the top headlines at 11 am from Moneycontrol News' Sakshi Batra
10:47 am Market Update: Bulls retained their charge on Dalal Street as the market continued to trade around record highs, with the Sensex rising more than 350 points.
Nifty Bank index zoomed 500 points on buzz of allowing 100 percent FDI in banking sector.
Mindtree surged 8 percent after stellar Q3 earnings performance. Morgan Stanley upgraded the stock to overweight on improving macro & execution, and raised target price by 33 percent.
10:31 am Buzzing: Shares of Panacea Biotec added 8.6 percent in morning on signing two long term agreement with Serum Institute.
The company signed two long term agreements with Serum Institute of India and its wholly owned subsidiary, Bilthovan Biologicals B.V (BBIO).
Under the collaboration Serum Institute is entitled to manufacture & sell fully liquid whole cell pertussis (wP) and salk based injectable polio vaccine (IPV) based Hexavalent vaccine (DTwPHepB-Hib-IPV) developed and commercialized by Panacea Biotec, a first of its kind in this category.
Serum Institute of India will ensure supply of IPV bulk to Panacea Biotec, an important constituent of the Hexavalent vaccine, from its wholly owned subsidiary BBIO.
10:20 am Market Update: Benchmark indices remained strong in morning as the Sensex gained 341.16 points or 0.97 percent at 35,422.98 and the Nifty rose 76.80 points or 0.71 percent to 10,865.30, driven by banking and financials.
About 1,493 shares advanced against 850 declining shares on the BSE.
10:12 am HDFC Bank has crossed its market capitalisation of Rs 5 lakh crore, retaining third position after Reliance Industries and TCS.
10:05 am FII View: The government on Wednesday curtailed its additional market borrowing programme by 60 percent to Rs 20,000 crore as it expects more transfers of surplus cash from the Reserve Bank in the current fiscal ending March 31.
Commenting on the same, Marie Diron, Senior Vice President, Sovereign Risk Group at Moody's Investors Service, said reduction in the borrowing is relatively small compared to the size of India's economy. "The reduction will not really impact our fiscal deficit target estimate for India and hence is not too relevant to our sovereign rating."
Despite concerns that the Finance Minister Arun Jaitley may breach the fiscal deficit target for the first time in four years, the rating agency expects the Narendra Modi-led NDA government to maintain its stance of gradual fiscal consolidation.
Here are the top headlines at 10 am from Moneycontrol News' Anchal Pathak
9:58 am Earnings Estimates: Telecom operator Bharti Airtel is expected to report weak set of earnings for October-December quarter due to continued pricing war.
Analysts expect Bharti's India wireless revenue to decline 8 percent QoQ largely due to the 57 percent interconnect usage charge rate and expect APRU (average revenue per user) downtrend to continue, as incumbents extend freebies to a wider subscriber base to arrest churn towards Reliance Jio.
According to them, Africa Business is expected to remain insulated from intense competition in the market and the launch of additional unlimited plans is likely to impact India wireless EBITDA.
Airtel's consolidated profit is seen falling 21 percent sequentially to Rs 271 crore and revenue may decline 4 percent to Rs 20,809 crore for the quarter ended December 2017, according to average of estimates of analysts polled by CNBC-TV18.
EBITDA (earnings before interest, tax, depreciation and amortisation) is likely to slip 5 percent quarter-on-quarter to Rs 7,519 crore, but margin may expand 90 basis points to 36.1 percent in Q3.
9:50 am Buzzing: Share price of Dilip Buildcon rose 2.5 percent in morning as it has won a contract worth Rs 730 crore.
Dilip Buildcon has been declared L-1 bidder by the National Highways Authority of India (NHAI) for an EPC road project in the state of Madhya Pradesh.
The contract includes construction of 4 laning from km 624.480 to km 653.225 of NH-7 in the state of Madhya Pradesh under NHDP phase-III on EPC mode.
The total value of the contract is Rs 730.08 crore, which to be completed in 24 months.
9:44 am Rupee Trade: The rupee strengthened by 5 paise in opening but immediately turned lower despite strong equity markets.
It was trading at 63.90 against the US dollar, down 2 paise from previous
close.
Besides, domestic equity markets soaring to new highs and
the dollar losing sheen against some other currencies overseas
also supported the local unit, traders said.
Yesterday, the rupee had rebounded by 16 paise to end at
63.88 against the US currency on bouts of dollar selling by
exporters and banks.
Foreign investors put in Rs 625.13 crore on net basis in
stocks yesterday, according to the exchange data.
9:35 am Earnings Estimates: Private sector lender Yes Bank's third quarter profit is expected to increase 21.2 percent to Rs 1,069.4 crore compared to Rs 882.6 crore in corresponding quarter.
Net interest income during the quarter is seen rising 32.2 percent to Rs 1,992.8 crore from Rs 1,507.5 crore in year-ago, according to average of estimates of analysts polled by CNBC-TV18.
9:28 am IPO Subscription: The initial public offer of IT firm Newgen Software Technologies was subscribed 70 percent yesterday.
The IPO, which aims to raise Rs 425 crore, received bids for 85.54 lakh shares against the total issue size of over 1.22 crore scrips, registering a subscription of 70 percent, data available with the National Stock Exchange (NSE) showed.
The portion reserved for retail investors was subscribed 1.33 times, while that for qualified institutional buyers (QIBs) witnessed a subscription of 10 per cent.
Newgen Software's initial public offer (IPO) comprises fresh issue of shares worth up to Rs 95 crore by the company and an offer for sale of 13,453,932 equity shares by the existing shareholders.
9:20 am FDI in banking sector: The government is thinking of allowing 100 percent foreign direct investment in private banks, sources told CNBC-TV18.
Increasing the permissible limit for FDI in public sector banks to 49 percent from the current 20 percent is also being considered, the sources said.
The proposed changes are reportedly being discussed by the finance ministry,  the Department of Industrial Policy and Promotion (DIPP) and the Indian Banks' Association (IBA).
At present, FDI of up to 49 percent is allowed in private banks without the permission of the government, and upto 74 percent can be invested with the government's approval.
KC Chakrabarty, former deputy governor at the Reserve Bank of India (RBI), told CNBC-TV18 that even with 100 percent FDI, RBI regulations do not permit a single entity to invest more than 10 percent in a bank.
9:15 am Market Check: Bulls kept its tight control over Dalal Street as equity benchmarks opened at fresh record high on Thursday after buzz of likely increase in FDI in banking sector.
The 30-share BSE Sensex was up 294.72 points or 0.84 percent at 35,376.54 and the 50-share NSE Nifty gained 73.60 points or 0.68 percent at 10,862.10.
About 1,004 shares advanced against 308 declining shares on the BSE.
Nifty Bank rallied nearly 600 points to hit a fresh record high after sources told CNBC-TV18 that the government is considering allowing 100 percent FDI in banking sector.
SBI, ICICI Bank, Yes Bank, HDFC Bank, Axis Bank, IndusInd Bank and Kotak Mahindra Bank gained 1-3 percent.
GAIL was down 2 percent.
Nifty Midcap was up 0.7 percent. Mindtree, Adani Transmission, Thirumalai Chemicals, Jubilant Life and Bank of Maharashtra gained 3-8 percent.