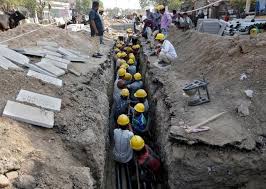 India's infrastructure output grows 6.8 percent in November
 India's annual infrastructure output grew 6.8 percent in November from a year ago, government data showed on Monday.
The growth in output compares with an upwardly revised 5.0 percent year-on-year growth in October.
During April-November, the annual output growth was 3.9 percent, data showed.
Infrastructure output, which comprises eight sectors such as coal, crude oil and electricity, accounts for nearly 40 percent of India's industrial output.