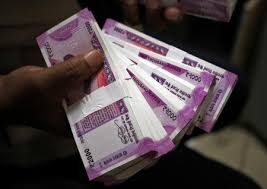 Indian bonds slump, as higher borrowing raises inflation concerns
 India's benchmark 10-year bond slumped to a more than 17-month low on Thursday, sending its yield up as much as 11 basis points, after the government said it needs to borrow more for the year ending in March than the market expected.
It's no surprise there would be additional borrowing in the last three months of the fiscal year, as tax collection plunged after the launch of the national Goods and Services Tax (GST) in July.
But India's announcement it would borrow an additional 500 billion rupees ($ 7.79 billion) was well above the 250-300 billion rupees most traders expected.
The greater-than-anticipated borrowing also sparked fears the government would breach its fiscal deficit target of 3.2 percent of gross domestic product this fiscal year, potentially spurring higher inflation that in turn could lead the central bank to raise interest rates.
"The market is nervous. No one was expecting an additional 500 billion rupees worth of borrowing," said Harish Agarwal, a fixed income trader in Mumbai for First Rand Bank.
The benchmark 10-year bond yield was up 11 basis points at 7.33 percent by 0455 GMT, its highest level since mid-July 2016.
However, Indian shares edged higher on Thursday. The broader NSE Nifty up was up 0.08 percent, supported by some hopes that any increased spending could support an economy that's only starting to recover after a five-quarter slide.
The 10-year bond yield has risen more than 85 bps since the Reserve Bank of India last cut interest rates in early August. The increase has come amid concerns that accelerating inflation signals the end of the central bank's easing cycle.
The RBI took advantage of a period of extraordinary low inflation to cut rates by 200 bps between January 2015 and August 2017, the biggest easing cycle since the 2008 global financial crisis.
But prices are now accelerating, and annual inflation spiked to a 15-month high of 4.88 percent in November, way above expectations.
Early this month, the RBI kept its policy rate steady at 6.00 percent, but minutes released after that meeting showed some members of the monetary policy panel gave sharp warnings against being complacent about inflation.