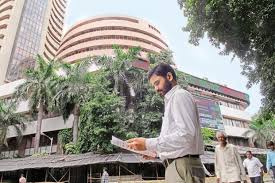 Market Live: Sensex, Nifty trim losses on likely respite to some shell companies
3:24 pm Market Check: Equity benchmarks extended losses in late trade on further profit booking, with the Nifty breaching 9,900 level.
The Sensex was down 258.13 points or 0.81 percent at 31,756.06 and the Nifty dropped 83.40 points or 0.84 percent to 9,895.15.
About four shares declined for every share rising on the BSE.
The broader markets fell more than benchmark indices. The BSE Midcap and Smallcap indices slipped nearly 2 percent each.
3:10 pm Buzzing: Natco Pharma plunged more than 11 percent intraday despite strong set of earnings in Q1FY18. The sharp fall was led by end of large Tamiflu generic contribution to US business and resignation from director & president of R&D and tech division.
Consolidated profit during the quarter grew by 97 percent year-on-year to Rs 93.7 crore and revenue increased 30.8 percent to Rs 445.3 crore while operating profit jumped 77 percent to Rs 136.7 crore and margin expanded by 819 basis points to 31.93 percent.
The earnings growth was driven by US business but analysts said Q1FY18 was the last quarter for large Tamiflu generic (antiviral medication) contribution to US.
Pricing pressure in the US also caused selling pressure in stocks. There was strategic shift of R&D budget from highly competitive US to India and now 50 percent of R&D spend will be focused on India.
In addition, the company received resignation letters from Dr BS Bajaj, independent director and Dr AKS Bhujanga Rao, Director and President (R&D and Tech) wherein they resigned from the board of Natco Pharma with immediate effect due to their personal reasons, Natco said on August 7.
2:58 pm Broader markets underperform: The BSE Midcap and Smallcap indices fell more than 1 percent for second consecutive session today, especially driven by unwinding in highly leverage stocks.
Nifty Pharma index fell the most among sectoral indices, down over 3 percent.
2:50 pm Respite to some shell cos: Government sources told CNBC-TV18 that market regulator SEBI may issue notification soon to give respite to certain shell companies.
The regulator is likely to allow trading in about 12 companies once they explain their position and the trading may resume in a week.
Shell companies may be asked to submit documents to prove their stand.
Action against some companies taken due to spike in trade during demonetisation and violation of income tax rules, sources said.
2:43 pm Market recovers: Equity benchmarks trimmed losses in last hour of trade, with the Sensex down 76.63 points at 31,937.56. The index lost more than 200 points intraday.
The 50-share NSE Nifty was down 27.85 points at 9,950.70.
About three shares declined for every share rising on the BSE.
2:31 pm Result Analysis: NCC's shares gained over 3 percent intraday after the company reported steady figures for the June quarter.
The company delivered a strong performance in this quarter. It reported topline growth of 6 percent year on year at Rs 2,010 crore.
Multiple brokerages have positive views on the stock and see upside as well.
2:01 pm Market Check: Equity benchmarks extended losses in afternoon trade, with the Sensex down 186.08 points at 31,828.11 and the Nifty down 62.40 points at 9,916.15.
About three shares declined for every share rising on the BSE.
Hindalco Industries, NTPC and Vedanta outperformed, up over a percent.
1:45 pm Buzzing: Healthcare major Sun Pharmaceutical Industries fell sharply by 5 percent intraday to hit a 52-week low of Rs 475.40 following dismal performance from its subsidiary Taro.
Taro Pharmaceutical's profit in April-June quarter plunged 50 percent to USD 54.5 million, dented by continued pricing pressure in the US.
Net sales declined 31 percent to USD 161.3 million from USD 233.8 million on year-on-year basis on continuing increased competition and the challenging pricing environment; despite an overall increase in volumes.
"Results reflect the difficult generic pricing environment, particularly in the US, driven by more intense competition among manufacturers, new entrants to the market, buying consortium pressures, and a higher ANDA approval rate from the FDA," Abhay Gandhi, Taro's interim CEO said.
Taro expects this product-specific pricing pressure to continue into the future.
1:25 pm Market Check: Benchmark indices continued to trade weak in afternoon trade, following correction in global peers on geopolitical tensions.
The 30-share BSE Sensex was down 145.29 points at 31,868.90 and the 50-share NSE Nifty fell 42.95 points to 9,935.60. About 1,706 shares declined against 659 advancing shares on the BSE.
European equities edged lower as geopolitical concerns curbed investor sentiment. France's CAC, Germany's DAX and Britain's FTSE were down 0.5-0.8 percent.
Tensions between North Korea and the United States have escalated to an unprecedented level after President Donald Trump warned the former would be "met with fire and fury" if it continued its threats. Pyongyang replied it was "carefully examining" a plan to strike Guam, where a US military base is located.
1:14 pm Gold options contract: SEBI has allowed Multi-Commodity Exchange of India to start first gold options contract.
The commodity exchange received approval from the market regulator for 1-kg gold options standard contract.
1:01 pm Results: Public sector lender Bank of India turned black in the quarter ended June 2017, with profit at Rs 87.7 crore driven by strong other income, operating income and lower provisions.
The bank had reported a loss of Rs 741.3 crore in June quarter 2016.
Net interest income fell 8.7 percent year-on-year to Rs 2,533 crore compared with same quarter last year, which missed analysts' expectations.
According to average of estimates of analysts polled by CNBC-TV18, the loss was estimated at Rs 75.5 crore and net interest income at Rs 3,077.5 crore for the quarter.
12:46 pm Market Check: Equity benchmarks continued to reel under selling pressure as the Sensex was down 142.98 points at 31,871.21, dragged by banks, infra, pharma and auto stocks. However, technology stocks and Reliance Industries capped losses.
The 50-share NSE Nifty declined 40.30 points to 9,938.25. About three shares declined for every share rising on the BSE.
Adani Ports and Sun Pharma were top losers among Sensex stocks, down 3.6 percent each followed by HDFC Bank, Tata Motors, ITC, ICICI Bank, Axis Bank and Bajaj Auto.
12:25 pm Earnings: City Union Bank started off the financial year 2017-18 on a positive note as first quarter earnings beat analysts' expectations on Wednesday, though asset quality weakened further.
Profit in April-June quarter grew by 13.6 percent year-on-year to Rs 140.3 crore despite higher provisions. The growth was driven by net interest income and other income.
Net interest income, the difference between interest earned and interest expended, increased 22.3 percent to Rs 342.4 crore compared with year-ago quarter, aided by net interest margin.
Net interest margin expanded sharply to 4.47 percent from 4.2 percent in previous quarter and 4.07 percent in same quarter last fiscal.
Profit was estimated at Rs 137.4 crore and net interest income at Rs 318.3 crore for the quarter, according to average of estimates of analysts polled by CNBC-TV18.
12:10 pm Crackdown on shell companies: Government official told CNBC-TV18 that multi-agency probe is ordered for crackdown on shell companies. Prime Minister's Office has appointed a task force, headed by Hasmukh Adhia & Tapan Ray, for strict action against these companies.
Multi-agency probe includes Enforecement Directorate, CBI, SEBI, SFIO, Income Tax Dept, DRI and MCA. This group is forming a concrete database through exchange of information.
PMO-appointed task force last met on July 20.
Market regulator SEBI, on Monday evening, released list of 331 shell companies identified by Ministry of Corporate Affairs.
11:55 am PSU banks consolidation: Sources told CNBC-TV18 that decision on consolidation of PSU banks is likely after August 15.
The government may look at 1-2 merger cases for PSU banks. Canara Bank, Bank of Baroda and PNB maybe among anchor banks for mergers.
According to sources, East-based PSU banks may be considered later for consolidation.
11:35 am Earnings Estimates: Tata Motors' profitability in June quarter is expected to be hit by standalone business but likely to be supported by Jaguar Land Rover. Consolidated profit is seen falling 47 percent year-on-year to Rs 1,415 crore, according to average of estimates of analysts polled by CNBC-TV18.
Revenue during the quarter is likely to decline 12 percent to Rs 58,557 crore on lower volumes in domestic business.
Operating profit on consolidated basis may drop 12 percent to Rs 6,722 crore and margin may shrink by 15 basis points to 11.3 percent compared with same quarter last year.
Jaguar Land Rover is expected to report a 10 percent growth in profit at 335 million pound and 8 percent growth in revenue at 5,833 million pound on year-on-year basis.
11:15 am Listing: Security and Intelligence Services (India) is set to list its equity shares on exchanges on Thursday, August 10. The issue price is fixed at higher end of price band of Rs 805-815 per share.
The Rs 780-crore public issue, which was opened for subscription between July 31 and August 2, was oversubscribed 7 times.
The reserved category for qualified institutional buyers was oversubscribed 5.64 times while non institutional investors' portion has seen 1.66 times subscription and retail investors 19.51 times.
The initial public offering comprised of fresh issue of equity shares of up to Rs 362.25 crore and an offer for sale of up to 51.2 lakh equity shares to be diluted by investors and promoters.
10:58 am Earnings Estimates: National Aluminium Company's (NALCO) first quarter earnings are expected to be strong on volume growth. Profit is seen rising 23 percent year-on-year to Rs 166 crore and revenue may increase 31.8 percent to Rs 2,042 crore in the quarter ended June 2017.
Operating profit is expected to surge 56.9 percent to Rs 306 crore and margin may expand 240 basis points to 15 percent compared to same quarter last year, according to average of estimates of analysts polled by CNBC-TV18.
Analysts expect alumina volumes at 3.3 lakh tonnes (a growth of 14 percent YoY but fall 18 percent QoQ) and aluminum volumes at 1.02 lakh tonnes (up 24 percent YoY but down 6 percent QoQ).
Key issues to watch for would be availability of coal for captive power plant and LME price trend.
10:42 am Geopolitical tensions: Geopolitical tensions ramped up after President Donald Trump warned North Korea it would be "met with fire and fury" if it continued to make threats against the US. His comments came on the back of a report from the Washington Post that the hermit state had created a miniaturized nuclear weapon that could fit in its missiles.
Just hours after Trump's warning, North Korea reportedly said it was "carefully examining" a plan to strike the US Pacific territory of Guam with missiles.
10:30 am Market Check: Benchmark indices remained under pressure amid consolidation, tracking weakness in global peers due to geopolitical tensions.
The 30-share BSE Sensex was down 60.45 points at 31,953.74 and the 50-share NSE Nifty fell 13.05 points to 9,965.50. The broader markets, too, were down 0.3 percent on weak breadth.
About two shares declined for every share rising on the BSE.
Banks fell for the second day in a row, with the Nifty Bank down 0.6 percent. ICICI Bank, HDFC Bank, Axis Bank, Kotak Mahindra Bank, IDFC Bank and Bank of Baroda were down between 0.5 percent and 1 percent.
9:55 am Earnings impact: Shares of SRF touched 52-week low of Rs 1425.30, down 7.7 percent intraday on the back of poor Q1 (April-June) numbers.
The company has reported 32.9 percent decline in its Q1 net profit at Rs 103.8 crore versus Rs 154.6 crore, in the same period last fiscal.
The operating profit (EBITDA) was down 30.8 percent Rs 209.1 crore and EBITDA margin was at 16.8 percent.
Meanwhile, its revenue was up 6.4 percent at Rs 1,388.4 crore versus Rs 1,305.5 crore.
The board has approved setting-up of a facility to produce specialty chemicals (P-33) for agro industry at SRF's Chemical Complex in Dahej, Gujarat at an estimated cost of Rs 85 crore.
9:45 am Market Outlook: The market has seen some moderation, which was expected after sharp rally in the year so far but deep correction is unlikely, that is the word coming from Mahesh Patil, the Co-CIO of Birla Sun Life AMC on Wednesday.
Equity benchmarks already corrected around 2 percent from its record highs touched last week, which was on expected lines. Anyway the market always gives investors a chance to book some profits after some period of time. In previous session, the Nifty fell below 10,000-mark for the first time in two weeks, especially after capital market regulator SEBI on Monday released a list of 331 shell companies identified by Corporate Affairs Ministry.
The market shot up more than 20 percent year-to-date and the maximum correction seen in 2017 was around 2.5 percent that was healthy correction.
The current correction was also on expected lines as earnings revival has not seen so far, even Q1 earnings were a mixed bag, Patil said in an interview to CNBC-TV18.
He further said, "The current correction does not mean that we are at mouth-watering level."
He expects new supply of USD 4-5 billion through large issuance to hit market soon.
"We at Birla Sun Life have been cautious on the market and are not in a hurry to buy stocks. The recent rally surprised us as valuations in near term will remain high," he said.
Hence, he expects some correction in near-to-short term, which could be 6-7 percent (that can be called healthy correction) but he is positive on market with long term perspective.
He wants to see some earnings visibility before deploying cash in the market. He is a bit defensive; therefore he has increased exposure to consumer staples due to steady earnings.
9:30 am Earnings snapshot: Gautam Singh of Spark Capital said Q1FY18 earnings season started with a mixed set of results as 38 percent of the Spark coverage companies beat estimates while 41 percent missed the estimates.
On sector level, private banks, midcap IT and large cap cement players surprised positively whereas capital goods and pharma companies disappointed in this quarter, he added.
In the Nifty 50, out of the 35 companies that came out with results, 34 percent of them beat estimates while 37 percent missed estimates, Singh said.
9:20 am Buzzing: Shares of PVR rose more than 1 percent in early trade on the back of stake sale in its joint venture company.
The company in its meeting held on August 8 has approved sale of its 51 percent stake in PVR bluO Entertainment.
PVR bluO Entertainment is a joint venture between PVR and Major Cineplex group of Thailand in which PVR owns 51 percent stake with balance 49 percent stake held by Major group.
The company has signed definitive agreements with Smaaash Entertainment along with its partner Major Complex Group to sell 100 percent stake in PVR bluO Entertainment for a consideration of approximately Rs 86 crore.
9:15 am Market Check: Equity benchmarks extended previous day's losses in opening trade Wednesday, tracking weakness in Asia.
The 30-share BSE Sensex was down 91.45 points at 31,922.74 and the 50-share NSE Nifty fell 34.40 points to 9,944.15.
Nifty Bank was down 0.5 percent as Yes Bank, ICICI Bank, Bank of Baroda and Axis Bank were under pressure.
Nalco, Hindalco Industries and Vedanta gained up to 3 percent.
PVR, Endurance and Meghmani Organics gained up to 3 percent post earnings while HPCL, HDIL, Sintex Industries, JP Associates, HCC, Suzlon Energy and Balrampur Chini fell up to 10 percent.
Discussion
Rules of Discussion on Live Index
1. This forum is for discussion of financial markets. Please respect others view even if they are contrary to you.
2. Member's comments should lead to value addition in forum discussion.
3. If anyone is found making repetitive Explicit/Abusive/Racial comments, his account shall be banned and old posts will be deleted.