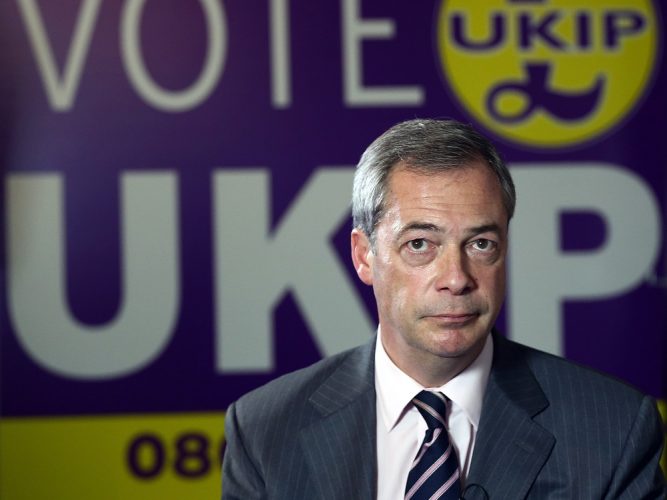 UK : Anti-EU champion Farage quits after Brexit vote
LONDON : The leader of the insurgent right-wing UK Independence Party said on Monday he was stepping down after realising his ambition to win a vote for Britain to leave the EU, the latest twist in a dramatic reshaping of the nation's politics.
The departure of brash former commodities trader Nigel Farage would sideline one of the most outspoken and effective anti-EU campaigners from the debate about how to sever Britain's ties with the other 27 countries in the bloc.
But it could also give his UKIP party – which under Britain's winner-takes-all election system won just one seat in parliament last year despite capturing 12.6 percent of the vote – an opportunity to select a less polarising figure and take on the mainstream in a radically altered political environment.
The June 23 'Brexit' vote to leave the EU has thrown both the two main political parties into disarray, with the ruling Conservatives seeking a replacement for Prime Minister David Cameron and lawmakers from the main opposition Labour Party voting to withdraw confidence in leader Jeremy Corbyn.
"I have never been, and I have never wanted to be, a career politician. My aim in being in politics was to get Britain out of the European Union," Farage told reporters.

"During the referendum campaign, I said 'I want my country back'. What I'm saying today, is, 'I want my life back,' and it begins right now."
The acrimonious leadership battles in the main political parties have added to uncertainty at a time when Britain is embarking on its biggest constitutional change since the dissolution of its empire in the decades after World War Two.
The government, which failed to convince voters that a Leave vote would wreck the economy, is now racing to reduce the damage. George Osborne, the finance minister, has abandoned his target of balancing the budget within four years and floated the idea on Sunday of a quick cut in corporate tax to 15 percent from 20 percent. Labour accused him of trying to turn Britain into an offshore tax haven.
NO FIRM PLAN
Britain has no firm plan for how it wants to proceed in negotiations with the EU over a future relationship. European leaders say London must choose between continuing to allow free movement of EU citizens, or expulsion from the common market.
This week will see the Conservatives start the process of whittling down the candidates to succeed Cameron, who has said he will leave it to his successor to withdraw from the EU.
Theresa May, a party stalwart who has run the law-and-order portfolio in the cabinet for six years, is the favourite to succeed Cameron despite having campaigned to remain in the EU.
According to bookmakers, her strongest rival is Andrea Leadsom, 53, a junior minister who was unknown to most Britons before the referendum campaign but was widely judged to have mounted an effective case for 'Leave' in an eve-of-vote televised debate seen by millions.
If the betting odds are correct, Britain is on course to get its first woman prime minister since Margaret Thatcher left office in 1990.
Leadsom, setting out her leadership credentials on Monday, said talks over Britain's departure from the EU should be as short as possible to avoid prolonged uncertainty.
She offered reassurance to EU nationals currently living in Britain: "I commit today to guaranteeing the rights of our EU friends who've already come here to live and work. We must give them certainty. There is no way they will be bargaining chips in our negotiations."
She and May are opposed by three other candidates: work and pensions minister Stephen Crabb, former defence minister Liam Fox and Justice Secretary Michael Gove. Gove, a Leave campaigner, caused high political drama last week by turning against his ally, former London mayor Boris Johnson, and driving him from the race.
DIVORCE PROCESS
Despite the 52 percent referendum vote, Britain has not yet invoked Article 50 of the EU's Lisbon Treaty to begin the formal process of breaking away. While all the candidates to succeed Cameron say there is no going back, some anti-Brexit politicians say it is still not a foregone conclusion.
Law firm Mishcon de Reya said on Monday it had started legal action to demand the government win legislative approval from parliament before triggering the divorce process. Most of the 650 members of the House of Commons opposed Brexit before the vote.

"The outcome of the Referendum itself is not legally binding and for the current or future Prime Minister to invoke Article 50 without the approval of Parliament is unlawful," Kasra Nouroozi, a partner at Mishcon de Reya, said in a statement.
It has been in correspondence with government lawyers since June 27 to seek assurances for its clients that the government will respect the sovereignty of the British parliament.
Former defence chief Fox, a pro-Brexit figure and an outsider in the leadership contest, said Britain should activate article 50 before the end of the year, and he did not believe any parliament vote was needed.
He said the free movement of people across Europe – a core principle of the EU but a major concern for many Britons because of high immigration – should not be on the table in negotiations about a trade deal with the EU after Brexit.
"It is quite clear that the public rejected the concept of free movement, and that the price of including such free movement as part of a trade deal would be regarded as a betrayal by the British people," Fox said.
The referendum result rocked global markets last month, sending the pound to a 31-year low of $ 1.3122 on concerns about economic uncertainty, the future of the EU, and disruption to trade and investment from severing Britain's 43-year membership.
On Monday, the pound was trading around $ 1.3276 and the FTSE 100 index of leading shares was down 0.4 percent on the day, but still up more than 3 percent since the referendum.
UKIP'S FUTURE
The Leave vote has the potential to bring UKIP, an upstart party formed to campaign over the single issue of exiting the EU, into the mainstream, a difficult hurdle in Britain which has no proportional representation.
UKIP candidates placed second in scores of constituencies in the last general election, challenging the Conservatives across much of southern England and contributing to an erosion of support for Labour in working class areas in the north.
But the party has been almost completely identified with the figure of Farage, who has cultivated the image of a plain-speaking, beer-drinking man of the people and scourge of what he has portrayed as faceless European bureaucrats. It is far from clear who might succeed him.
UKIP's only MP Douglas Carswell, who has been openly critical of Farage, tweeted a smiley face and a photo of clear blue skies over parliament with the comment 'View of Westminster today.'
But he told the BBC: "I am certainly not going to stand to lead UKIP."
Discussion
Rules of Discussion on Live Index
1. This forum is for discussion of financial markets. Please respect others view even if they are contrary to you.
2. Member's comments should lead to value addition in forum discussion.
3. If anyone is found making repetitive Explicit/Abusive/Racial comments, his account shall be banned and old posts will be deleted.