First Republic Crashes 65% On Bank Fears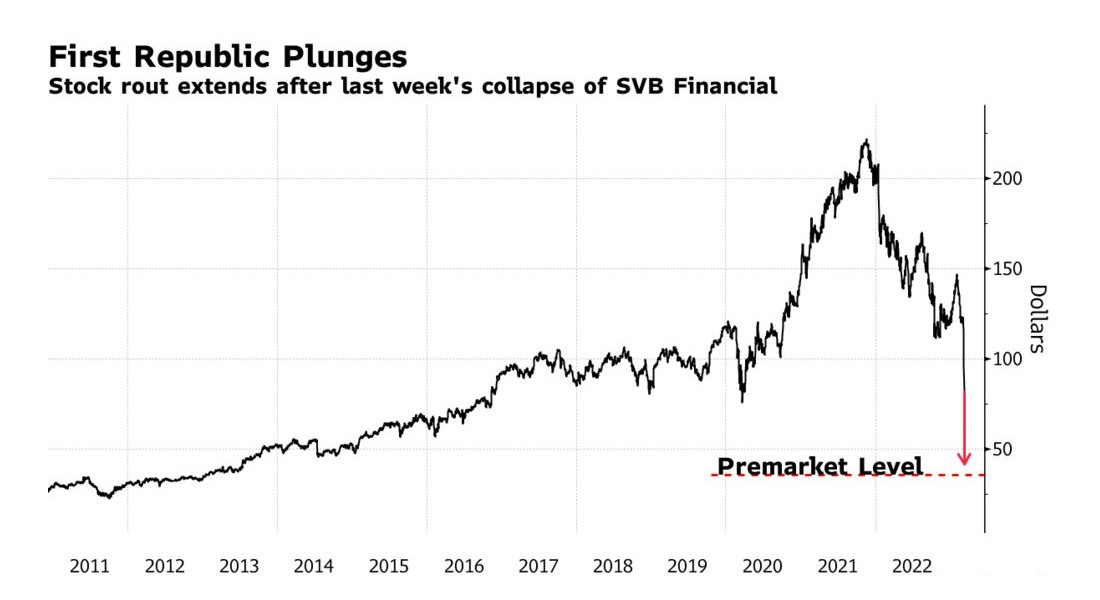 Dow Jones futures briefly dived 400 points Monday morning, as global markets grappled with the ongoing crisis among U.S. banks. The FDIC and other financial regulators guaranteed all deposits of SVB Financial (SIVB). Regulators on Sunday also took control of Signature Bank (SBNY). San Francisco's First Republic (FRC) crashed 65% in premarket trade, despite receiving additional funding from the Federal Reserve and JPMorgan (JPM).
On the economic front, eyes will be on the consumer price index on Tuesday. The CPI is expected to rise 0.4%, both overall and excluding food and energy. That would bring the headline CPI inflation rate down to 6% from 6.1% in January, with the core inflation rate easing to 5.5% from 5.6%.
Ahead of Monday's market open, Dow Jones futures fell 0.7% vs. fair value, and the S&P 500 futures were down 0.8%. The tech-heavy Nasdaq 100 futures turned down 0.5% in morning action, with Seagen and Illumina leading the index.
The 10-year U.S. Treasury yield tumbled to 3.69% Friday. Then on Monday, the 10-year yield dived to 3.51% in early morning trade, as safe haven trade drove bonds sharply higher following the SVB collapse. The dollar angled lower, losing ground against the euro, and the yen.
Oil prices sold off Monday morning after Friday's brief bounce. West Texas Intermediate futures slid nearly 5% in early trade, trading below $73 a barrel early Monday. Gold and silver also moved sharply higher as investors sought solid ground. Gold jumped 1.4% to above $1,892 an ounce. Silver rallied 3.3%, clearing $21 an ounce.
The dollar ran against the safe haven trend, losing ground vs. both the euro and the yen.