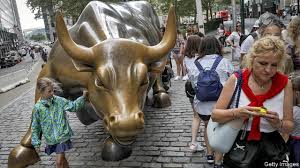 U.S. Dow Futures jump nearly 500 points on Moderna vaccine news
U.S. stock futures rose on positive study results from another potential Covid-19 vaccine, with the S&P 500 set to open higher after ending last week at a record level.
S&P 500 Futures jumped 1% where as Dow Jones Futures climbed 1.7%.
Moderna said its experimental coronavirus vaccine was 94.5% effective at protecting people from Covid-19 in an early look at pivotal study results, the second vaccine to hit a key milestone.
Investors have recently been buoyed by the prospect of more positive news on coronavirus shots, which could signal a return to greater economic normality. News of a successful trial from Pfizer and BioNTech jolted markets last week. The vaccine results boosted hopes for a faster economic rebound, sending the yield on 10-year Treasurys to 0.919%, from 0.892% on Friday. Bond yields and prices move in opposite directions.
Despite the vaccine news, a rally in stocks could prove choppy as investors work out how long it could take for the economy to benefit from a successful inoculation, said James Athey a senior investment manager at Aberdeen Standard Investments.
"There's a long way to go between Phase III results and a normal economy," he said.
Moderna's results didn't change the consensus timeline for the rollout of a vaccine, Mr. Athey said. Markets expected a coronavirus vaccine to be approved between year-end and the middle of the first quarter of 2021, and for distribution to certain parts of the population to start before the middle of next year, he said.
Last week, investors shunned tech stocks that have benefited from consumers spending more time at home, instead favoring companies that would benefit from the reopening of the economy.
"There is a fundamental reason why equities are rising, which is a recovery that seems to be pretty solid, the prospect of more stimulus, and also the vaccine," said Luca Paolini, chief strategist at Pictet Asset Management.
Though questions remained about the efficacy and distribution of a vaccine, and investors are perhaps overly exuberant in the short term, "for next year, everything seems to be actually moving in the right direction," Mr. Paolini added.
The U.S. reported more than a million coronavirus infections for the past week, including more than 133,000 Sunday, as the national total surpassed 11 million. The country also set a record for hospitalizations, with 69,987 reported Sunday, according to the Covid Tracking Project.
Commodities rallied after strong economic data out of China and Japan pointed to healthy demand for industrial metals. Chinese industrial production rose 6.9% in October from a year earlier. Data showed Japan's economy grew by its fastest pace in 40 years in the third quarter. Copper jumped 2% to its highest level since June 2018. Brent crude, the international benchmark for oil, rose 3.7% to $44.35 a barrel.
The pan-European Stoxx Europe 600 rose 1.3%, led by shares in banks and other sectors hard hit by the pandemic, such as oil and travel. Asian stocks benefited from the signing of a major trade deal that includes China, Japan, South Korea and 12 other countries. The regional bloc covers around a third of global economic output.
Japan's Nikkei 225 rose 2.1% to log a fresh 29-year high. Indexes in Taiwan and South Korea rose by similar amounts to hit multiyear highs or records.
Moderna shares jumped more than 16% in premarket trading. Companies that stand to benefit from the reopening of the economy also climbed, with United Airlines Holdings rising 8% and cruise operator Royal Caribbean Group up 7.2%. Companies that have benefited from stay-at-home orders slipped, with Zoom Video Communications down 6.5% premarket and Peloton Interactive down 4%. Futures on the tech-heavy Nasdaq-100 were down 0.3%.