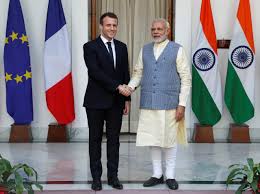 France signs deals worth $16 billion in India; to deepen defence, security ties
French and Indian companies signed contracts worth 13 billion euros ($ 16 billion) on the first day of President Emmanuel Macron's visit to India on Saturday, the French presidency said in a statement.
The deals include a contract for France's Safran to supply airline Spice Jet with engines, water system modernisation by Suez in the southern city of Davangere and a contract between industrial gas company Air Liquide and Sterlite.
Macron and Indian Prime Minister Narendra Modi – addressing a news conference in New Delhi after signing the agreements – also committed to strengthening their partnership on defence and security.
"Whether it's the environment, naval security and resources, or freedom of navigation and overflight, we are committed to making our partnership stronger on all these fronts," Modi said. "We consider France one of our most reliable defence allies."
He also hailed France's "commitment" towards making defence and security equipment in India and contributing to Modi's flagship "Make in India" plan to boost local manufacturing.
Macron separately said the countries had decided to "do more together" to fight terrorism, and put together a strategy to share intelligence.
"Our navies will be able to call our respective military bases … we will also have our space agencies conducting some joint monitoring of the maritime area," Macron said.
"The Pacific or the Indian Ocean cannot be places for hegemonic powers."
Macron's office did not provide a breakdown of the value or details of the business contracts. It said some 200 million euros of investments would be made in India.
A so-called "Industrial Way Forward Agreement" was signed between French utility EDF and India's NPCIL for the construction of six nuclear reactors at Jaitapur.
Negotiations over the construction of next-generation nuclear reactors in India have been dragging on for years.
It was not immediately clear whether these were firm contracts or letters of intent.