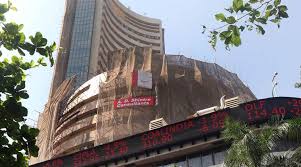 Market Live: Sensex falls over 200 pts, Nifty below 10,400 despite BJP wins Tripura
10:18 am Market Update: Benchmark indices extended sell-off on heavy losses in metal, auto, oil and Gas, banking and PSU stocks after US President Donald Trump fuelled concerns of a global trade war.
Asian markets too turned negative as the fallout from Trump's steel and aluminium tariffs continued to spook investors and dampen market sentiment here, brokers said.
The 30-share BSE Sensex was down 295.79 points or 0.87 percent at 33,751.15 and the 50-share NSE Nifty declined 102.30 points or 0.98 percent to 10,356.10.
All sectoral indices led by metal, auto, oil & gas banking and PSU stocks were trading in the negative terrain.
The laggards were Yes Bank, Tata Steel, Tata Motors, Coal India, Bharti Airtel, ONGC, HUL, Bajaj Auto, Dr Reddy's HDFC, Asian Paint, Power Grid, M&M and SBI.
Here are the top headlines at 10 am from Moneycontrol News' Anchal Pathak
10:05 am Buzzing: Shares of Fortis Healthcare declined nearly 5 percent as SFIO is seeking certain information and documents from the company by March 9, 2018.
The company has received a notice from Serious Fraud Investigation Office (SFIO), Ministry of Corporate Affairs, New Delhi, seeking certain information and documents as mentioned therein to be submitted by March 9, 2018.
The company is in process of collating the said information and will be sharing the same in due course.
The financial implication/compensation/penalty and quantum of claims has not been referred in the aforesaid letter and hence cannot be ascertained, company said.
9:55 am Market Outlook: "This the fifth year of a bull market which has been a slow steady one with very little volatility. There have been a few corrections and we are in the middle of one at present. For the long-term investor, this is still a buy on dips market," Dipan Mehta, Director, Elixir Equities Pvt. Ltd said in an exclusive interview with Moneycontrol's Kshitij Anand.
"Whether this correction will deepen or not will become evident over the next 2-3 weeks. If a lower tops/lower bottoms formation get created and broad market indices trade below their 200 DMA (which they are not at present) then we may be in for an extended sell-off or a mild bear market."
News Live: HDFC Bank may raise Rs 15,000cr via share sale, HDFC AMC to file DRHP this week
9:46 am Market Update: The market extended opening losses despite BJP's landslide victory in Tripura. Weak Asian cues weighed on India.
The 30-share BSE Sensex was down 262.34 points or 0.77 percent at 33,784.60 and the 50-share NSE Nifty fell 91.10 points or 0.87 percent to 10,367.30.
About two shares declined for every share rising on the BSE.
The Nifty Midcap declined nearly a percent.
All sectoral indices were in the red, with Nifty Metal index falling most – down nearly 3 percent after Trump's import tariff order on steel, aluminium in US
9:40 am Buzzing: Shares of Laurus Labs advanced 3 percent as the company has received Form 483 with zero observations for Unit 2.
The United States Food and Drug Administration (USFDA) has successfully completed the audit without observations – Zero 483 for its Unit 2 (the formulations unit).
The inspection was carried out from February 23 – March 1, 2018.
The company also received its maiden approval from USFDA for Tenofovir Disoproxil Fumarate tablets 300mg.
The tablet is therapeutically equivalent to VIREAD tablets 300mg of Gilead Science (GILEAD).
The tablets is used for treatment of HIV-1 infection in adults and paediatric patients 2 years of age and older.
9:30 am Asia Update: Markets in Asia traded lower as Chinese leaders headed into an annual parliament meeting while in Italy, exit poll projections indicated that no party is emerging with a clear majority in Sunday's election.
Japan's Nikkei 225 fell 0.68 percent while the Kospi index was down 0.75 percent.
Chinese mainland markets fell, with the Shanghai composite down 0.16 percent while Heng Seng declined 1.3 percent.
9:21 am US Import Tariff: Shares of metal companies were trading weak in morning as investors were wary of US President Donald Trump's decision to impose import tariffs.
Steel stocks such as SAIL, JSW Steel, Jindal Steel and Tata Steel, among others, corrected up to 2.5 percent. Aluminium stocks such as NALCO fell close to 3 percent. Meanwhile, firms involved in the business of other metals such as Hindalco, Vedanta, Hindustan Zinc, MOIL also fell up to 2 percent. The Nifty Metal index fell close to 2 percent.
The US President, on Friday, said that he would impose a 25 percent import tariff on steel and 10 percent on aluminium to protect US producers, a move that could trigger a trade war with China and Europe.
An executive order in this regard would be signed this week, Trump said after a meeting with executives of steel and aluminium companies.
"It'll be for a long period of time…And you'll have protection for a long time in a while. You'll have to regrow your industries, that's all I'm asking," Trump said in the presence of a pool of reporters.
Trump said the import tariff hike would create jobs in the US and benefit its industries.
9:15 am Market Check: Benchmark indices started off the week on a negative note despite BJP won Tripura elections, weighed by weak Asian cues and import tariffs on steel & aluminium in the US.
The 30-share BSE Sensex was down 193.88 points at 33,853.06 and the 50-share share NSE Nifty fell 66.10 points to 10,392.30.
Hindalco, Vedanta, Tata Steel, Aurobindo Pharma, Tata Motors, SBI, Mahindra & Mahindra, Coal India and Ambuja Cements declined 1-3 percent.
TCS, Infosys and IOC were early gainers.
Nifty Midcap was down half a percent.
PFC, Bank of India, Vakrangee, Bajaj Hindusthan, SAIL, JSW Steel, NALCO, Union Bank and Motherson Sumi were down 1-5 percent.
TVS Motor, Dilip Buildcon and VST Tillers gained 1-2 percent.