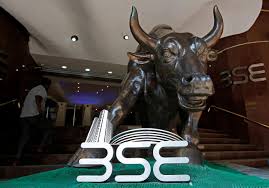 Market Live: Selling across indices push Sensex, Nifty lower; auto cuts gains
12:15 pm Macquarie neutral on Power Grid: Share price of Power Grid Corporation of India fell 1.5 percent intraday Thursday as foreign brokerage Macquarie maintained neutral call on the stock and cut
target price to Rs 202 from Rs 211 per share.
The broking firm expects that the stock underperformance may continue and next set of risks will emerge from higher CWIP build-up on low commissioning.
12: 05 pm Market Check: The Sensex was down 59.96 points at 34124.08, and the Nifty was down 10.40 points at 10482.50. About 1254 shares have advanced, 1135 shares declined, and 179 shares are unchanged.
All the sectoral indices trading lower except auto on the back of strong February sales numbers.
Bharti Airtel, BHEL, Tata Motors DVR, Axis Bank, M&M, BPCL, Aurobindo Pharma, Bajaj Finance and Ambuja Cements are the top gainers on the indices, while top losers are ICICI Bank, Infosys, SBI, Hero Motocorp, Hindalco, Lupin and ITC.
11:50 am Buzzing Stock: Shares of Larsen and Toubro (L&T) rose 1 percent intraday Thursday as its construction arm won orders worth Rs 1,593 crore.
Its water & effluent treatment business won orders worth Rs 1,058 crore and buildings & factories business has secured an order worth Rs 535 crore.
At 11:42 hrs Larsen & Toubro was quoting at Rs 1,320.25, up Rs 1.15, or 0.09 percent on the BSE.
11:38 am Earnings: Fortis Healthcare reported a consolidated net loss of Rs 19.10 crore for the quarter ended December 2017 against a profit of Rs 453.29 crore in the year ago period.
The company also reported its September quarter net loss at Rs 23.61 crore after it had sought a 15-day extension to declare earnings for the second and third quarter of the current financial year citing statutory auditors' inability to complete the audit before the stipulated board meeting.
Although the company presented its earnings report, the auditor to Fortis Healthcare, Deloitte Haskins & Sells LLP, said it had not performed an audit. It said the interim results have been reviewed by other auditors whose report has been furnished to them by the management.
11:22 am Market Outlook: The December quarter earnings were a mixed bag but it has laid the foundation of better earnings growth in the March quarter as well as in FY19, Manish Sonthalia, Head Equities- PMS at Motilal Oswal AMC said in an interview with CNBC-TV18.
"Economic activity is picking up and I continue to remain positive not only from an FY18 perspective but from the FY19 perspective as well. We are building 15-20 percent kind of earnings growth," he said.
Commenting on the PSU banks, Sonthalia said that this space is unlikely to outperform markets anytime soon. There will be a lot of elephants which might come out from the stable in near future.
11:10 am Market Check: The Sensex is down 39.73 points or 0.12% at 34144.31, and the Nifty down 2.00 points or 0.02% at 10490.90. The market breadth is positive as 1257 shares have advanced, 890 shares declined, and 163 shares are unchanged.
PSU banks have erased a huge chunk of their losses, after a recovery was seen in Punjab National Bank. A report by Hindustan Times has stated that Nirav Modi had written to the bank on February 26, giving a concrete repayment plan, which included current accounts and jewellery worth Rs 2,000 crore.
10:50 am GDP reactions: The Indian economy grew at 7.2 percent in October-December 2017, and will likely expand 6.6 percent in 2017-18, latest official estimates said on Wednesday, amid strong revival signs in consumption spending and investment activity.
Sonal Varma of Nomura said the main takeaway from gross domestic product (GDP) numbers announced yesterday is that cyclical recovery is underway and sectors like trade, manufacturing, construction etc are showing pick-up.
However, although the investments have picked up, private consumption has gone down, said Varma.
Clearly the drags from demonetisation, goods and services tax (GST) seem to be fading but question marks with regards to sustainability of this cyclical recovery remains because the balancesheet issues are not yet over, she said.
10:40 am Mutual Fund update: Taurus Mutual Fund has revised the exit load structure of Taurus Nifty Index Fund with effect from March 1, the fund house said in a newspaper notice today.
The fund house will levy 0.50 percent if units are redeemed within 180 days from the allotment date. At present, the exit load of 0.50 percent is applicable if investments are redeemed within 30 days from the allotment date.
All other features of the scheme remain unchanged.
10:25 am Oil update: Oil prices were little changed on Thursday after falling in the previous two sessions as investors shied away from riskier assets amid volatile equity markets and the U.S. dollar gained, limiting overall interest in commodities.
Both global benchmark oil futures fell sharply on Wednesday after crude and gasoline inventories in the United States rose unexpectedly.
U.S. West Texas Intermediate crude for April delivery was up 8 cents at $ 61.72 a barrel by 0403 GMT after settling down 2.2 percent in the previous session.
10:05 am Market Check: Shares are currently trading flat, with the Nifty hovering around 10,500.
The Sensex is down 6.59 points or 0.02% at 34177.45, and the Nifty up 2.30 points or 0.02% at 10495.20. The market breadth is positive as 1160 shares advanced, against a decline of 736 shares, while 158 shares are unchanged.
PSU banks have come under selling pressure, along with IT and FMCG names.
Bajaj Auto, Bharti Airtel and Aurobindo Pharma were the top gainers, while Infosys, SBI, Tech Mahindra and Bharti Infratel lost the most.
9:45 am Auto sales reaction: Shares of tractor maker Escorts rose more than 2 percent in the early trade on Thursday as the company has posted strong volume growth in the month of February 2018.
The company's agri machinery segment sales grow by 52.2 percent at 6462 tractors against 4247 tractors in February 2017.
Domestic sales for the month of February 2018 at 6295 tractors up by 53.4 percent as against 4104 tractors in February 2017. While on the export front, the company sold 167 tractors against 143 tractors, up by 16.8 percent.
9:30 am Buzzing Stock: Shares of Dilip Buildcon rose 3.7 percent in the early trade on Thursday as company declared lowest bidder by NHAI for 3 new projects.
The company has declared L-1 bidder by the National Highways Authority of India (NHAI) for three new hybrid annuity projects valued at Rs 5390 crore in the state of Karnataka and Jharkhand respectively.
The trading window for dealing in the securities of the company by its designated employees, directors and promoters is already closed till March 2, 2018, which shall continue to remain close till March 6, 2018.
9:15 am Market Opens: Equities have begun the day on a flat note, with the Nifty hovering around 10,500-mark.
The Sensex is down 35.91 points or 0.11% at 34148.13, while the Nifty is down 5.50 points or 0.05% at 10487.40. The market breadth was positive as 301 shares advanced, against a decline of 221 shares, while 98 shares are unchanged.
Bajaj Auto and Tata Steel gained the most on both indices, while Infosys and Dr Reddy's Laboratories have lost the most.
Among global markets, Asian stocks declined on the first trading day of the month after finishing February with losses. Declines in the region also tracked sharp losses seen stateside in the previous session.
The Nikkei 225 declined 1.39 percent, or 307.24 points, on the first day of March. Automakers, technology stocks and financials traded lower.
Heavyweight SoftBank Group lost 0.94 percent, Toyota slid 1.71 percent and apparel company Fast Retailing was off 0.78 percent. Among manufacturing names, Fanuc declined 1.74 percent and Kyocera shed 1.75 percent.
US stocks sold off late to end sharply lower on Wednesday, dragged down by continued worries over rising interest rates, and the Dow and S&P 500 capped their worst months since January 2016.
The S&P 500 also snapped a 10-month straight run of gains, which had been its longest monthly winning streak since an 11-month run from March 1958 to January 1959.
Wednesday's declines closed a month marked by spikes in volatility and fears that rising inflation could prompt the Federal Reserve to pick up the pace of interest rate hikes.