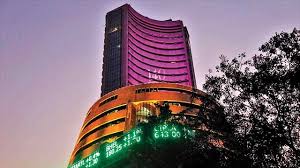 Market Live: Sensex, Nifty continue to trade lower; PSU banks bleed
12:30 pm Rupee update: The rupee declined 11 paise to 64.90 against the American currency in late morning deals on sustained bouts of month-end dollar demand from importers and banks.
The rupee opened lower at 64.83 per dollar as against yesterday's close of 64.79 at the inter-bank foreign exchange here.
The domestic unit hovered between a high of 64.76 and low of 64.94 during morning deals. It was trading at 64.90 at 1030 hrs.
12:10 pm PVR management speaks: In an interview with CNBC-TV18, Ajay Bijli, CMD of PVR spoke about the latest happenings in his company and sector. He was speaking from the side-lines of the Kotak Institutional Equities – Chasing Growth Conference.
We have already opened about 49 screens this year and there is another 10-11 more that we can open in March. Hopefully we should be closing at about 62-63 screens this year, he said.
Next year we have a very good ramp up of almost 100 screens. It is a mix of screens in different parts of the country and in different catchments, he added.
11:45 am Management Outlook: Prestige Estates continues to rise for a second day after the company's arm, Exora Business Park begins exploratory talks to divest significant minority stake to GIC. In an interview with CNBC-TV18, Irfan Razack, CMD of Prestige Estates spoke about the latest happenings in his company and sector.
We have signed a term sheet with them just now and the idea is to dilute a certain minority stake into the office asset which own a substantial part of our office asset, he said.
Rental market in Bangalore is doing pretty good. The vacancy levels are near zero and the rentals have moved up northwards and that is a good sign, he added.
11:30 am Buzzing Stock: Shares of Mercator surged 6.3 percent intraday Tuesday on the back of DGH approval for field development plan (FDP).
Directorate General of Hydrocarbons (DGH) has approved the field development plan submitted by Mercator Petroleum (MPL), a Mercator group company, for its Jyoti-1 & Jyoti-2 oil discoveries in Block CB-ONN-2005/9.
DGH has approved the FDP for over 23 million barrels of recoverable oil over the life of field.
11:10 am Market Check: Benchmark indices continued to trade lower, with the Nifty trading below 10,600.
The Sensex is down 21.71 points or 0.06% at 34424.04, and the Nifty down 9.30 points or 0.09% at 10573.30. The market breadth is narrow as 1023 shares advanced, against a decline of 1278 shares, while 173 shares are unchanged.
Bharti Airtel and Hindustan Unilever gained the most on both indices, while SBI, Axis Bank, Ambuja Cements and Indiabulls Housing were the top losers.
11:00 am Payments Bank: Airtel Payments Bank has reduced its interest rate by 200 basis points to 5.5 percent per annum from 7.25 percent per annum earlier, effective Thursday.
This cut in interest rate could be a way of keeping rates competitive.
"An attractive interest rate of 7.25 per cent was an introductory offer, given that Airtel Payments Bank was leading the roll-out of a completely new segment of banking services in the country. The revised interest rate continues to be the highest in the payments bank segment," an Airtel Payments Bank spokesperson told Business Standard.
10:45 am Coffee Day gains: Shares of Coffee Day Enterprises added 2.4 percent intraday Tuesday as KKR Mauritius has sold 5.9 percent stake in the company.
KKR hold 5.9% stake in the company to raise Rs 405 crore.
On February 26, 2018 KKR Mauritius PE Investments II sold 90,00,000 shares at Rs 324.25 and sold 35,00,000 shares at Rs 324.64 on the NSE.
10:35 am Buzzing stock: Share price of Sagar Cements rose 2 percent intraday Tuesday as company approved the acquisition of two hydel power plants.
The board at its meeting held on February 26 accorded its approval for the allocation of the entire assets of the two mini hydel power plants.
It includes one plant with a capacity of 4.3 MW located at Guntur Branch Canal, Narasaraopet, Guntur District and the other with a capacity of 4 MW located at Lock-in-sula, Atmakur, Kurnool in the state of Andhra Pradesh both belonging to Sagar Power, a related party, for a sum not more than Rs 26.90 crore.
10:23 am Expert Speak: India market witnessed a smart pullback rally in the past 2-3 session but global volatility emanating from the US Federal Reserve is likely to keep the markets volatile, Andrew Holland, Avendus Capital Alternate Strategies said in an interview with CNBC-TV18.
If the US growth rate accelerates quicker than the market will price that in. In the very short term, we are back to where we were but going forward you can't have Fed too much behind the curve.
If Nifty breaks above 10,650 will see some more momentum but at the same time if the global markets head down amid fears of rising inflation could weigh. There are a lot of reports that if the US Bond Yields go to 4 percent then the market will correct by 25 percent which I agree, said Holland.
10:12 am Market Check: The market looked to continue its momentum from the start of this week and began on a strong note. However, the Street soon gave up all of its gains and is currently trading mildly higher, following selling among financials, especially the Bank Nifty, along with midcaps. The Nifty continues to trade around 10,600.
Among sectoral indices, Nifty Auto, meanwhile, has continued to trade in the green despite cuts of around quarter of a percent.
9:58 am PSU banks down: The PSU banking index was down 1.6 percent as stocks like Punjab National Bank tanked over 7 percent after the Bank has revealed that the quantum of the fraud it reported a couple of weeks ago could increase to Rs 12,700 crore, up from Rs 11,400 crore.
The other top losers included Bank of Baroda, Bank of India, Syndicate Bank and OBC. State Bank of India was down 0.77 percent while Allahabad Bank shed 1.6 percent.
9:45 am PNB tanks: Punjab National Bank lost around 9 percent intraday on Tuesday as investors reacted to a clarification on the amount of scam.
The state-run bank said the amount of fraudulent transactions could be Rs 1,300 crore more than the current estimate of about Rs 11,400 crore.
The latest announcement from the public sector lender assumes significance against the backdrop of the probe going on into the Rs 11,400 crore scam, which is already one of the biggest in the Indian banking sector.
9:38 am ACC, Ambuja Cements fall: Shares of cement major, ACC and Ambuja Cements slipped 1-4 percent in the early trade on Tuesday as the merger between the companies have been called at this juncture.
A limitation in transferring mining assets has led to ACC and Ambuja Cements (ACL) from dropping plans to merge their business, at least for the present.
"On the basis of a comprehensive evaluation carried out by both the Special Committee and the Board of Directors, the Board is of the opinion that there are present certain constraints in implementing the merger between the company and ACL, said an announcement by ACC.
9:28 am Rupee opening: The Indian rupee opened marginally lower at 64.81 per dollar on Tuesday against previous close 64.79.
Bhaskar Panda of HDFC Bank said, "The dollar index has steadied above 89.50 levels ahead of the new Fed chief's first congressional testimony. Stocks and currencies across Asia Ex-Japan also did well against the US Dollar."
"Given this background, I expect the USD-INR pair to start consolidating in an intraday range of 64.70-64.90 today."
9:15 am Market opens: Equity benchmarks began the day on a positive note, with the Nifty reclaiming 10,600-mark.
The Sensex is up 77.14 points or 0.22% at 34522.89, and the Nifty up 22.60 points or 0.21% at 10605.20. The market breadth was positive as 395 shares advanced, against a decline of 174 shares, while 88 shares are unchanged.
Financial stocks are under pressure, with Nifty PSU bank index is down over 1 percent. All other sectoral indices are trading in the green. Midcaps, too, are trading mildly higher. Auto stocks have continued their rally from Monday, while IT and pharma stocks have also joined the bandwagon.
Yes Bank and Maruti Suzuki are the top gainers on both indices, while Axis Bank, ICICI Bank, and Ambuja Cements have lost the most.
Asian shares extended their recovery on Tuesday, hitting a three-week high as US borrowing costs eased ahead of Federal Reserve Chairman Jerome Powell's highly-anticipated first congressional testimony later in the day.
MSCI's broadest index of Asia-Pacific shares outside Japan rose 0.3 percent, building on its bounce from a two-month low touched on Feb 9.
Japan's Nikkei rose 1.0 percent to three-week highs.
US stocks rose to more than three-week highs on Monday, recovering much of the losses sustained in a sell-off earlier this month, as a decline in Treasury yields assuaged investor concerns about rising interest rates and refocused attention on economic growth.
All three major indexes rose more than 1 percent. The S&P 500 is now just 3.2 percent below its peak on Jan. 26. The CBOE Volatility Index also dipped slightly to 15.8, though it remains above levels seen before the S&P's peak.
The US 10-year Treasury note yield eased to 2.8642 percent, slipping from a four-year high it hit last week. On Friday, the Federal Reserve said it expected economic growth to remain steady and saw no serious risks on the horizon that might alter its planned pace of interest rate hikes.