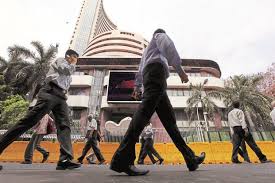 Market Live: Midcap continues to outperform Sensex; PNB, Bank of India slip 6%
12:21 pm Poll: Tata Power Company's third quarter consolidated profit is expected to fall 22 percent to Rs 466 crore compared to Rs 599 crore in year-ago quarter.
Revenue from operations may grow 11 percent to Rs 7,445 crore compared to Rs 6,684 crore in same quarter last fiscal, according to average of estimates of analysts polled by CNBC-TV18.
Operating profit is likely to increase 15 percent year-on-year to Rs 1,611 crore and margin may expand 70 basis points to 21.6 percent in Q3.
Year-on-year profit comparison may not be valid due to (1) higher interest cost in Q3FY18 to fund renewable asset acquisition and (2) tax reversal in Q3FY17, despite stable operations in the core distribution business.
Analysts expect generation volumes to remain sluggish and realisations to remain flattish. They further expect coal business and renewable business to maintain strong momentum.
12:10 pm Management Interview: Vaibhav Rawat, CFO of Dilip Buildcon told CNBC-TV18 that he expects bonus for 5 projects in Q4.
Order inflow was tepid in Q3, but he expects Rs 8,000 crore worth of order inflows over next 3-4 months, he said.
Current orderbook is over Rs 15,000 crore, he added.
12:01 pm LTCG impact: The proposal of long-term capital gains tax will not have much impact on the National Pension Scheme (NPS), a top Pension Fund Regulatory and Development Authority (PFRDA) official has said.
"It will not have much impact on us. The investments in the National Pension System are made by our trust (NPS Trust) which is a tax-exempted body. As far as pension investments are concerned, LTCG will not have an impact," NPS regulator PFRDA chairman Hemant Contractor said here yesterday Contractor said this on the sidelines of a conference on the NPS in association with Stock Holding Corporation.
However, it will have an impact on tier II accounts also known as non-pension account, he said.
NPS manages two types of accounts — tier I and tier II. "Tier II has no tax benefits. Tier II account would be impacted but investments corpus in tier II is much smaller," Contractor said.
Here are the top headlines at 12 pm from Moneycontrol News' Anchal Pathak
11:50 am Top Losers in the Smallcap:
11:40 am Company Name Change: Sona Koyo Steering informed exchanges that the Ministry of Corporate Affairs has made available the proposed new name JTEKT India Limited, vide its letter dated 12th February, 2018.
Consequent upon receipt of the aforesaid letter of MCA, the directors of the company recommended to the shareholders a special resolution to be passed by way of postal ballot, to approve change in the name of the company.
11:32 am Results Reaction: Nitco Tiles shares rallied 12 percent after the Q3 loss narrowed to Rs 8.1 crore from Rs 9 crore in year-ago due to improvement in operational performance.
Revenue from operations slipped 17.1 percent year-on-year to Rs 137.8 crore while operating profit increased 28 percent to Rs 1.6 crore and margin expanded 40 basis points to 1.1 percent in Q3.
11:20 am Nickel futures rise: Amid pick up in demand in the domestic spot market, nickel prices edged higher by 0.16 percent to Rs 863.30 per kg in futures market today as speculators built up fresh positions.
At the Multi Commodity Exchange, nickel for delivery in February edged up by Rs 1.40, or 0.16 per cent, to Rs 863.30 per kg in business turnover of 2,980 lots.
Similarly, the metal for delivery in March contracts was trading higher by 90 paise, or 0.10 percent, to Rs 866.80 per kg in 51 lots.
11:10 am Earnings: Godrej Industries' Q3 consolidated net profit fell 11.8 percent year-on-year to Rs 131 crore on weak operational performance.
Revenue from operations increased 14.9 percent to Rs 2,458 crore from Rs 2,139 crore in year-ago.
Operating profit fell 22.7 percent to Rs 152.5 crore and margin contracted by 300 basis points to 6.2 percent compared to last year.
11:01 am Market Update: Benchmark indices traded in a tight range around Monday's close, but the broader markets continue to outperform, with the Nifty Midcap index rising more than half a percent.
The 30-share BSE Sensex was up 35.16 points at 34,335.63 and the 50-share NSE Nifty gained 15.20 points at 10,555.
About two shares advanced for every share falling on the BSE.
The market was shut on Tuesday for Mahashivratri holiday.
Here are the top headlines at 11 am from Moneycontrol News' Anchal Pathak
10:50 am Expert on NPA rules: The new non performing asset (NPA) rules introduced by the Reserve Bank of India (RBI) earlier in the week are positive for the banking sector in the long term, Manish Gunwani, CIO Equity Investments at Reliance Mutual Fund said in an interview with CNBC-TV18.
All the earlier schemes like S4A, SDR, CDR, JLF, etc, stand withdrawn with immediate effect. Banks need to make appropriate disclosures in their financial statements, under 'Notes on Accounts', relating to resolution plans implemented.
"We are very positive on the new rules introduced by the RBI. Although there could be near-term impact on earnings. It would lead to faster recognition of bad loans but you could argue that valuation multiple should expand a bit now," he said.
Gunwani further added that extreme cycles of NPL that we use to see should reduce now because the resolution will become faster, lending becomes more transparent. If one banking is making one company an NPA then other banks have to also do it.
News Live: India Ratings sees Rs 30,500cr bank hit on rising bond yields
10:40 am Buzzing: Share price of JK Tyre and Industries slipped 6 percent intraday as company reported poor numbers in the quarter ended December 2017.
The company's Q3 net profit was down 88.43 percent at Rs 9.97 crore against Rs 86.19 crore in the same quarter last year. Revenue of the company was up 15 percent at Rs 2,123 crore.
The operating profit (EBITDA) was down 16 percent at Rs 212 crore and margin was down 370 bps at 10 percent.
The board at its meeting held on February 12 approved raising of funds for an amount upto Rs 1,000 crore.
10:23 am Results Reaction: Shares of NRB Bearings and Aarti Drugs rose more than 7 percent intraday on the back of strong third quarter results.
Aarti Drugs has reported 35 percent jump in its Q3 net profit at RS 23 crore and revenue was up 15.5 percent at Rs 335 crore.
Earnings Before Interest, Taxes, Depreciation and Amortization (EBITDA) was up 28.5 percent at Rs 54 crore and margin was up 160 bps at 16 percent
NRB Bearings recorded 176 percent jump in Q3 net profit at Rs 21.3 crore against Rs 7.7 crore. Revenue was up 25.8 percent at Rs 207.9 crore versus Rs 165.3 crore. EBITDA doubled at Rs 40.5 crore and margin was up 730 bps at 19.5 percent.
10:12 am Expansion: FMCG major Britannia Industries has plans to launch around 50 new products under its existing as well as new categories by the end of the next fiscal as part of efforts to be a total food company, said a top company official.
In view of its growth strategy, Britannia will launch dairy products and croissants by October-November this year through its joint venture with Greek cakes and confectionery major Chipita.
Besides, the company will continue with its strategy of adding new countries in its list and scout for new markets in Africa, while foraying into Bangladesh and Myanmar.
10:01 am Rupee Trade: The rupee strengthened by 19 paise to 64.13 against the US dollar in morning aided by stronger domestic equities.
The weakness in dollar against some currencies overseas after US Federal Reserve chairman Jerome Powell said that the central bank would remain alert to risks to financial stability in the wake of recent market rout also supported the rupee's upmove.
The US dollar hit a five-month low against the yen after Japan's economy recorded its longest growth streak in 28 years.
Besides, industrial output grew 7.1 percent in December and selling of the American currency by exporters supported the rupee, forex dealers said.
Forex market was closed yesterday for a public holiday.
On Monday, the rupee had ended 8 paise higher to end at 64.32 against the dollar on fresh selling of the American currency by exporters and banks in line with strong domestic equity market.
Here are the top headlines at 10 am from Moneycontrol News' Anchal Pathak
9:50 am PSU Banks under pressure: PSU banks came under pressure in morning after the Reserve Bank of India (RBI) has revised the new stressed assets framework asking banks to resolve defaults within 180 days.
Further, starting February 23, banks must immediately identify the defaults and make disclosures every Friday to the RBI credit registry.
Reacting to the news, public sector banks got hammered the most in morning trade. The Nifty PSU Bank index slipped 2 percent compared to 0.5 percent fall in the Nifty Bank index, and 0.5 percent decline seen in Nifty Private Bank index.
In the PSU Bank index, Punjab National Bank slipped 4 percent, followed by Bank of India which was down 4 percent, State Bank of India slipped 1.7 percent, IDBI Bank was down 2.7 percent, and Syndicate Bank slipped 2.6 percent so far in the trade today.
The revised stressed asset framework would lead to accelerated and early recognition of NPAs in the banking system and would require higher provisioning expense, suggest experts.
9:40 am Heavyweights gain: Reliance Industries, HDFC, HDFC Bank, Infosys and Larsen & Toubro continued to support the market, rising 0.6-1.5 percent.
9:31 am Buzzing: Share price of Precision Camshafts gained 4 percent in the morning on receiving multiple orders worth Rs 275 crore.
The company has won additional contracts from OEM's including Ford, general Motors and Mahindra & Mahindra.
The company's Q3FY18 net profit declined 51 percent at Rs 6.65 crore against Rs 13.71 crore in the same quarter last fiscal.
9:21 am Fraud: Punjab National Bank said it has detected some fraudulent and unauthorised transactions (messages) in one of its branch in Mumbai for the benefit of a few select account holders with their apparent connivance. Based on these transactions other banks appear to have advanced money to these customers abroad. In the Bank these transactions are contingent in nature and liability arising out of these on the Bank shall be decided based on the law and genuineness of underlying transactions. The quantum of such transactions is USD 1771.69 million (approximately). The matter is already referred to law enforcement agencies to examine and book the culprits as per law of the land. The Bank is committed to clean and transparent banking.
9:15 am Market Check: Benchmark indices started off the day higher on Wednesday, with the Sensex rising around 100 points, tracking positive global cues.
The 30-share BSE Sensex was up 86.64 points at 34,387.11 and the 50-share NSE Nifty gained 29.70 points at 10,569.50.
About 1,101 shares advanced against 353 declining shares on the BSE.
Nifty Midcap index was up 142 points.
Voltamp Transformers, NRB Bearings, Kolte-Patil, DLF, IOL Chemicals, Ester, Dilip Buildcon, NMDC, Britannia Industries, Ashok Leyland and Minda Industries gained 1-4 percent whereas JK Tyre and Motherson Sumi lost 2-4 percent post earnings.