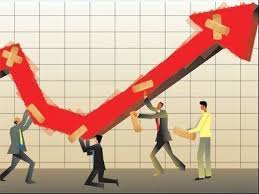 Expert Views: India sees growth of 7-7.5 percent in 2018/19 – Economic Survey
 India's economy should grow between 7 percent and 7.5 percent in the fiscal year starting in April with exports and private investment set to rebound, the country's top finance ministry economist said in a report presented on Monday.
The annual survey was released ahead of the government's annual budget statement, due to be presented by Finance Minister Arun Jaitley on Thursday.
COMMENTS
ABHEEK BARUA, CHIEF ECONOMIST, HDFC BANK
"The (7-7.5 pct GDP) forecast builds in some risks to growth, particularly the oil price risk. If oil prices stay firm or rise from these levels, we would look at the 7 percent mark.
"It's a conservative and credible band
"There could be a potential upside from here if oil prices moderate quite substantially and you see a pickup in domestic demand components.
"I think it will be a fiscally responsible budget. There is enormous emphasis that the govt is putting on committing to fiscal consolidation.
"I think we will get to 3 or 3.1 (pct) for fiscal 2019 (in terms of fiscal deficit), but on the whole we don't know what will happen to states as a lot of state spending hasn't been fully financed."
GAURAV DUA, RESEARCH HEAD, SHAREKHAN, MUMBAI
"The 7–7.5 percent estimated growth range has already been predicted, including from the IMF.
"One of the key elements to look out for is net exports. There has been a surge in imports, and if it continues it could drag the overall growth.
"We believe that government will go back to the fiscal consolidation so the target for next year will be close to 3.2 percent (of GDP). This was also the target for this year and even though we are unlikely to achieve it this time, it is a realistic target for 2018/19 "
SUVODEEP RAKSHIT, SENIOR ECONOMIST, KOTAK INSTITUTIONAL EQUITIES, MUMBAI
"GDP growth might be at the lower end of the (7-7.5 pct) range, but broadly the estimates are in line with our expectations. We were looking at a GVA (gross value added) growth of around 7-7.1 percent which means a GDP growth of roughly around 7.3 percent. We are expecting a bit of cyclical recovery in FY19."
"The government will remain on the fiscal consolidation path. My sense is that they will show somewhere around 3.2 percent fiscal deficit to GDP (for 2018/19).
"Even as it does so, the government will likely focus on rural and urban infrastructure, housing, agriculture as well as bit on the capital expenditure front with a judicious mix of budgetary and extra budgetary expenditure."
DEVENDRA KUMAR PANT, CHIEF ECONOMIST AND SENIOR DIRECTOR (PUBLIC FINANCE), INDIA RATINGS & RESEARCH, NEW DELHI
"Based on present situation, growth in FY19 is likely to be around lower end of the range (7-7.5 pct). However, evolving domestic and global situations may push it in any direction."
"Government is expected to follow a path of fiscal consolidation in FY19, and FY19 central government fiscal deficit could be 3.2 percent of GDP, which will be higher than the fiscal consolidation roadmap presented in medium term fiscal policy with FY18 union budget."
"There is high probability of increased allocation towards rural areas, infrastructure."