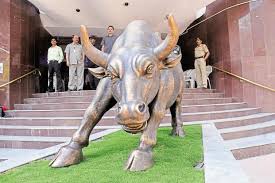 Market Live: Sensex gains 350 pts; Economic Survey says high oil prices become a major concern
1:25 pm Market Update: The market erased some of its gain in the afternoon trade, with Nifty holding 11,150.
The Sensex was up 321.45 points at 36371.89, and the Nifty was up 82.80 points at 11152.50.
Maruti Suzuki, TCS, Tata Steel, HDFC, Bajaj Auto, Zee Entertainment, UPL, Eicher Motors, Indiabulls Housing are the top gainers on the indices.
1:15 pm Canara Bank may sell 30.44% stake in Can Fin Homes: Canara Bank may consider selling its 30.44 percent stake in its subsidiary Can Fin Homes, sources told CNBC-TV18.
Sources suggest interested candidates can express non-binding interest in the housing finance company on February 8. The candidates will have to show commercial interest on February 16, and Canara Bank will announce the selected candidates on February 22. The bidders will be given the due diligence report.
12:48 pm Poll: Housing Development Finance Corporation (HDFC) is expected to report a whopping 191 percent growth year-on-year in profit at Rs 4,949.1 crore for December quarter against Rs 1,701.2 crore in year-ago quarter.
Analysts expect the lowest net interest income growth in last 7 quarters.
Net interest income during the quarter is seen rising 8.9 percent to Rs 2,850.1 crore compared to Rs 2,575.5 crore in same quarter last year, according to average of estimates of analysts polled by CNBC-TV18.
12:40 pm Government expects FY19 GDP growth at 7-7.5 percent against 6.75 percent in FY18.
Industry growth is likely to be at 4.4 percent for the current fiscal year.
Employment, education and agriculture will be focus areas in medium term, it said.
12:38 pm FY18 gross value added is likely to grow at 6.1 percent  in FY18 against 6.6 percent in FY17.
12:36 pm Current high oil prices have become a major concern for the economy, it said.
Brent crude oil futures traded above USD 70 a barrel level.
12:33 pm Services growth for the current financial year is likely to be at 8.3 percent and agriculture growth at 2.1 percent, it said.
12:30 pm The Modi government expects current financial year 2017-18 GDP growth at 6.75 percent.
12:25 pm Economic Survey: Private investment poised for a rebound, the government said in its Economic Survey tabled in the parliament.
12:14 pm Buzzing: Dr Reddy's Labs fell 4 percent as JM Financial maintained its sell rating on the stock post earnings.
Adjusting for the many one-offs, Q3FY18 was a soft quarter for Dr Reddy's. Revenues grew 7 percent QoQ (up 3 percent YoY) to Rs 3,806 crore largely on account of a one-time milestone income of Rs 130 crore (related to the USFDA NDA approval of IMPOYZ; recently outlicensed to Encore Dermatology) booked under proprietary products.
Adjusting for this milestone income and the US DoJ litigation settlement charges (Rs 31.9 crore), EBITDA margin declined 52bps QoQ (down 481bps YoY) to 18.2 percent due to higher price erosion (in low double digits) in base business and adverse forex impact (4 percent depreciation of USD), translating into adjusted EBITDA declining 22 percent YoY to Rs 636.7 crore.
Consequently, JM Financial cut significantly lower than consensus earnings estimates for FY19/20 by 4/3 percent, respectively.
12:03 pm Patent Approval: Omkar Speciality Chemicals said Intellectual Property India, the Government of India Patent Office, has granted yet another patent for its alkali metal iodide products.
This is the sixth patent granted to the company and further, six more patents applications filed for other products are also pending for grant, it added.
With this approval, it awarded the legal monopoly to the company for manufacturing alkali metal iodide compounds and especially valuable products like sodium iodide and potassium iodide.
11:55 am Market Update: Bulls remained in power as benchmark indices extended gains in late morning deals, with the Sensex rising 346.62 points or 0.96 percent to 36,397.06.
Private banks, auto, technology and metals continued to support the market whereas PSU banks, FMCG and select pharma stocks were under pressure.
The 50-share NSE Nifty crossed 11,150 level also, trading 89.40 points higher at 11,159.10, but the broader markets underperformed.
11:45 am Drug Approval: Drug major Cipla today said it has received final approval from the US health regulator for tenofovir disoproxil fumarate tablets, used to treat HIV-1 infections in adults.
Cipla in a BSE filing said it has received final approval from the United States Food and Drug Administration (USFDA) for tenofovir disoproxil fumarate tablets, 300 mg.
These tablets are AB-rated generic equivalents of Gilead Sciences' Viread Tablets, 300 mg, and are indicated in combination with other antiretroviral agents for the treatment of HIV -1 infection in adults and paediatric patients 12 years of age and older.
Citing IMS Health data, the company said Viread Tablets, 300mg, had US sales of approximately USD 725 million for the 12-month period ending November 2017.
11:35 am Budget Expectations: Amar Ambani, Partner & Head of Research, IIFL said in the run-up to every Union Budget announcement, fear of levy of long-term capital gains tax (LTCG), GAAR, haunt the stock market. This year is no different, with fear of an end to the exemption of LTCG on equity investments. I reckon that the government will not like to dent the improving investor sentiment where equity participation still remains low around 5-6 percent of the household savings, he added.
Having said that, it could change the long-term capital gain classification criteria from one year to two years. But in the same breath, the government must then have a serious relook at securities transaction tax (STT), abolish Dividend Distribution Tax (DDT) as also reduce GST rates on share transactions to 12 percent, from 18 percent.
"We may also see the Budget plug some loopholes like bonus stripping," Ambani said.
11:20 am Gold Update: Gold prices fell Rs 259 to Rs 30,102 per 10 grams in futures trade today as participants trimmed their positions to book profits amid a weak trend overseas.
At Multi Commodity Exchange, gold for delivery in February was trading lower by Rs 259, or 0.85 per cent, at Rs 30,102 per 10 grams, in a business turnover of 96 lots.
Also, the metal for delivery in far-month April shed Rs 209, or 0.69 per cent, to Rs 30,066 per 10 grams in 147 lots.
11:14 am Buzzing: Vikas WSP shares were locked at 5 percent upper circuit at Rs 15.93 on the BSE after bagging order.
It has received an export order for Rs 92.37 crore of newly developed Guar Gum Thermogel-25 for ultra-fermented and sausage roll applications from MNC customers replacing high priced Locust Bean Gum.
11:01 am Economic Survey: All eyes are on the Economic Survey as Budget Session of Parliament begins today.
Finance minister Arun Jaitley is expected table the Economic Survey FY18 in Parliament at 1 pm.
What are the big expectations? Sakshi Batra finds out in a discussion with Gaurav Choudhury, Economy Editor, Moneycontrol
10:55 am Drug Approval: Strides Shasun said its wholly owned subsidiary Strides Pharma Global Pte. Ltd. has received approval for Tenofovir Disoproxil Fumarate tablets, 300 mg from the US Food and Drug Administration.
Tenofovir Disoproxil Fumarate tablet is a generic version of Gilead's Viread tablet, for which the patent expired on January 25, 2018.
Strides is launching the product immediately as it already had a tentative approval for the product from USFDA for supplying under US President's Emergency Plan for AIDS Relief program and was able to obtain expedited review of its ANDA application.
Tenofovir Disoproxil Fumarate tablet is indicated in combination with other antiretroviral agents for treatment of HIV-1 infection in adults. It is also used for the treatment of chronic hepatitis B in adults.
According to IMS data, the US market for Tenofovir Disoproxil Fumarate is approximately USD 750 million.
Strides said the product will be manufactured at its oral dosage facility at Bangalore and will be marketed by Strides Pharma Inc in the US market.
10:49 am Buzzing: Steel Strips Wheels shares gained 3 percent after the company announced bagging of yet another exports order for supply of steel wheels for European Union Caravan market.
Order comprised of 17,000 steel wheels to be shipped from company's Chennai plant in March 2018, it said in a filing.
10:35 am Market Outlook: While the market soars to fresh records, almost on a day-to-day basis, one of the key challenges lies in finding value in the right segment.
In fact, according to Mihir Vora of Max Life Insurance with economic cycle and market cycle not being in sync, it is tough to take a call on which stage of the bull market are we currently staring at.
What should investors do in such a scenario? "Most of our portfolios are biased towards largecaps now," Vora, Director & CIO, Max Life Insurance told CNBC-TV18 in an interview.
Speaking on the Budget expectations, Vora said that the Street will watch out for the big number on the fiscal deficit. "Government borrowing programme is very important from this perspective as well. Bond markets continue to be nervous on RBI stance as well, which has been hawkish. Secondly, it is also looking at whether there is any tinkering in capital gains (tax)," he told the channel. Having said that, a positive surprise could be a bigger tax collection and better divestment scenario, he added.
10:15 am Rupee Trade: The rupee was trading higher by 3 paise at 63.51 against the US dollar in morning at the interbank foreign exchange market amid the greenback's gains in overseas markets.
The rupee opened lower by 5 paise at 63.60 today against the previous close of 63.55.
A record opening in the domestic equity market capped the fall, dealers said.
On Thursday, the rupee had gained 14 paise to end at a fresh one-week high of 63.55 a dollar.
Here are the top headlines at 10 am from Moneycontrol News' Anchal Pathak
10:01 am Listing: Newgen Software Technologies share price listed at Rs 256 on the National Stock Exchange, up 4.5 percent over issue price of Rs 245 per share today.
The stock price hit an intraday high of Rs 266.70 (up 8.85 percent) and low of Rs 254.10, which was the pre-opening rate.
9:59 am Market Update: Benchmark indices extended rally in morning as the Sensex gained 307.39 points or 0.85 percent at 36,357.83 and the Nifty rose 75.10 points or 0.68 percent to 11,144.80.
About 1,289 shares advanced against 827 declining shares on the BSE.
9:55 am Pre-Opening: Newgen Software Technologies share price settled at Rs 254.10, up 3.71 percent over issue price of Rs 245 per share in pre-opening trade.
9:45 am Order Win: Shares of KSB Pumps gained 5.6 percent in morning on bagging orders of Rs 413 crore.
" ……. received orders of around Rs 413 crore from Nuclear Power Corporation of India (NPCIL) for supply of primary coolant pumps and electric motor along with auxiliaries and accessories for their Gorakhpur Haryana Anu Vidyut Pariyojana – 1 & 2 project."
The sales / supply of products/ services for these orders will be in a phased manner during the years 2022 and 2023.
9:32 am Earnings Reaction: Avenue Supermarts shares gained 5 percent as Q3 net profit grew by 65.8 percent to Rs 251.8 crore and revenue rose 22.6 percent to Rs 4,094.8 crore compared to year-ago period.
Operating profit jumped 46.4 percent to Rs 421.8 crore and margin expanded to 10.3 percent from 8.63 percent YoY.
9:26 am Results Today: More than 70 companies will announce their December quarter earnings today, which include Emami , HDFC, Tech Mahindra, Apar Industries Limited, Astra Microwave Products, Astron Paper & Board Mill, Automobile Corporation Of Goa, Balaji Amines Limited, Balaji Amines, Balmer Lawrie, Binani Industries, Century Textiles, Elgi Equipments, Emkay Global Financial Services, Himadri Speciality Chemical Limited, INOX Leisure Limited, IDFC, Indian Metals & Ferro Alloys, Laurus Labs, Maharashtra Scooters, Mahindra Logistics, Novartis India, Orient Cement, Ramkrishna Forgings, Reliance Communications, SIS, Shakti Pumps, Siyaram Silk Mills, SPARC, Subex and Wockhardt.
9:21 am Listing: Newgen Software Technologies is set to make its debut on exchanges today after good response to the initial public offer. The company has fixed issue price at higher end of price band of Rs 245 per share.
The initial public offer (IPO) of the IT firm was oversubscribed 8.25 times during January 16-18, 2018.
The Rs 425-crore IPO had received bids for more than 10 crore shares against the total issue size of 1.22 crore shares, as per data available on the NSE website.
The IPO comprised of fresh issue of shares worth up to Rs 95 crore by the company and an offer for sale of 13,453,932 equity shares by the existing shareholders.
9:15 am Market Check: Benchmark indices staged smart performance in opening the first day of Budget week as the Sensex and Nifty hit fresh record highs, tracking positive trend in Asian peers and ahead of Union Budget 2018.
The 30-share BSE Sensex was up 223.04 points or 0.62 percent at 36,273.48 and the 50-share NSE Nifty gained 51.60 points or 0.47 percent at 11,121.30. About 1,017 shares advanced against 373 declining shares on the BSE.
Maruti Suzuki jumped 3 percent after earnings and revision in royalty payment.
ICICI Bank, Bharti Airtel, Dr Reddy's Labs, HPCL and BPCL fell 1-3 percent.
Nifty Midcap index gained 0.5 percent.
Avenue Supermarts, KPIT Technologies, Shriram City Union Finance, Kokuyo Camlin, Maithan Alloys, Bhageria Industries and Persistent Systems gained 2-4 percent post earnings.
SRG Housing Finance surged 6 percent and Can Fin Homes gained 2.5 percent.