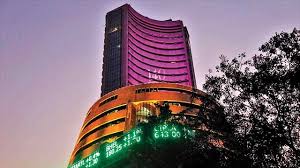 Market Live: Sensex gains 150 pts driven by banks; Biocon top midcap gainer
11:33 am Acquisition: Drug firm Torrent Pharmaceuticals shares gained more than 1 percent intraday after it has acquired US-based generic pharmaceuticals and OTC firm Bio-Pharm Inc for an undisclosed amount.
To date, Bio-Pharm Inc has 10 approved abbreviated new drug applications (ANDAs) and 10 ANDAs under review at the United States Food and Drug Administration (USFDA) for itself and it's partners, Torrent Pharmaceuticals said in a filing.
The company also has an additional 17 products under development, it added.
11:24 am Buzzing: Shares of Adani Ports gained over 3.5 percent intraday as investors reacted positively to the December quarter performance.
The company reported a 19.51 percent jump in its consolidated profit at Rs 1,001 crore for the third quarter ended December 31, 2017. The logistics arm of Adani Group had clocked a consolidated profit of Rs 837.58 crore in the corresponding period last fiscal, it said in a BSE filing.
Brokerages were upbeat on the stock and believed that the stock was well placed for better moves ahead.
While maintaining Buy rating with target price of Rs 575, Citi said that the firm is one of our top picks in India infrastructure/logistics. Further, it said that the company reported well-rounded and strong third quarter earnings.
11:15 am Market Outlook: Even as the market soars to fresh records, midcaps have had a forgetful 2018 so far. Key midcap indices have corrected around 1-2 percent and stocks too have taken a beating in this space.
It does raise concerns on the momentum in midcaps and whether the party is now over.
Mahesh Patil, Co-Chief Investment Officer at Aditya Birla Sun Life AMC believes there could be some volatility going forward. "Last year had very little volatility, but going forward there could be slightly higher volatile moves. The margin for error is less," Patil told CNBC-TV18 in an interview.
He feels largecaps could be in focus as this could be a year of higher flows by foreign institutional investors (FIIs). "There is room for more FII money to come in this year. So largecaps could do better as their relative valuations are better too," he said. Patil expects FII flows to double this year.
Here are the top headlines at 11 am from Moneycontrol News' Sakshi Batra
11:05 am Buzzing: Jain Irrigation shares rallied more than 4 percent intraday after the GST rate on drip irrigation systems including laterals, sprinklers products has been reduced from 18 percent to 12 percent as per decision taken at 25th GST Council Meeting held on January 18, 2018. The new GST rates shall be effective from 25th January, 2018.
10:58 am Crude Oil Update: Crude oil futures slipped 1.54 percent to Rs 4,025 per barrel today, in line with a weak trend in Asian trade, as traders cut exposure at existing levels.
Crude oil for delivery in January was trading lower by Rs 63, or 1.54 percent, at Rs 4,025 per barrel, with a business volume of 4,637 lots at the Multi Commodity Exchange (MCX).
Also, oil prices for delivery in February fell Rs 62, or 1.52 percent, to trade at Rs 4,029 per barrel, with a business volume of 1,976 lots.
The US benchmark West Texas Intermediate fell 1.5 percent to USD 63.02, while Brent for was down 1.2 percent at USD 68.46 a barrel.
10:53 am Biocon Top Midcap Gainer:
10:50 am Market Update: Benchmark indices extended gains in morning, with the Nifty trading above 10,850 level, driven by banking and financial stocks.
The 30-sahre BSE Sensex was up 151.43 points at 35,411.72 and the 50-share NSE Nifty rose 36.70 points to 10,853.70.
About 1,375 shares advanced against 1,053 declining shares on the BSE.
10:41 am Acquisition: IT company Tech Mahindra announced it will acquire 17.5 percent stake in US-based telecom software development company Altiostar Networks for USD 15 million in a cash deal.
The investment committee of the board of directors of Tech Mahindra "has approved the proposal to acquire a shareholding in Altiostar Networks Inc, USA, through its wholly-owned subsidiary, that is, Tech Mahindra (Americas) Inc, USA," the company said in a regulatory filing.
Altiostar Networks is a US Corporation with presence across six countries in Europe, Asia Pacific and Latin American regions.
10:21 am Order Win: Dilip Buildcon has received letter of award from IRCON International for an EPC project valued at Rs 360.58 crore in the State of Karnataka.
The trading window for dealing in the securities of the company by its designated employees, directors and promoters shall be closed from January 19, 2018 to January 22, 2018 (both days inclusive), the company said.
10:15 am Earnings Estimates: Private sector lender Kotak Mahindra Bank's third quarter (October-December) standalone profit is seen rising 21 percent to Rs 1,064.2 crore, compared to Rs 879.8 crore in year-ago.
The Street is anticipating highest NII growth rate in last few quarters. Net interest income is expected to increase 19.4 percent to Rs 2,448.2 crore for quarter ended December 2017, compared to Rs 2,050.3 crore in same quarter last year, according to average of estimates of analysts polled by CNBC-TV18.
10:10 am Results Today: Reliance Industries, ITC, HDFC Bank, IDFC Bank, Kotak Mahindra Bank and Wipro will announce quarterly earnings.
10:04 am HCL Technologies' stock reaction post earnings:
Here are the top headlines at 10:00 am from Moneycontrol News' Anchal Pathak
9:56 am Market Update: Benchmark indices continued to trade with mild gains in morning, but the broader markets gained some strength after early volatility. Investors await corporate earnings and Union Budget.
The 30-share BSE Sensex was up 72.54 points at 35,332.83 and the 50-share NSE Nifty rose 7.30 points to 10,824.30.
Reliance Industries, HDFC, Adani Ports, ITC, SBI and L&T were leading contributors to Sensex' gains. The selling in Infosys, ICICI Bank and HDFC Bank capped gains.
The market breadth was balanced. About 1,135 shares declined against 1,036 advancing shares on the BSE.
9:46 am Rupee Trade: The rupee firmed up 19 paise to trade at 63.65 against the dollar in morning today, rising for a third straight day on increased selling of the US currency by exporters and banks.
Forex dealers said the dollar was weak against other currencies overseas which supported the rupee.
Yesterday, the rupee had gained 2 paise to close at 63.86 against the American currency.
9:40 am Earnings Estimates: Country's second largest private sector lender HDFC Bank is expected to report 20 percent growth in profit at Rs 4,626.3 crore for October-December quarter, compared to Rs 3,865.3 crore in year-ago.
The Street is anticipating the highest NII growth in last few quarters. According to average of estimates of analysts polled by CNBC-TV18, net interest income is seen rising 23 percent to Rs 10,226.6 crore from Rs 8,309.1 crore YoY.
9:34 am IPO Subscription: Amber Enterprises India's IPO has been subscribed 3.61 times, as per data available on the NSE website.
The public issue has received bids for 1.77 crore equity shares against IPO size of 49 lakh equity shares.
9:26 am Buzzing: Biocon shares gained 2 percent after the company and Sandoz, a division of Swiss-pharmaceutical major Novartis, said they have entered into a global partnership to develop, manufacture and commercialize multiple biosimilars in immunology and oncology for patients across the globe.
Under the terms of the agreement, both companies will share responsibility for end-to-end development, manufacturing and global regulatory approvals for a number of products and will have a cost and profit share arrangement globally.
Sandoz will lead commercialization in North America and the European Union, while Biocon will lead commercialization in the rest of the world.
9:19 am Earnings: IT firm HCL Technologies said its profit for October-December quarter increased 0.3 percent sequentially to Rs 2,194 crore and maintained full year constant currency revenue guidance.
Revenue during the quarter increased 3 percent quarter-on-quarter to Rs 12,808 crore and dollar revenue rose 3.1 percent to USD 1,988 million with constant currency growth at 3.3 percent, it added.
Numbers barring operational performance beat analyst expectations. Profit was estimated at Rs 2,135 crore on revenue of Rs 12,788 crore and dollar revenue at USD 1,978 million for the quarter, according to average of estimates of analysts polled by CNBC-TV18.
The software services provider has maintained its guidance for full year constant currency revenue at 10.5-12.5 percent and operating margin (EBIT) at 19.5-20.5 percent. Constant currency growth in dollar terms also maintained at 12.1-14.1 percent.
9:15 am Market Check: Equity benchmarks extended gains in opening on Friday, with the Nifty holding 10,800 level.
The 30-share BSE Sensex rose 65.36 points to 35,325.65 and the 50-share NSE Nifty gained 8.30 points at 10,825.30.
About 749 shares advanced against 637 declining shares on the BSE.
ITC, Kotak Mahindra Bank, HCL Technologies, HUL, Yes Bank, Adani Ports, Reliance Industries, Coal India and Eicher Motors were early gainers.
UltraTech Cement, Infosys, Bharti Airtel, Vedanta, Wipro, ICICI Bank and Tata Motors were early losers.
GVK Power, Jaypee Infratech, down 2-3 percent
Wonderla Holidays, Jain Irrigation, Gitanjali Gems and TBZ gained 2-6 percent post GST meet. Biocon rose 2 percent.