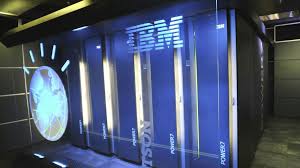 IBM's first revenue rises in nearly 6 years tops estimates
 International Business Machines Corp's (IBM.N) revenue rose for the first time in 23 quarters and beat analysts' estimates as the company's shift into its focus areas such as cloud computing and security services gains traction.
IBM's shares fell 2.7 percent in extended trading on Thursday. In October, the company had flagged a possible return to growth and since then its stock has rallied about 16 percent, including about 10 percent so far this year.
To counter a slowdown in its legacy hardware and software businesses, IBM has in recent years targeted high-margin "strategic imperatives" such as cloud computing, cybersecurity and data analytics that flow across its five business units.
That has helped the company's revenue decline slow down in recent quarters and finally turn a corner in the latest fourth quarter.
"Strategic imperatives" includes the contribution of cloud computing – where firms use a remote network of data centres instead of their own hardware to cut costs.
IBM's cloud business grew 30 percent in the quarter to $ 5.5 billion. Revenue from all "strategic imperatives" rose 17 percent, accounting for nearly half of total revenue.
Armonk, New York-based IBM's total revenue increased 3.6 percent to $ 22.54 billion, beating analysts' average estimate of $ 22.06 billion, according to Thomson Reuters I/B/E/S.
Excluding items, IBM earned $ 5.18 per share, also beating analysts' average estimate of $ 5.17 per share.