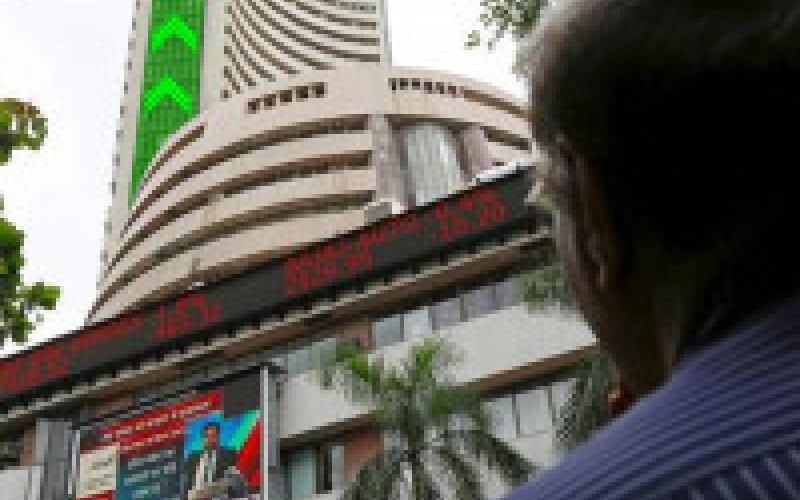 Market Live: Sensex turns negative, Nifty around 10,700; PSU banks fall
11:05 am GNFC plant shutdown: Shares of Gujarat Narmada Valley Fertilizers & Chemicals (GNFC) declined over 10 percent intraday Tuesday as the company closed Dahej plant after sudden leakage on January 15.
"In the morning on January 15, there has been a sudden leakage at TDI-II plant, Dahej, which called for plant shutdown at Dahej," company said in press release.
"Due to safety measures already put in place by the company over a period of time, neither there is any property damage nor any loss of life," it added.
11:00 am Market Check: Equity benchmarks have given up all the gains and have turned negative. The Nifty has breached 10,750. The Sensex is down 50.37 points or 0.14% at 34793.14, and the Nifty down 29.20 points or 0.27% at 10712.30.
TCS, Wipro, and HCL Tech are the top gainers, while BHEL, Coal India, and Tata Power have lost the most.
10:55 am Big names vie for Binani Cement: Ace investor Rakesh Jhunjhunwala and D-Mart promoter Radhakishan Damani are teaming up to bid for the debt-ridden Binani Cement, according to a report in The Economic Times.
"The partnership between Jhunjhunwala and Damani is a big surprise," sources said. "If you look at the list of bidders, it appears that competition will only intensify and lenders may not have to take any haircut," the source added.
UltraTech, Heidelberg, the JSW Group, Dalmia Bharat and The Ramco Cements have made proposals on their own or in partnerships to attain the the assets of the firm on the last day of submitting the bids, according to the sources.
10:32 am Algo trading to become accessible? Soon small brokers will get equal access to algorithmic trading just like their bigger peers as Securities and Exchange Board of India (Sebi) is planning to ask bourses to cut down the co-location charges that brokers have to pay. In addition to that, it may also allow at least five brokers to share one co-location rack, reports Mint.
The market regulator is planning to make these changes as currently the charges for using co-location facilities is high. At National Stock Exchange (NSE), the fees to take one co-location rack on rent is in the range of Rs 35-40 lakh annually.
According to existing rules, brokers cannot share co-location racks. And to bring a change in the present scenario, Sebi is looking at bringing down the charges exchanges can levy on brokers for availing algo-trading facilities and also allow sharing of these facilities to create a level playing field.
10:15 am Buzzing Stock: Shares of Tech Mahindra surged more than 3 per cent to its 52-week high in morning trade after the IT major said it has partnered with Israel's ContextSpace for cybersecurity.
Shares of the company opened on a bullish note at Rs 548.10 then surged 3.20 per cent to touch a high of Rs 561.35 on the BSE.
On the NSE the stock opened at Rs 548, then jumped 3.26 per cent to a high of Rs 561.50.
10:01 am Market Check: Benchmark indices are trading rangebound after opening slightly higher.
The Sensex is up 55.50 points or 0.16% at 34899.01, and the Nifty up 11.80 points or 0.11% at 10753.30. The market breadth favours the declines as 1070 shares advanced, while 1183 shares have declined, and around 238 shares are unchanged.
Wipro, TCS, and HCL Tech are the top gainers, while HDFC, Reliance, HPCL and BPCL lost the most.
Here are the top headlines at 10 am from Moneycontrol News' Anchal Pathak
9:45 am RBI view: Banks must not be surprised, but understand the risks in the bond markets well, said Reserve Bank of India (RBI) Deputy Governor Viral Acharya, even as he noted the central bank will not intervene to bail out banks from adverse interest rate movements.
Banks are set to witness heavy treasury losses amounting to anywhere between Rs 15,000 – 25,000 crore in the third quarter results after the bond yields collapsed about 67 basis points in the December quarter.
However, in a strong message, Acharya said "Interest rate risk of banks cannot be managed over and over again by their regulator."
9:36 am Buzzing Stock: Shares of Delta Corp gained over 6.5 percent intraday on Tuesday as investors cheered the company's healthy results for the December quarter.
The company reported a jump of over 300 percent at Rs 44.7 crore for the quarter, while revenues grew 56 percent at Rs 162 crore.
The operating profit, meanwhile, rose 113 percent at Rs 68.7 crore, while the operating margin came in at 42.4 percent against 31 percent year on year.
Emkay has maintained its buy call on the stock with a target of Rs 411. It believes that margin slightly off estimate due to high marketing costs. Further, some costs reported in Q3 were one-time which would boost FY19 footfalls. It sees EPS CAGR of 40% over FY18-20. It continues to like the firm as a gaming play in India.
9:24 am Off highs: The market is off the day's high points as benchmarks trimmed some of the gains. The Sensex is trading around 30 points higher, while the Nifty has breached 10,750.
9:15 am Market Opens: Equities began the day on a positive note, with the Sensex gaining a little over 50 points, while the Nifty was hovering around 10,750.
The Sensex is up 66.78 points or 0.19% at 34910.29, and the Nifty up 15.30 points or 0.14% at 10756.80. The market breadth is positive as 594 shares advanced, against a decline of 238 shares, while 200 shares were unchanged.
Bharti Airtel, Bajaj Auto, and Tech Mahindra were the top gainers, while Wipro, M&M, Asian Paints and HDFC lost the most.
The Indian rupee opened lower by 11 paise at 63.60 per dollar on Tuesday versus previous close 63.49.
Bhaskar Panda of HDFC Bank said, "The euro had started moving higher post the ECB meeting and consequently the US dollar has now moved below 91 levels now."
"I expect the rupee to continue to appreciate and expect the USD-INR to trade within a range of 63.40-63.60."