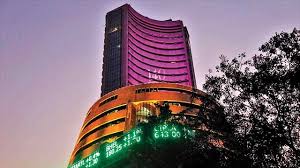 Market Live: Sensex trims some gains, Nifty hovers around 10,750; midcaps weak
10:01 am Market Check: Benchmark indices are trading rangebound after opening slightly higher.
The Sensex is up 55.50 points or 0.16% at 34899.01, and the Nifty up 11.80 points or 0.11% at 10753.30. The market breadth favours the declines as 1070 shares advanced, while 1183 shares have declined, and around 238 shares are unchanged.
Wipro, TCS, and HCL Tech are the top gainers, while HDFC, Reliance, HPCL and BPCL lost the most.
Here are the top headlines at 10 am from Moneycontrol News' Anchal Pathak
9:45 am RBI view: Banks must not be surprised, but understand the risks in the bond markets well, said Reserve Bank of India (RBI) Deputy Governor Viral Acharya, even as he noted the central bank will not intervene to bail out banks from adverse interest rate movements.
Banks are set to witness heavy treasury losses amounting to anywhere between Rs 15,000 – 25,000 crore in the third quarter results after the bond yields collapsed about 67 basis points in the December quarter.
However, in a strong message, Acharya said "Interest rate risk of banks cannot be managed over and over again by their regulator."
9:36 am Buzzing Stock: Shares of Delta Corp gained over 6.5 percent intraday on Tuesday as investors cheered the company's healthy results for the December quarter.
The company reported a jump of over 300 percent at Rs 44.7 crore for the quarter, while revenues grew 56 percent at Rs 162 crore.
The operating profit, meanwhile, rose 113 percent at Rs 68.7 crore, while the operating margin came in at 42.4 percent against 31 percent year on year.
Emkay has maintained its buy call on the stock with a target of Rs 411. It believes that margin slightly off estimate due to high marketing costs. Further, some costs reported in Q3 were one-time which would boost FY19 footfalls. It sees EPS CAGR of 40% over FY18-20. It continues to like the firm as a gaming play in India.
9:24 am Off highs: The market is off the day's high points as benchmarks trimmed some of the gains. The Sensex is trading around 30 points higher, while the Nifty has breached 10,750.
9:15 am Market Opens: Equities began the day on a positive note, with the Sensex gaining a little over 50 points, while the Nifty was hovering around 10,750.
The Sensex is up 66.78 points or 0.19% at 34910.29, and the Nifty up 15.30 points or 0.14% at 10756.80. The market breadth is positive as 594 shares advanced, against a decline of 238 shares, while 200 shares were unchanged.
Bharti Airtel, Bajaj Auto, and Tech Mahindra were the top gainers, while Wipro, M&M, Asian Paints and HDFC lost the most.
The Indian rupee opened lower by 11 paise at 63.60 per dollar on Tuesday versus previous close 63.49.
Bhaskar Panda of HDFC Bank said, "The euro had started moving higher post the ECB meeting and consequently the US dollar has now moved below 91 levels now."
"I expect the rupee to continue to appreciate and expect the USD-INR to trade within a range of 63.40-63.60."