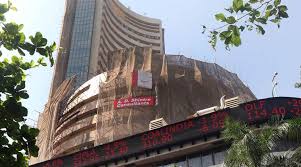 Closing Bell: Nifty at fresh record close, Sensex ends above 34,400 for 1st time
3:30 pm Market Closing: Benchmark indices ended at fresh record closing high amid consolidation. The 30-share BSE Sensex was up 90.40 points at 34,443.19 and the 50-share NSE Nifty gained 13.40 points at 10,637.
The broader markets underperformed benchmark indices, ending flat with negative bias.
The market breadth was negative as about 1,616 shares declined against 1,362 advancing shares on the BSE.
3:15 pm IPO: IT firm Newgen Software Technologies will launch its initial public offer (IPO) on January 16 and has fixed a price band of Rs 240-245 per share, a company statement said today.
The IPO, to raise about Rs 424 crore, comprises fresh issue of up to Rs 950 million by the company and an offer for sale by the selling shareholders.
The offer for sale consists of up to 1,34,53,932 shares.
Newgen's IPO is scheduled to open on January 16 and would close on January 18, the statement said.
3:01 pm Technical Outlook: Laurence Balanco of CLSA said he expects a 3-5 percent pullback in the near-term but not a big correction for the US market, adding that one should treat this correction as a buying opportunity.
However, avoid chasing momentum in the near-term, he added.
With regards to Indian market, he said the Nifty is currently in a trading range. He has a target of 12,000 on the index for first half of CY18 and target of 31,000 on the Bank Nifty. The stoploss for Nifty is at 10,050 and for Bank Nifty it is at 24,700, he added.
He said it is start of a re-rating for emerging markets and the positive trade is to move out of international assets into emerging market assets.
2:50 pm SBI fund raising: The executive committee of central board of State Bank of India is schedules to have meeting on January 17, 2018 to consider approval of issuance of long term bonds of Rs 5000 crore for financing of infrastructure and affordable housing in domestic and overseas market.
2:15 pm Cement gains: Cement stocks are in focus after the companies raised cement prices in Mumbai by 9-20 percent in January, according to sources to Cogencis.
Major cement player like ACC, Ambuja Cements have raised cement prices in Mumbai by up to 13 percent in January.
UltraTech also raised prices by 12 percent, Sanghi Industries hiked prices by up to 20 percent.
2:05 pm Market Check: Equity markets traded in a narrow range, cutting some of the morning gains, with the Nifty traded flat.
The Sensex is up 52.72 points or 0.15% at 34405.51, and the Nifty down 0.30 points or 0.00% at 10623.30. The market breadth was negative as 1177 shares have advanced, 1607 shares declined, and 327 shares are unchanged.
Coal India and ITC continued to gain the most, while BHEL, Bharti Airtel, Eicher Motors and Zee Entertainment were the top losers.
2:00 pm Management Commentary: South Indian Bank reported a good set of number in the third quarter with Gross slippages at Rs 258 crore and fresh slippages at Rs 98 crore.
VG Mathew, MD & CEO, South Indian Bank said they had guided for Q3 and Q4 slippages to be in range of Rs 250 crore as a worst case scenario. Going forward in Q1 of FY19, slippages are expected to reduce to half and from thereon it will be steady, he added.
With regards to loan growth, he said the overall growth for the quarter stood at 16 percent and are confident of achieving the guided loan growth of 18% for FY18.
1:45 pm European markets opens: European markets opened slightly higher on Tuesday morning, as investors monitored a fresh batch of economic data.
The pan-European Stoxx 600 was 0.2 percent higher shortly after the opening bell, with almost all sectors and major bourses in positive territory.
1:30 pm Market Check: Rangebound moves have continued on the market, with the Sensex trading just around 30 points higher, while the Nifty is in the red.
The Sensex is up 35.45 points or 0.10% at 34388.24, and the Nifty down 4.20 points or 0.04% at 10619.40. The market breadth was negative as 1173 shares advanced against a decline of 1586 shares, while 331 shares were unchanged.
Coal India and ITC were the top gainers on both indices, while BHEL, Bharti Airtel, Zee Entertainment and Eicher Motors lost the most.
1:10 pm Buzzing Stock: Share price of Infinite Computer Solutions India locked at 20 percent upper circuit as the company is going to consider de-listing proposal.
There were pending buy orders of 260,881 shares, with no sellers available.
The company's board meeting will be held on January 12, 2018 to consider the proposal of voluntary delisting proposal made by the promoter and promoter group companies.
It will also consider to appoint a merchant banker for carrying out due diligence as required under regulation 8(1A) (ii) of the delisting regulations.
Here are the top headlines at 1 pm from Moneycontrol News' Sakshi Batra
12:55 pm Budget expectations: The market regulator SEBI has sought new taxation norms for alternative investment funds as part of its wishlist for Budget 2018 to boost the fledgling hedge fund industry, reports Mint.
Securities and Exchange Board of India (Sebi) wants "unit-based" taxation for products broadly categorised as hedge funds.
Finance Minister Arun Jaitley will present Union Budget in Parliament on February 1.
The report said that fund managers' administrative burden would significantly come down if the proposed measures are accepted, put them on par with mutual fund entitling them for capital gains tax exemptions after one year period.
12:30 pm Stake sale: IFCI has sold its 0.2 percent stake in the National Stock Exchange (NSE) at Rs 925.10. Shares of the company rose over 3.25 percent intraday before witnessing a big dip to negative of 1.5 percent. The stock is now trading flat.
12:21 pm Market Check: Benchmark indices trimmed some of the morning gains to trade almost flat, while the Nifty turned negative.
The Sensex is up 30.37 points or 0.09% at 34383.16, and the Nifty down 7.70 points or 0.07% at 10615.90. The market breadth favoured declines as 1,251 shares advanced, against a decline of 1,420 shares, while 340 shares were unchanged.
Coal India and ITC were the top gainers, while BHEL, ICICI Bank, Eicher Motors and Hindalco lost the most on both indices.
12:05 pm Sector View: Telecom was one of the top performing sectors for the market last year, as investors looked for value in beaten down stocks. The BSE Telecom index returned over 47 percent for calendar year 2017.
For the upcoming year, Bank of America Merrill Lynch believes that average revenue per user (ARPU) improvement will only be gradual.
Having said that, market share gains and cost control will be the key surprise elements, it said.
Going forward, the global research firm sees device and content bundles to be the next battlefront among telecom companies. Along with this, tariffs could be volatile as incumbents and Reliance Jio battle for market share.
Here are the top headlines at 12 pm from Moneycontrol News' Anchal Pathak
11:43 am Market Outlook: Highlighting the situation of rising crude prices and bond yields against the market's record upmoves, Andrew Holland of Avendus Capital Alternate Strategies said it is a liquidity-driven market right now.
While the market had a good 2017, a follow through on a global level is taking place right now. But Holland bets on earnings, going forward, for the market to rise. "We will see earnings growth ahead. We are projecting it to be 15 percent this year. This should keep the market propelled in higher zones this year," Holland, CEO, Avendus Capital Alternate Strategies told CNBC-TV18 in an interview.
11:35 am Market Check: Indian market witnessed some selling pressure in the mid-morning trade as benchmark indices are now trading below their record highs, but long term investors have nothing to worry about.
Laurence Balanco of CLSA in an interview with CNBC-TV18 sees Nifty heading towards 12000 and 31,000 for Bank Nifty in the first half of CY18.
11:25 am Stake sale in Max Healthcare: South Africa-based Life Healthcare Group Holdings is looking to sell its 49.7 percent stake in Max Healthcare, Bloomberg reported on Tuesday citing people in the know of the development.
The report said the Johannesburg-based company is working with Barclays to explore potential interest in its holding in Max Healthcare, one of India's largest private hospital chains.
Life Healthcare is expecting around USD 406 million for its stake.
Launched in 2000, Max Healthcare is an equal JV partnership between Max India and Life Healthcare, South Africa with each of them owning a 49.7 percent stake. Max Healthcare is focused on tertiary and quaternary care, with revenues of Rs 2,567 crore from over 2,500 beds across 14 hospitals.
11:05 am Buzzing Stock: Shares of Sutlej Textiles and Industries gained 6.5 percent intraday Tuesday as the company has approved setting up of a green fibre project.
The company board has approved setting up of a green fibre project to manufacture polyester staple fibre by recycling of pet bottles in Jammu Kashmir.
However, the company has deferred brownfield capacity expansion of 28,800 spindles due to uncertain market conditions.
10:53 am H1-B visa: In a breather for foreign tech workers, particularly Indians, the Trump administration yesterday announced it was not considering any proposal that could force deportation of thousands of H-1B visa holders by denying them extensions beyond the maximum permissible period of six years, as they waited for permanent residency.
"…USCIS is not considering a regulatory change that would force H-1B visa holders to leave the United States by changing our interpretation of section 104(c) of AC-21, which provides for H-1B extensions beyond the 6 year limit," said Jonathan Withington, Chief of Media Relations at US Citizenship and Immigration Services (USCIS), the agency that oversees H-1Bs, in a statement to Hindustan Times.
10:35 am Buzzing: Shares of Jaiprakash Associates fell nearly 6 percent intraday, hitting a low of Rs 22.85 per share after the Reserve Bank of India (RBI) sought Supreme Court nod to begin insolvency proceedings against the company.
The move had more than 25,000 homebuyers of Jaypee Infratech in Noida and Greater Noida worried that if insolvency proceedings against JAL are allowed, who will deposit Rs 2,000 crore with the Supreme Court registry and ensure that homebuyers are refunded from the amount, sources told Moneycontrol.
In order to avoid legal complications, the RBI had reportedly asked the lead banker, ICICI Bank last week to exempt Jaiprakash Associates from being filed at the NCLT for now, banking sources aware of the matter had said.
10:15 am Order Win: Intellect Design Arena, a specialist in applying digital technologies and financial technology, announced that BOB Financial Solutions, a wholly owned subsidiary of Bank of Baroda has selected Intellect Digital Credit Card Management System, Intellect Digital Origination and Intellect Digital Debt Management for credit card operations.
The solution will connect to the schemes of VISA and MasterCard for servicing the credit card holders of BOB Financial.
10:05 am Rupee Trade: The rupee traded higher by 1 paise at 63.50 against the US dollar in morning on fresh selling of the American currency by exporters and banks amid early gains in stocks.
Forex dealers said persistent inflows of foreign funds and weakness in the dollar against other currencies overseas supported the domestic unit.
Yesterday, the rupee had retreated from its near three-year high and ended lower by 14 paise at 63.51 against the US currency on fresh bouts of dollar demand amid concerns over the sluggish outlook for economic growth.
Here are the top headlines at 10 am from Moneycontrol News' Anchal Pathak
9:55 am Buzzing: Shares of Aarti Drugs touched 52-week high of Rs 784.80, rising 7 percent in the early trade on approval of buyback of shares.
The board of directors of the company in their meeting held on January 8 has approved the buyback of up to 2,75,000 fully paid up equity shares of face value of Rs 10 each.
The board has fixed the buyback price at Rs 875 per equity share payable in cash for an aggregate amount of upto Rs 24,06,25,000, which is being 5.97 percent of the fully paid-up equity share capital and free reserves as per the standalone audited balance sheet of the company as on September 30, 2017.
9:50 am Market Update: Benchmark as well as broader indices turned volatile after hitting record highs in opening as investors await December quarter earnings season that will be kicked off by TCS, Infosys and IndusInd Bank later this week.
The 30-share BSE Sensex was up 28.45 points at 34,381.24 while the 50-share NSE Nifty fell 8.40 points to 10,615.20.
About 1,157 shares declined against 998 advancing shares on the BSE.
Coal India extended gains to 7 percent in morning on revision in non-coking coal prices.
9:41 am Nalco Outlook: State-owned Nalco announced formulation of a long-term corporate plan, which envisages the aluminium maker to reach a turnover of Rs 31,248 crore and a PAT of Rs 3,010 crore by 2032.
With the release of the corporate plan, Mines Secretary Arun Kumar "appreciated the efforts of Nalco in formulating a plan that provides a strategic way forward for the company up to 2032…The long-term strategy foresees the company to reach a turnover of Rs 31,248 crore and a PAT of Rs 3,010 crore by 2032," the company said in a BSE filing.
The new plan expects the company to reach a turnover of Rs 18,171 crore with a PAT of Rs 1,693 crore by 2024 with the augmentation of the smelting capacity to 1.1 million tonnes and refining capacity to 3.27 million tonnes, it said.
9:29 am Buyback: State-owned power producer SJVN said its board has approved a buyback proposal comprising 5 percent stake for over Rs 801 crore.
As on January 5, 2018, the promoters held 89.73 percent stake in the company, a joint venture of the Government of India and the Government of Himachal Pradesh.
Foreign investors and financial institutions held 3.48 percent and 2.66 percent respectively. Others including public and public bodies corporate held 4.14 percent.
"The Board of Directors of the company in their meeting held on January 8, 2018 has unanimously approved inter-alia the proposal to buyback not exceeding 20,68,31,325 equity shares…" SJVN said in a BSE filing.
9:21 am Buzzing: Share price of Coal India added more than 5 percent in the early trade as the company has revised non-coking coal prices.
The company is it meeting held on January 8 has approved revision of non-coking coal prices effective from January 9.
The revised prices would be applicable to all subsidiaries of Coal India including NEC (North Eastern Coalfields).
Due to the revision, the company will earn an approximately incremental revenue of Rs 1,965 crore for the balance period of financial year 2017-18.
The projected annual incremental revenue would be Rs 6,421 crore.
9:15 am Market Check: Equity benchmarks hit fresh record high again in opening on Tuesday, with the Sensex trading above 34,400 level.
The 30-share BSE Sensex was up 78.32 points at 34,431.11 and the 50-share NSE Nifty gained 12.30 points at 10,635.90. About 1,003 shares advanced against 358 declining shares on the BSE.
Coal India was up 4 percent.
Tata Steel, Axis Bank, Kotak Mahindra Bank, SBI, Sun Pharma, M&M, Wipro and Vedanta were early gainers while HPCL, Indiabulls Housing, Zee Entertainment, Hindalco and Dr Reddy's Labs were losers.
Nifty Midcap gained 0.3 percent.
Aarti Drugs, Goa Carbon, EIH Associated Hotels, Max India, IDFC Bank, Capital First and South Indian Bank gained 1-6 percent while Jaiprakash Associates fell 6 percent.
Discussion
Rules of Discussion on Live Index
1. This forum is for discussion of financial markets. Please respect others view even if they are contrary to you.
2. Member's comments should lead to value addition in forum discussion.
3. If anyone is found making repetitive Explicit/Abusive/Racial comments, his account shall be banned and old posts will be deleted.