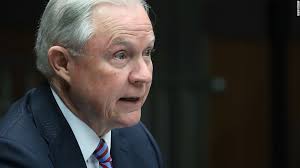 Jeff Sessions is a buzz kill for pot stocks
Attorney General Jeff Sessions' decision to roll back protections for marijuana businesses did not sit well with most pot stocks last week.
The leading marijuana index, which tracks 15 stocks, lost about 25% of its value Thursday following Sessions' rescission of an Obama-era rule that protected state-legal marijuana businesses. Many of them gained back some territory on Friday, but were still well below where they were trading prior to the Department of Justice move.
Individually, the stock price for GW Pharmaceuticals (GWPH), one of the top marijuana stocks, dropped more than 2% on Friday but gained it back by the close of trading. GW, which is based in London and California, develops medicine derived from cannabis.
The stock price for Weed Inc. (BUDZ), a real estate company that buys lands and develops "cultivation centers" for state-legal pot growers, plunged 17% on Friday. It closed down 6%.
Stocks ancillary to the marijuana industry felt the impact, too. Severn Bancorp (SVBI), which provides banking services to medical marijuana dispensaries and cultivators in Maryland, finished Friday down more than 1%.
Banking with marijuana is complicated. The Obama administration had issued guidance to banks on how to provide financial services for pot companies, so long as they didn't provide weed to kids or deal with drug traffickers. But Sessions got rid of this hands-off guidance.
Related: $ 8 billion marijuana industry preps for a fight
One weed-related stock that did well on Friday was Innovative Industrial Properties (IIPR). That's a real estate company that buys land to grow medical marijuana and then leases it to farmers.
That company's stock surged 14% on Friday, but that's after dropping by a third on Thursday.
Sessions rescinded what's called the Cole memo, issued in 2013 by then-Deputy Attorney General Jim Cole. It guided federal prosecutors to take a hands-off approach to marijuana businesses in states where it's legal, so long as they followed state law.
The following year, the Obama administration issued similar guidance to banks, while still acknowledging that marijuana is illegal under federal law.
Sessions made his move just days after California legalized recreational marijuana sales.