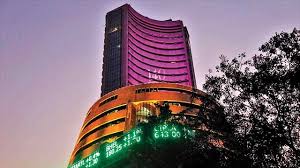 Market Live: Sensex, Nifty hit fresh record highs; Metal index top gainer
10:10 am Partnership: Food and Beverages maker PepsiCo said it has entered into a strategic partnership with bottling partner Varun Beverages, which will now sell and distribute the entire Tropicana range of juices along with Gatorade and Quaker Value-Added Dairy in north and east India.
Already, Varun Beverages Ltd (VBL) holds manufacturing, sales and distribution rights for Tropicana Slice and Tropicana Frutz in north and east regions.
"In order to further unlock the potential of brand Tropicana, we have entered into a strategic partnership with VBL for ramping up the selling and delivery infrastructure for our Premium Go to Market channel in their territories across North and East India," PepsiCo India Vice President-Nutrition Category Deepika Warrier said in a statement.
10:01 am Buzzing: Shares of Orbit Exports touched 52-week high of Rs 190, rising nearly 5 percent in morning as company s going to consider buyback of its equity shares.
The meeting of board of directors of the company is scheduled to be held on January 05, 2018 to consider and approve the proposal for buy-back of fully paid-up equity shares of the company.
The board will also consider the quantum & mode of buy-back and any other matters incidental thereto in accordance with the provisions of Sections 68, 69 and 70 and other applicable provisions, if any, of the Companies Act, 2013 and the Securities and Exchange Board of India (Buy Back of Securities) Regulations, 1998 as amended.
Here are the top headlines at 10 am from Moneycontrol News' Anchal Pathak
9:50 am Market Update: Benchmark indices rallied further in morning, hitting fresh record highs on broadbased buying.
The 30-share BSE Sensex was up 169.90 points at 34,139.54 and the 50-share NSE Nifty rose 46.20 points to 10,551.
About three shares advanced for every share falling on the BSE.
9:38 am IOB in action: Shares of Indian Overseas Bank (IOB) gained 9 percent in the early trade as bank decided to utilise share premium balance to write off the accumulated losses.
The company at its board meeting held on January 4, has considered and approved to utilize the balance available in the share premium account amounting to Rs 7650.06 crore as at March 31, 2017 to write off the accumulated losses of the bank aggregating to Rs 6978.94 crore as at March 31, 2017 to present a true and fair view of the financial position of the bank and to take the same into account during current Financial Year 2017-18.
For the quarter ended the company has reported a loss of Rs 1,222 crore, while the bank had a gross non-performing ratio of 22.73 percent during the same quarter.
9:28 am Buzzing: Bharat Forge shares gained 2 percent in early trade after strong Class 8 truck orders in the US.
North America Class 8 truck orders shot up 77 percent to 37,200 units in December against 21,061 units in year-ago month.
Class 8 truck orders increased 15 percent on month-on-month basis.
9:21 am Earnings: GM Breweries said its gross sales in Q3 increased 24 percent to Rs 434 crore and net sales grew by 21 percent to Rs 119 crore compared with year-ago.
Net profit jumped 122 percent to Rs 22 crore while EBITDA surged 113 percent to Rs 34 crore and margin expanded margin to 29 percent from 16 percent YoY.
9:15 am Market Check: Equity benchmarks extended gains in morning on last day of the week, tracking positive global cues. Banking & financials, infra and metals stocks continued to gain.
The 30-share BSE Sensex was up 102.64 points at 34,072.28 and the 50-share NSE Nifty gained 27 points at 10,531.80.
About 1,201 shares advanced against 284 declining shares on the BSE.
SBI, Hindalco Industries, Yes Bank, Indiabulls Housing Finance, L&T, UltraTech Cement, Vedanta, Tata Steel and Maruti Suzuki were early gainers.
HCL Technologies, Tech Mahindra, Wipro, TCS and Infosys were mildly lower on strong rupee.
GM Breweries gained 14.5 percent on strong earnings.
Nifty Midcap added half a percent today, on top of 1 percent rally in previous session.