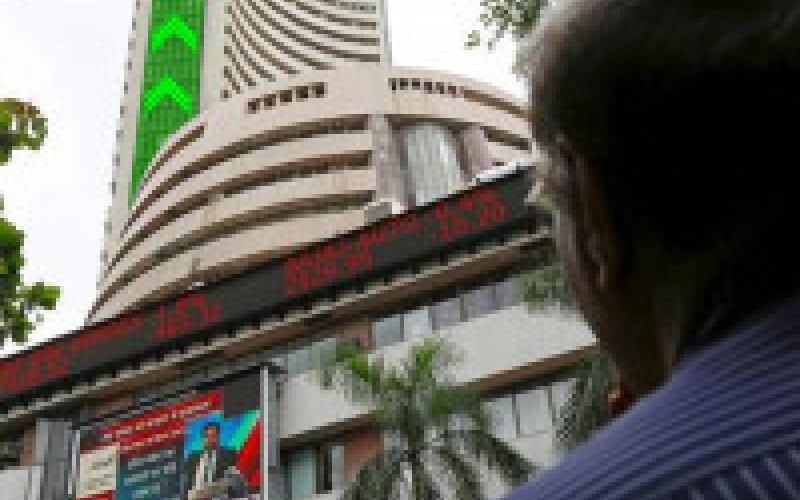 Market Live: Nifty hovers around 10,450, Midcap extends losses; PSU Bank falls 1%
10:55 am Market Update: Benchmark indices turned volatile after opening rally, but the broader markets extended losses with the Nifty Midcap falling over half a percent.
Nifty PSU Bank was the biggest loser among sectoral indices, falling over a percent. Bank of Baroda, Union Bank, Bank of India, Allahabad Bank, Syndicate Bank, PNB, Canara Bank and SBI were down 1-2 percent.
The 30-share BSE Sensex was up 5.41 points at 33,818.16 and the 50-share NSE Nifty gained 6.20 points at 10,441.70.
About two shares declined for every share rising on the BSE.
10:40 am Factory Data: India's factory activity expanded at the fastest pace in five years in December, a private sector survey showed on Tuesday, buoyed by a rise in output and new orders, which allowed firms to raise prices.
Tuesday's data firms up views that business in Asia's third-largest economy continues to recover but also highlights risks that rising price pressures will keep the Reserve Bank of India (RBI) from slashing interest rates further.
The Nikkei Manufacturing Purchasing Managers' Index, compiled by IHS Markit, rose to 54.7 in December from November's 52.6, marking its fifth straight month above the 50 level that separates expansion from contraction.
10:20 am Rupee Trade: The rupee retreated from fresh five-month high level to trade lower by 2 paise at 63.70 against the US currency in early session on some dollar buying by importers and banks.
The domestic currency opened marginally up at 63.67 and jumped 6 paise to a fresh five-month high of 63.62 at the interbank foreign exchange market on dollar selling by exporters.
However, the rupee lost steam soon and retreated to a low of 63.70 at 10:20 hrs, down by 2 paise compared to previous close of 63.68 a dollar.
10:10 am Buyback: Share price of Lovable Lingerie added 3 percent intraday on the back of buyback offer.
The company is going to buyback up to 20,00,000 fully paid up equity shares of the company of face value of Rs 10 each at a price of Rs 250 per share from all the eligible shareholders holding equity shares on the record date i.e. December 8, 2017.
The buyback offer will be open on January 8 & will close on January 19, 2018.
10:04 am Buzzing: Angel Broking has initiated coverage with Buy rating on Capital First, the non-banking finance company and set a target price at Rs 850, implying a 22.4 percent potential upside from Monday's closing price.
The stock rallied nearly 2 percent in early trade but came off early highs due to volatility in the market.
The stock is poised for re-rating with improving return ratios, it said.
The research house further said change in ownership & management brought new life to company.
Angel Broking feels the favorable loan mix with expansion in net interest margin will drive earnings. It expect AUM/earnings to grow at CAGR of 23/32 percent over FY17-20.
Here are the top headlines at 10 am from Moneycontrol News' Sakshi Batra
9:55 am Market Check: Benchmark indices erased opening gains to trade flat, with the Nifty trading below 10,450 level.
The 30-share BSE Sensex was down 25.76 points to 33,786.99 and the 50-share NSE Nifty fell 3.70 points to 10,431.80.
The broader markets also wiped out gains. About 1,226 shares declined against 871 advancing shares on the BSE.
9:45 am Infosys in focus: Salil S Parekh takes over as the Chief Executive Officer (CEO) and Managing Director (MD) of Infosys today. Besides improving profitability, Parekh will face challenges such as ensuring no senior-level executive exits the firm.
Parekh, who was one of Capgemini's five deputy CEOs, has experience in the cloud computing business, ability to handle large acquisitions and a strong grip on technology and sales.
On December 2, 2017, Infosys had announced that its Board of Directors has appointed Salil S Parekh as CEO and MD of the company effective January 2, 2018.
9:35 am Auto sales: Bajaj Auto's total sales in December registered a healthy 30 percent growth, driven by exports and strong three-wheeler sales.
Total sales increased to 2.92 lakh units in last month of passing year, from 2.25 lakh units sold in year-ago.
Total domestic sales rose 25 percent year-on-year to 1.49 lakh units while exports shot up 35 percent to 1.43 lakh units in December.
Bajaj Auto said 3-wheeler sales grew by 187 percent to 63,785 units compared with 22,217 units sold in same month last year.
Motorcycle sales during the month increased 13 percent to 2.29 lakh units, from 2.03 lakh units in December 2016.
9:30 am Buzzing: Shares of Thermax has touched a 52-week high of Rs 1,270, gaining more than 5 percent in the early trade as it has won order worth Rs 327 crore.
The Thermax Group has concluded Rs 327 crore order from a public sector company based in Western India for its upcoming chemical plant, company said in press release.
The project is for a BTG (boiler turbine generator) package on engineering, procurement and construction (EPC) basis for their captive co-generation power plant of 2X65 MW capacity, it added.
The scope of the supply includes design, engineering, manufacturing, construction and commissioning of the solid fuel based BTG package consisting of 2 CFBC boilers, steam turbines and generators.
The company also would be supplying emission control equipment and other auxiliaries for the BTG package.
The project is to be completed in 24 months.
9:21 am USFDA Approval: Dr Reddy's Laboratories has received approval from the US Food and Drug Administration for Guaifenesin; Pseudoephedrine hydrochloride tablets.
Guaifenesin is indicated to treat acute respiratory tract infection.
9:15 am Market Check: Equity benchmarks rebounded in opening on Tuesday, with the Sensex rising more than 100 points, backed by pharma, metals and technology stocks.
The 30-share BSE Sensex was up 147.65 points at 33,960.40 and the 50-share NSE Nifty gained 55.60 points at 10,491.10. About 1,057 shares advanced against 270 declining shares on the BSE.
Mahindra & Mahindra, Dr Reddy's Labs, Cipla, Sun Pharma, GAIL, Tata Steel, Coal India, TCS, HCL Technologies and Infosys were early gainers.
SBI and Eicher Motors were early losers.
Nifty Midcap index gained 120 points on strong market breadth.
Castex Technologies, Unitech, Alok Industries, DB Realty, Thermax, TVS Motors, EID Parry, Bajaj Hindusthan and Reliance Power rallied 2-10 percent.