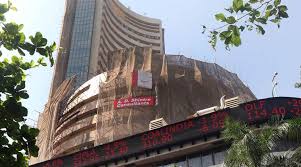 Market Live: Sensex, Nifty at record high amid rangebound trade; Midcap outperforms
11:10 am Order Win: The construction arm of L&T has won orders worth Rs 1,125 crore across various business segments.
"The metallurgical and material handling business has bagged orders worth Rs 710 crore in metallurgical sector, in the area of product business and add-on jobs," the infrastructure and engineering major said in its filing.
Other businesses of L&T construction have received orders worth Rs 415 crore.
10:20 am Fundraising: Canara Bank said it will raise up to Rs 3,500 crore capital through a qualified institutions placement (QIP) route.
The decision in this respect was taken at the bank's board meeting held today.
"The board of bank at its meeting held on December 26, 2017 has decided to raise additional equity share capital amounting up to Rs 90 crore through qualified institutional placement (QIP) route, by issuing up to 9 crore equity shares of a face value of Rs 10 each with a premium to be decided as per the applicable guidelines/regulations for an aggregate amount not exceeding Rs 3,500 crore inclusive of such premium," it said in a regulatory filing.
10:01 am Market Check: Equity benchmarks extended gains in morning as the Sensex hit fresh record high. All sectoral indices traded in the green.
The 30-share BSE Sensex was up 94.58 points at 34,105.19 and the 50-share NSE Nifty rose 10 points to 10,541.50.
The Nifty Midcap index was up 0.5 percent. About two shares advanced for every share falling on the BSE.
Here are the top headlines at 10 am from Moneycontrol News' Anchal Pathak
9:50 am Buzzing: Shares of Prestige Estates Projects added more than 5 percent in the early trade as it is going to acquire stake in the group company.
"…. through a wholly owned special purpose vehicle (SPV) is in the process of acquisition of 66.66 percent equity stake in Prestige Projects from the investors and land owners for a consideration of approximately Rs 324 crore," as per company release.
The said acquisition is expected to be completed before January 31, 2018.
Currently, Prestige Estates Projects is holding 33.34 percent in the Prestige Projects, while investors and land owners are holding 33.33 percent each.
graph_prestige
9:38 am Market Outlook: "We are seeing short covering by call writers on every dip as Nifty and American markets are trading near all-time highs. Short sellers are on back foot as of now and we may further witness additional short covering in the expiry week," Shitij Gandhi of SMC Global Securities said.
The Nifty is smartly moving up along with the addition in open interest (OI) which indicates strength in the current trend. We have seen option put writers active in the current series as we have seen put writing in 10,400 and 10,500 puts along with unwinding in calls.
The Put Call Ratio (PCR) of option Open interest is continuously moving up along with fall in implied volatility. This indicates positive move to continue.
On the technical front, 10450-10480 spot levels is a strong support zone for the Nifty with current trend likely to continue towards 10,580-10,600, he feels.
9:27 am USFDA Approval: Glenmark Pharmaceuticals Inc., USA has received final approval from the United States Food & Drug Administration for Norethindrone Acetate and Ethinyl Estradiol tablets USP and Ferrous Fumarate tablets, 1 mg/20 mcg, the generic version of Minastrin
1 24 Fe tablets, of Allergan Pharmaceuticals International.
According to IQVIATM sales data for the 12 month period ending October 2017, the Minastrin 1 24 Fe Tablets market2 achieved annual sales of approximately USD 337.0 million.
Glenmark's current portfolio consists of 130 products authorized for distribution in the US marketplace and 58 ANDA's pending approval with the USFDA.
9:20 am Sun Pharma in focus: Sun Pharmaceutical Industries said that the US FDA has accepted a new drug application (NDA), filed by its wholly owned subsidiary, for OTX-101 (cyclosporine A, ophthalmic solution) 0.09%, a novel nanomicellar formulation of cyclosporine A 0.09% in a clear, preservative-free aqueous solution.
OTX-101 is now under review for approval by the US FDA, marking an important developmental milestone for Sun Pharma's dry eye candidate, it added. The stock gained 2 percent.
9:15 am Market Check: Equity benchmarks started off trade on a flat note on Wednesday due to lack of global and domestic cues.
The 30-share BSE Sensex was up 34.98 points at 34,045.59 and the 50-share NSE Nifty fell 4.60 points to 10,526.90. About 907 shares advanced against 334 declining shares on the BSE.
Vedanta, GAIL, Yes Bank, Cipla, Dr Reddy's Labs, Tata Steel, Hero Motocorp, UPL and Maruti Suzuki were early gainers.
BPCL, UltraTech Cement, Indiabulls Housing, ICICI Bank, Coal India, IOC and HPCL were under pressure.
Reliance Communications surged 20 percent on mega debt restructuring plan.
Sanghi Industries, Prestige Estates, Aban Offshore, Prataap Snacks, ITD Cementation, Glenmark Pharma, Jaiprakash Associates, Jindal Steel and Lanco Infratech rallied 1-8 percent.