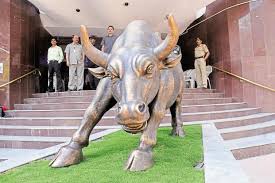 Market Live: Sensex gains 150 pts, Nifty inches towards 10,500; Bharti Airtel leads
12:20 pm Buzzing: Sundaram Multi Pap shares gained 6.5 percent on approval from Nagar Parishad (Kanhan, Pimpri, Nagpur, Maharashtra) for transfer of Nagpur paper mill industrial land to affordable housing scheme under Pradhan Mantri Aavas Yojna.
12:12 pm Motorcycle price increase: Hero MotoCorp, the world's largest two-wheeler manufacturer, said it would be increasing the ex-showroom prices of its motorcycles, starting January 1, 2018, to partially offset the rising input costs.
The price hike translates to about Rs 400 per model.
The exact quantum of the increase will vary, basis the model and the specific market, it said.
12:01 pm Wind Power Tariff: Wind power tariff dropped to an all-time low of Rs 2.43 per unit in an auction conducted by Gujarat Urja Vikas Nigam Ltd (GUVNL) yesterday, boosting clean energy initiatives of the country.
"In an auction for 500 MW wind power capacities, the lowest tariff was quoted at Rs 2.43 per unit by Sprng Energy and K P Energy," GUVNL MD Pankaj Joshi told PTI.
He further said Verdant Renewables, Betam Wind Energy and Powerica quoted tariff of Rs 2.44 per unit each while Renew Energy quoted a tariff of Rs 2.45.
Joshi said when the bids were opened, the lowest tariff was Rs 2.51 which dropped to Rs 2.43 in reverse bidding conducted later.
Here are the top headlines at 12 pm from Moneycontrol News' Anchal Pathak
11:50 am Management Outlook: The Eicher Motors stock has risen 40 percent this year and now with the likely pro-farm focus of the government in the upcoming Budget, the coming year could be even better for them.
On the company's outlook, Vinod Aggarwal, MD & CEO – VE Commercial Vehicles, Eicher Motors said with the teething troubles due to GST behind us, the benefits have started flowing through.
There has been lot of optimization of warehouses and this leads to migration towards high tonnage trucks along with overloading restrictions in various states has aided growth for the company, said Aggarwal in an interview to CNBC-TV18.
The traction in commercial vehicles has been good for the industry although in the month of November, which is seasonally a weak quarter for the company the sales are a bit tepid but it was still good compared to the earlier years. Moreover, October was a festive month, so sales were good. However, December will again see good number because of year-end sales.
11:35 am TCS in focus: India's leading IT exporter Tata Consultancy Services (TCS) has bagged a USD 2.25-billion outsourcing contract from Nielsen, a television rating measurement firm.
The partnership, signed in October this year, is a renewal of TCS' existing collaboration with Nielsen. The two companies had struck a 10-year deal in 2008 for USD 1.2 billion, which was expanded to USD 2.5 billion in 2013.
11:25 am Order Win: Steel Strips Wheels has bagged another exports order for supply of steel wheels for Egyptian passenger car market.
This order covers supplies of approximately 32,500 steel wheels, the company said.
Wheels will be shipped from Steel Strips Wheels' Dappar plant from next month onwards.
11:10 am Market Update: Benchmark indices inched towards record highs while the Nifty Midcap already touched a fresh record high.
The 30-share BSE Sensex was up 168.74 points at 33,925.02 and the 50-share NSE Nifty rose 42.20 points to 10,482.50.
About 1664 shares advanced against 700 declining shares on the BSE.
11:05 am Nickel falls: Nickel prices slipped 0.79 percent to Rs 764.20 per kg in futures trade today as speculators cut down bets, tracking a subdued trend at spot market on sluggish demand.
10:55 am Stock falls post Clarification: Manappuram Finance shares declined nearly 2 percent after in its BSE filing, the management reiterated there is no truth in recent stories of a speculative nature appearing in the media to the effect that the company's promoter, VP Nandakumar, is looking to sell his stake in the company or is on the verge of doing so.
This statement is being released by the company after a report by the business news channel mentioned that HDFC Bank, Edelweiss and IDFC Bank are in the fray to acquire the company.
10:40 am Edelweiss AUM Target: Edelweiss Mutual Fund is aiming at doubling the size of its assets under management (AUM) to Rs 25,000-30,000 crore by FY'19, a top official has said.
The company is also looking at organic growth by creating value propositions for investors with cutting-edge products that would be market leaders in their respective categories.
"Last month, our AUM crossed Rs 10,000 crore. By the end of the current fiscal, it will be around Rs 12,000-13,000 crore and the same will be between Rs 25,000-30,000 crore by FY'19," the CEO of Edelweiss Asset Management Company (AMC), Radhika Gupta, told PTI.
As of March 2017, the AUM for Edelweiss was Rs 6,000 crore including the assets of JP Morgan AMC which it acquired in 2016.
10:23 am ADAG stocks continue to rally: Reliance Infrastructure, Reliance Naval, Reliance Capital, Reliance Nippon Life and Reliance Power gained 1-5 percent.
10:15 am Market Update: Benchmark indices extended gains in morning, tracking positive global cues.
The 30-share BSE Sensex was up 128.51 points at 33,884.79 and the 50-share NSE Nifty gained 34.80 points at 10,475.10.
About 1,533 shares advanced against 625 declining shares on the BSE.
ONGC, Tata Power, Bharti Airtel, Maruti Suzuki and Adani Ports were top gainers among Nifty 50, rising 1-2 percent.
Asian markets edged higher in the last day of trade before Christmas, tracking moderate gains made on Wall Street.
10:05 am Nifty Bank flat after RBI's Financial Stability Report: The Reserve Bank has said gross non-performing assets in the system shot up to 10.2 percent as of the September quarter, primarily led by private sector lenders, and has warned that the situation will only aggravate from there, "elevating" the systemic risks.
In the half-yearly Financial Stability Report (FSR) put out late this evening, the central bank, however, said the financial system remains "stable" overall though it has pegged the bad loans spiking to 10.8 percent by the March quarter and to 11.1 percent by September 2018.
"The banking stability indicator (BSI) shows that the risks remain at an elevated level weighed down by further asset quality deterioration," the FSR notes.
Overall, the stressed assets, including restructured loans and dud loans increased marginally to 12.2 percent during the same period from 12.1 percent.
9:55 am Rupee Trade: The rupee traded higher by 4 paise at 64.02 against the dollar today.
In the opening session, the domestic unit fell by 2 paise to 64.08.
Yesterday, it had ended higher by 5 paise at 64.06 because of greenback selling by exporters and banks.
9:40 am Order Win: Dilip Buildcon shares gained more than 4 percent intraday on bagging two EPC contracts valued at Rs 517.81 crore from Ircon International.
The road developer informed exchanges that Ircon International has declared L1 bidder for two projects in Karnataka – one is six-laning of Davanagere-Haveri section of NH-48 package 1B (6.85 km) and six-laning of Davanagere-Haveri section of NH-48 package 2 (40.37 km).
The first project is worth Rs 148.28 crore against bid price of Rs 157.23 crore and second is Rs 378.56 crore against bid price of Rs 360.58 crore.
Both projects will be completed in 24 months.
9:27 am Stake Sale: HDFC announced sale of its subsidiaries HDFC Realty and HDFC Developers to Quikr India in an all stock deal that will give the financial services conglomerate a stake in the online classified platform now valued at over Rs 10,000 crore.
According to sources, HDFC will get over 3 percent stake in Quikr India in lieu of sale of its stake in the two subsidiaries for Rs 357 crore.
9:21 am Buzzing: Canara Bank shares gained 1 percent after the state-owned lender decided to offload 4 percent stake in its housing finance subsidiary Canfin Homes Ltd (CFHL).
After the transaction, the bank's holding in CFHL will come down to 26 percent, it said.
9:15 am Market Check: Equity benchmarks started off last day of the week on a positive note, with the Nifty reclaiming 10,450 level.
The 30-share BSE Sensex was up 73.79 points at 33,830.07 and the 50-share NSE Nifty gained 21.50 points at 10,461.80.
About 907 shares advanced against 260 declining shares on the BSE.
TCS was up nearly a percent after report indicated that the company renewed USD 2.25 billion deal with Nielsen till 2020 and also after Accenture earnings.
Aurobindo Pharma, L&T, Vedanta, Eicher Motors, HDFC Bank and UPL were early gainers while BPCL, Bajaj Auto, HCL Technologies, Bharti Infratel, Power Grid and ICICI Bank were losers.
Reliance Infrastructure, NHPC, PVR, Reliance Naval, Britannia Industries, DB Realty, Aditya Birla Money and Religare Enterprises rallied 2-20 percent.