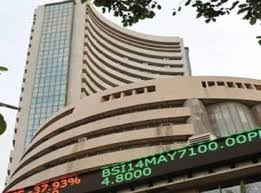 Market Live: Nifty above 10,350 amid consolidation; Midcap gains strength
11:15 am Management interview: Thomas Cook is selling 5.42 percent stake in its subsidiary Quess Corp via Rs 600 crore offer for sale. This will bring the promoter holding in Quess Corp down to 75.38 percent from 81.52 percent.
In an interview to CNBC-TV18, Madhavan Menon, Chairman & MD of Thomas Cook said there is no intention to sell further stake in Quess Corp.
Talking about business, he said tourist season is picking up and forward bookings have seen a significant growth.
On Quess Corp front, he said we restricted floor price to Rs 800 because wanted to honour Quess' qualified institutional placement (QIP) investors.
We originally invested in Quess Corp at Rs 132 per share, said Menon.
11:02 am Drug Launch: Biopharmaceuticals company Biocon has launched KRABEVA, a biosimilar Bevacizumab.
The drug is used for the treatment of patients with metastatic colorectal cancer and other types of lung, kidney, cervical, ovarian and brain cancers, in India.
KRABEVA is the second key oncologic biosimilar product from Biocon's global biosimilars portfolio to be launched in India, in order to address the unmet patient need for affordable biological therapies.
The product is being offered to patients at an MRP of Rs 24,000 for 100 mg / 4 ml vials and Rs 39,990 for 400 mg / 16 ml vials.
KRABEVA is being launched post successful completion of phase III clinical trials and approval of company's marketing authorisation application by the Drug Controller General of India.
10:48 am Market Check: Equity benchmarks traded mildly higher in morning, with the Nifty getting back above 10,350 amid consolidation while the broader markets gained strength
The 30-share BSE Sensex was up 39.85 points at 33,601.40 and the 50-share NSE Nifty rose 15.90 points to 10,358.20.
The Nifty Midcap index gained 0.4 percent and the BSE Smallcap rose nearly a percent. About two shares advanced for every share falling on the BSE.
10:35 am Oil Price Oil prices eased today, with US crude dipping away from two-year highs reached the day before, but the shutdown of the Keystone pipeline and a drawdown in fuel inventories continued to bolster markets despite worries over rising output.
US West Texas Intermediate (WTI) crude futures were at USD 57.89 a barrel, down 0.22 percent, from their last settlement, but still close to 2015-highs of USD 58.15 a barrel reached on Wednesday.
Brent crude futures, the international benchmark for oil prices, were at USD 63.15 per barrel, 0.27 percent, below their last close.
10:15 am Market Outlook: Rajesh Palviya, Head – Technical & Derivatives Analyst of Axis Securities said, "Given the sharp rise in October 2017, we expect the market to consolidate in the next two months. Important events lined up are state elections and their outcome which is expected to be major event infusing volatility in the market,"
If the ruling party at center performs better than expectation, it could be a big positive trigger for the market to breach the previous high and taking it to new high levels towards 10700-10800, he feels.
Unfavorable state election result would be sentiment dampener taking it to lower towards 10,100-10,000 levels, he said.
He further said US Fed meeting is scheduled in mid-December 2017; though the market has already factored in rate hike it would closely monitor the commentary for future actions.
10:05 am Mahindra's US plant: Indian automobile giant Mahindra's new manufacturing plant in Detroit with an investment of USD 230 million is an illustration of the India-US economic partnership, the Trump administration has said.
"We see this investment as another illustration of the important economic and business partnership between India and the United States," Tom Vajda, Acting Deputy Assistant Secretary of State for South and Central Asian Affairs told PTI, after Mahindra group chairman Anand Mahindra opened its new manufacturing plant in Detroit.
With an investment of USD 230 million, the Mahindra plant has created some 250 new jobs in Detroit, which is now just emerging out of the long economic recession after the 2008-09 collapse of the major American car manufacturing companies including Ford, General Motors and Chrysler.
Here are the top headlines at 10 am from Moneycontrol News' Anchal Pathak
9:55 am Rupee Trade: The rupee today spurted 12 paise to 64.80 against the US currency after a rush of dollar supply.
This was mostly because banks and exporters increasingly unwound their dollar bets.
The US unit came in weak against some currencies overseas. Domestic stock markets opening firm also supported the rupee, forex market participants said.
Yesterday, the rupee had ended marginally lower by 3 paise at 64.92 against the US currency due to fresh spells of dollar demand from corporates amid global crude oil woes.
9:42 am Fundraising: State-owned lender United Bank of India said it has received market regulator SEBI's approval for issue of equity shares worth Rs 1,000 crore by way of institutional placement.
The Kolkata-headquartered bank had in January informed the bourses it planned to raise up to Rs 1,500 crore through qualified institutional placement (QIP), rights or public issue.
The lender had raised Rs 127.49 crore through sale of shares to qualified institutional investors in May.
The bank approved allotting over 5.49 crore shares to qualified institutional buyers at issue price of Rs 23.22 per share, it had said in a regulatory filing.
9:38 am SEBI Approval: Market regulator Sebi has approved Bank of India's (BoI) proposal to raise up to Rs 3,000 crore through Qualified Institutional Placement (QIP), the state-owned bank said today.
"…Securities and Exchange Board of India (Sebi)… permitted the Bank to raise capital by way of issue of equity shares through Qualified Institutional Placement, subject to the receipt of the approval from the government of India," BoI said in a filing to BSE.
Sebi has also permitted the bank to achieve minimum public shareholding pursuant to QIP, the filing said.
News Live: IT, ITeS companies jittery over Rs 10,000cr tax demand, says report
9:30 am Stake Sale: Integrated travel and travel related financial services player Thomas Cook India said its board approved a fund raising plan of Rs 600 crore by divesting 5.42 percent stake in its subsidiary Quess Corp.
The company said the stake sale will be carried out through an offer-for-sale route. It has fixed a floor price of Rs 800 per share.
The company said the move is to meet Sebi regulations that require promoters to bring down their stake to 75 percent. Post-dilution, the combined promoter shareholding in Quess Corp (of Thomas Cook India and Ajit Isaac, CMD & CEO, Quess Corp) would be 75.38 percent.
9:20 am Earnings: Technical textiles manufacturer Garware-Wall Ropes (GWRL) posted 6.9 percent growth in profit after tax at Rs 28.2 crore for the quarter ended September 30, compared to the same period last year.
The company's PAT stood at Rs 26.3 crore in the corresponding period of FY17, GWRL said in a release issued here.
Net sales, however, declined by 8.9 percent to Rs 206 crore in the second quarter of FY18, compared to Rs 226.1 crore in the same period of FY17.
"In the second quarter, domestic fisheries contributed to a large proportion of the overall sales. As has been informed in previous months, we have been seeing a short-term disruption in our domestic business on account of GST implementation, more particularly in the fisheries sector," GWRL CMD Vayu Garware said.
9:15 am Market Check: Equity benchmarks opened mildly higher on Thursday but immediately erased those gains to trade flat. Investors closely watch crude oil prices movement and other global cues due to lack of domestic cues.
The 30-share BSE Sensex was down 23.63 points at 33,537.92 and the 50-share NSE Nifty fell 4.80 points to 10,337.50.
About 719 shares advanced against 409 declining shares on the BSE.
Bharti Airtel, Bosch, Bharti Infratel, Infosys and Power Grid were early gainers.
Dr Reddy's Labs, UltraTech Cement, Asian Paints, Zee Entertainment and Axis Bank were early losers.
ICICI Prudential Life, HDFC Standard Life and SBI Life were under pressure, falling 2-4 percent.
Quess Corp plunged 6 percent as Thomas Cook (up 4.5 percent) is selling some stake in the company.
PC Jeweller, VIP Industries and ACE gained 2-4 percent.