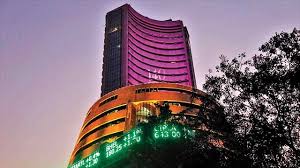 Market Live: Nifty extends gains, Sensex rises over 150 pts; banks, metals lead
 11:15 am EIR from USFDA: Dr Reddy's Laboratories today said it has received an establishment inspection report (EIR) from the US health regulator for its formulation manufacturing facility at Duvvada in Visakhapatnam.
It, however, said the US Food and Drug Administration has not closed the inspection and the manufacturing site's status remains unchanged.
"We have received the establishment inspection report (EIR) from the USFDA for the above mentioned facility. In the cover letter to the EIR, the USFDA has explained that inspection has not closed, and the site's status remains unchanged," Dr Reddy's said in a regulatory filing.
It further said: "The USFDA has released the EIR in order to be transparent about its regulatory process. We are planning to request a re-inspection in 2018 after further discussion on scheduling with the USFDA."
11:00 am Housing Finance License: Satin Creditcare Network shares surged 16 percent in morning on getting license to start housing finance business.
The microfinance institution has informed exchanges that the National Housing Bank has granted 'certificate of registration (under section 29 of the National Housing Bank Act, 1987) to commence business of a Housing Finance on November 14, 2017 to Satin Housing Finance.
Satin Housing Finance is a wholly owned subsidiary of Satin Creditcare Network.
10:52 am FII View: Yesterday's (Nov 20, 2017) biggest rally in bond yields was a repeat of November 2016 when demonetisation got announced,  Manish Wadhawan, MD & Head of Interest Rates at HSBC India said in an interview to CNBC-TV18.
He further said that whether 6.88 percent bond yield or 6.90 percent is sustainable would depend on future data points. The factors we are looking at are inflation dynamics and some clarity on fiscal, he added.
According to him, market participants have been wary of Reserve Bank of India's (RBI) actions and still adjusting to the new normal of RBI not doing open market operations (OMOs).
He expects market to trade around current levels for next one to one-and-a-half months.
According to him, liquidity scenario is expected to come to neutrality in December 2017-January 2018.
10:45 am Market Update: Equity benchmarks extended gains in morning, backed by Reliance Industries, Infosys, banks and metals stocks.
The 30-share BSE Sensex was up 174.48 points at 33,534.38 and the 50-share NSE Nifty rose 48.20 points to 10,347.
About two shares advanced against 665 declining shares on the BSE.
10:26 am Rupee Trade: The rupee firmed up 8 paise to 65.02 against the dollar today, set off by fresh selling of the US currency by exporters and banks.
The local unit received some good support from higher domestic equities. But a strong dollar overseas kept the rupee in check.
Yesterday, the rupee had retreated from its near one-week high and ended lower by 10 paise at 65.11 in a restricted trade amid stray dollar demand.
10:16 am Results: Gravita India, the country's leading metal recycler, reported a 57 percent rise in second quarter profit on the back of rising capacity and improved operational efficiency.
Gravita's profit surged to Rs 13.38 crore as against Rs 8.53 crore for the corresponding quarter last year as the company added 16000 tons of fresh lead recycling capacity.
Gravita India has 11 recycling plants across the world. The revenue for the quarter ending September rose by 39 percent to Rs 224.67 crore.
EBIDTA for the July-September period stood at Rs 25.77 crore as against Rs 11.95 crore during the same quarter last year. EBIDTA margin stood at 11.4 percent in Q2FY18 as against 7.38 percent in Q2FY17.
10:05 am Order Win: Shares of Simplex Infrastructures rose 11.3 percent in the early trade on contract win of Rs 524 crore.
NBCC has awarded contract worth Rs 524 crore to Simplex Infrastructures for construction of various buildings of IIT Bhubaneswar.
NBCC has awarded the contract for construction of various buildings for IIT Bhubaneswar at Bhubaneswar and its extended campus to Simplex Infrastructures, Kolkata with completion period of 15 months.
NBCC will get project management consultancy fee on the same.
NBCC and Simplex Infrastructures gained more than 90 percent in the last 1 year.
Here are the top headlines at 10 am from Moneycontrol News' Anchal Pathak
9:55 am Buzzing: Shares of BCL Industries were locked in 5 percent upper circuit as Porinju Veliyath bought stake in the company.
On November 20, 2017, Porinju Veliyath bought 2,00,000 shares of the company at Rs 109.90.
Also, EQ India Fund also bought 4,50,000 shares at Rs 109.90 and Om Prakash Chugh bought 75,000 shares at Rs 109.90 on the BSE.
9:43 am Mahindra in EV biz: Mahindra & Mahindra, one of India's oldest vehicle manufacturers, is testing autonomous tractors, trucks and cars, while moving closer to bringing electric vehicles to the United States, Chairman Anand Mahindra said.
The company, which opened a new North American headquarters north of Detroit on Monday, is considering when to begin US sales of the vehicles, Anand Mahindra said in an interview.
It is also weighing whether the vehicles should carry the Mahindra brand or those of its affiliates Pininfarina, the famed Italian design house; and Ssangyong Motor Co , a Korean manufacturer of utility and crossover vehicles, he added.
9:35 am FY18 Outlook: IT major Tech Mahindra said it expects to outgrow Nasscom's industry growth projection and may touch USD 5 billion mark in revenues during the current fiscal.
Noting that there is a skill gap among employees, C P Gurnani, Managing Director and CEO of Tech Mahindra, also said the company is geared up to reskill about 50,000 employees for the present and future requirements.
"We will beat the Nasscom projections. Tech Mahindra will beat Nasscom projections. Whatever Nasscom has projected 6-8 per cent, we should be higher than that.
"We are already at run rate of USD 4.5 billion and we are growing more than 6 to 8 per cent….You do the maths. For 2018, I think we should be (at USD 5 billion)," Gurnani told PTI.
The company's revenues during the last fiscal were USD 4,351.1 million, up 7.8 per cent year-on year. In Rupee terms they were 29,141 crore; up 10 percent YoY.
News Live: Bain Capital to sell 2.12% in L&T Finance to raise Rs 750cr, says report
9:26 am Assets Sale: Lenders of debt ridden Reliance Communications have approved the sale of its real estate assets in Delhi and Chennai to Canada-based asset management firm Brookfield, said a source.
"Lenders have approved sale of real estate assets RCom holds in Delhi and Chennai for Rs 801 crore to Brookfield," a source privy to the development told PTI on condition of anonymity.
When contacted RCom declined to comment on the development, while email query sent to Brookfield elicited no reply.
The proceeds will be used for retiring debts, the source said.
9:20 am Jet Airways in focus: Jet Airways, in analysts meet, said it would focus on reducing expenses, especially in trimming maintenance and distribution costs, as the full-service airline pursues strategic growth priorities amid stiff competition.
To bolster its overall income, the carrier would also focus on enhancing ancillary revenue by around Rs 250 crore.
In a presentation made to investors on Monday, the carrier has listed out its priorities for strategic growth.
The airline would look to reduce maintenance expense from January 2019 as well as bring down the cost of sales and distribution, as per the presentation.
Going forward, Jet Airways said it would also be deploying "15 per cent fuel efficient B737-Max (aircraft) inductions commencing from June 2018".
More than 25 such planes are expected to be delivered to the airline by March 2020.
9:15 am Market Check: Equity benchmarks opened higher on Tuesday, continuing upmove for fourth consecutive session while the broader markets also participated in rally, backed by positive global cues.
The 30-share BSE Sensex was up 109.13 points at 33,469.03 and the 50-share NSE Nifty rose 30 points to 10,328.80.
About 892 shares advanced against 258 declining shares on the BSE.
Yes Bank, Reliance Industries, Vedanta, Cipla, Wipro, Tech Mahindra, Tata Motors, Bajaj Finance and Bharti Airtel were early gainers while TCS, L&T and NTPC were losers.
SKM Egg and Venkys gained 4-11 percent.
L&T Finance Holdings fell 3 percent after big block deals.
Jet Airways fell 4 percent post analysts meet.
Quess Corp was up 8 percent after acquisition of 51 percent equity stake in Tata Business Support Services Limited.