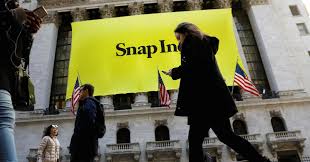 Snap's First Investor: CEO Evan Spiegel Is Not 'a Naive Founder'
This article originally ran in Term Sheet, Fortune's newsletter about deals and dealmakers. Sign up here.
Snap Inc, the parent company of Snapchat, revealed some worse-than-expected earnings in the third quarter and a $ 40 million Spectacles flop during its earnings call on Tuesday. CEO Evan Spiegel noted that the company will redesign the app "to make it easier to use."
Last Friday, I spoke with Jeremy Liew, the man who wrote Snap's first check. Liew, a partner at Lightspeed Venture Partners, invested $ 485,000 in Snap in April 2012 — an investment that returned more than $ 1 billion when the company went public. Below is a conversation with Liew.
FORTUNE: You've had quite a year — Snap went public. Walmart acquired Bonobos. Stitch Fix filed for an IPO. Tell me about your investment thesis. What do you look for in a company or founder before investing?
LIEW: We're usually looking for some indication that companies can become part of popular culture in the future. We're looking for some signal that the company is not niche, and it will expand beyond what everyone will be doing in the future.
One of the ways we do that is we look for services that attract a lot of young female users initially. It's a service that could make sense for a whole lot of people, but for whatever reason, the initial user base is young and female. We think that young women are the early adopters of popular culture. They're kind of hit-makers for the rest of society.
You wrote Snapchat's first big check in 2012. What did you see in the company then that made you want to invest?
Snapchat was highly engaging with young women, which is predictive of something being used broadly in the future. It showed incredible growth, incredible engagement, and incredible retention. That really caught our attention because we look for something that has a scalable, repeatable way of growing, and this appeared to be doing so through word of mouth. Snapchat was definitely creating a habit because we could tell from the engagement and retention, people were using the app several times a day.
Finally, we look for a unique insight from the founders that explains why this is all happening. We needed to know that they didn't just get lucky but that they will continue growing the business in the future. This is obvious now, but this was a unique insight back in 2012 when Evan Spiegel said that Facebook and Instagram are highlight reels for your life. You use them when you're feeling happy, excited, and proud. They give people performance anxiety about what they're willing to put on social media. If you're only seeing the top 10% of somebody's life, you don't really know the whole person. Snapchat allowed its users the freedom to be able to put things up that weren't "Instagram-ready."
What do you think about Snap's performance since it went public?
I actually don't think about the company's performance since it went public. I think about the performance since it was founded. That, to me, is the more relevant metric. In the spring of 2012 when we invested, it had tens of thousands of users. Today, it's in the hundreds of millions. It employs tens of thousands of people, it generates hundreds of millions of dollars, and it's touching the lives of a good portion of the Western world every single day. That's pretty remarkable.
It's been reported that there was a misunderstanding with the terms of the deal. (Spiegel reportedly paid less attention to the exact terms that gave Lightspeed veto power over investment at Snap & regretted it later.) What do you think about the evolution in recent years from founder-friendly investing to more of a climate of governance?
I think that everything is a pendulum, and market conditions can change from one side to another over time. I do think it's important to understand that some people will try to portray Evan as a naive founder. But he's an incredibly sophisticated entrepreneur, and I think people can see that from the smart decisions he has made through the course of the life of his company. So yes, things can somehow get confused, but he's a very sophisticated business person. No one can confuse Evan into doing something.
So you're saying those reports about the misunderstanding of the terms were exaggerated?
I think that everything that has ever been done with Snapchat is something Evan has understood. He was well-advised by really smart people.
You've invested in quite a few media companies including Cheddar & Mic. What do you think about the media landscape & where it's going?
As people continue to cut the cord, I think in the next 12 to 36 months, we're going to see a whole bunch of new either live or ambient TV series being bundled. Now the question becomes, will CNN be the CNN of Netflix? Will Fox News be the Fox News of Netflix? If you look at Fox News, for example, the average age of a Fox News viewer is in the 70s. At the same time, programs for millennials are on Netflix or Hulu or Amazon Prime video. It's going to be an opportunity for a news player to focus on millennials. We've made a lot of bets by looking at different genres of TV and trying to imagine how they would be reinvented for a millennial audience, so we invested in Cheddar, Mic, Beme (acquired by CNN), and HQ Trivia.
Sexual harassment allegations have plagued the VC community in recent months — including an incident with Stitch Fix CEO Katrina Lake and Justin Caldbeck while he was at Lightspeed. What are some ways you think the venture community can start to address and solve this problem?
I can't comment on the specific situation, but I think that more broadly it's great that these issues are coming to the forefront and become more salient in people's minds. It's causing a lot of pertinent conversations that will create an ecosystem that's more inclusive for all kinds of entrepreneurs.
What are your thoughts on the future of cryptocurrency and the blockchain as it relates to venture capital?
We first invested in the blockchain world a few years ago — it was probably around 2013 when we made our first investment. We continue to be excited about the prospect of the industry.
If you live in America, you don't really worry about the ability to store value in the U.S. dollar. You don't worry about the ability to spend money. You don't worry that the money in your bank account suddenly won't be available to you. That's not true in Venezuela and that's not true in other parts of the developing world. In places like that, having the benefits of the blockchain applied to money when you don't have faith in your financial alternative, it can be really compelling.
Discussion
Rules of Discussion on Live Index
1. This forum is for discussion of financial markets. Please respect others view even if they are contrary to you.
2. Member's comments should lead to value addition in forum discussion.
3. If anyone is found making repetitive Explicit/Abusive/Racial comments, his account shall be banned and old posts will be deleted.