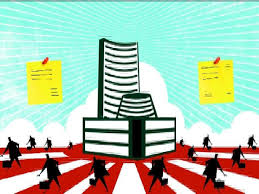 Market Live: Nifty holds 10K, midcaps shine; earnings drag South Indian Bank 7%
1:19 pm Stocks at 52-week highs: Nearly 200 stocks hit a fresh 52-week high on the BSE and 76 stocks rose to a fresh record high today.
As many as 195 stocks hit a fresh 52-week high on the BSE which include names like Bharat Financial, Tata Sponge, Heritage Foods, Bata India, TVS Motor, Bharat Forge, Mphasis, Havells India, VIP Industries, Bombay Dyeing, Delta Corp etc. among others.
As many as 76 stocks rose to fresh record highs which include names Gillette India, HEG, GOA Carbon, HSIL, ZEAL, Apex, PSP Projects, Deepak Fertilisers, GNFC, Tinplate, Adani Transmissions, SAB Industries, Siyaram Silk Mils etc. among others.
1:09 pm FII View: Going forward, CLSA believes that the market will be subdued in the near term. And this will be possible on the back of equity supply and weak FII flows. In fact, it expects foreign flows to not improve in the near-term.
Having said that, the earnings momentum in rest of Asia is far better than that in India, it added.
12:55 pm Market Check: Equity benchmarks maintained morning gains, with the Nifty holding psychological 10,000-mark on the back support from Reliance Industries, Infosys and HDFC Bank.
The 30-share BSE Sensex was up 81.56 points at 31,928.45 and the 50-share NSE Nifty rose 25.05 points to 10,013.80.
The broader markets also maintained gains in afternoon trade, with the BSE Midcap index rising 0.6 percent and Smallcap up 0.8 percent. About 1,511 shares advanced against 926 declining shares on the BSE.
Reliance Industries (up 1.5 percent), Avenue Supermarts (up 5 percent), Infosys (up 1.4 percent), ICICI Bank (down 0.63 percent) and L&T (up 0.19 percent) were most active shares on the NSE.
12:46 pm Earnings Preview: CLSA expects earnings from oil and gas sector to be a 'bumper' one.
The global research firm believes that companies such as Indian Oil, BPCL and HPCL are set to witness strong results. Further, a strong rise in gross refining margins quarter on quarter and an increase in petrol and diesel marketing margin are positive catalysts.
Among companies, it said that Reliance Industries could report 2.5 percent quarter on quarter rise in standalone net profit, while Oil India and ONGC could gain from higher crude price.
Meanwhile, higher volumes will ensure GAIL and Petronet LNG could report QoQ rise in PAT, the report added.
12:36 pm Europe trade: European markets opened slightly lower amid ongoing political uncertainty in the Catalonia region of Spain.
The pan-European Stoxx 600 fell 0.1 percent shortly after the opening bell with most sectors in negative territory and major bourses pointing in opposite directions.
Repercussions following the Catalonia region of Spain's recent bid for secession have been seen from the central government in Madrid. The ruling Spanish Partido Popular warned Catalan leader Carles Puigdemont Monday that he could be thrown in jail should he follow through with an anticipated declaration of independence Tuesday. Business confidence has been impacted in Spain, with a number of firms moving out of the Catalonia region.
12:26 pm Japan election campaign begins: Hundreds of candidates took to the streets today as the official 12-day campaigning period for Japan's October 22 lower house election kicked off, with Prime Minister Shinzo Abe's ruling party facing challenges from regrouped opposition forces.
Up for grabs are 465 seats in the more powerful of Japan's two-chamber parliament.
Abe pledged his party's stable leadership as he sought voters' support, promising a tougher stance on North Korea, as well as social security reform to relieve burdens on younger generations in Japan's rapidly aging society.
"We should stay unwavering," Abe said. "It is the policies, rather than a boom or slogans, that can open the future."
12:19 pm Earnings: South Indian Bank share price fell 7 percent today after disappointing earnings for the quarter ended September 2017.
12:11 pm Zinc production: Vedanta said zinc production for the quarter ended September 2017 stood at 1.9 lakh tonnes, up 28 percent compared with 1.5 lakh tonnes year ago.
However, saleable iron ore production fell 14 percent to 1.2 mt from 1.5 mt on year-on-year basis.
12:01 pm Order win: Shares of Ujaas Energy advanced 9 percent on order received from Assam Energy Development Agency (AEDA).
The company has received work order from AEDA for design, supply, installation, testing, commissioning of aggregate capacity of 2MW under RESCO Mode of grid connected solar PV rooftop power plants in Assam.
11:52 am Buzzing: Share price of Sharon Bio Medicine surged nearly 5 percent as it has received extension of 90 days for completion of insolvency resolution process.
As per section 12 (2) of Insolvency and Bankruptcy code 2016, the company has been granted an extension of 90 days for completion of insolvency resolution process with effect from October 8, 2017.
11:45 am New rules for foreign investment in debt: Finance ministry official said the government aims to harmonise rules on foreign investment in local debt, reports CNBC-TV18 quoting NewsRise.
New rules will be set on cap on total foreign cash in local debt and corporate bonds. The ministry is in talks with RBI on new rules, may take up to 1 year to finalise norms.
11:40 am IPO subscription: Indian Energy Exchange's initial public offer has been subscribed 24 percent on the second day of bidding today.
The Rs 1,001-crore IPO received bids for 10.19 lakh shares as against the total issue size of 42.45 lakh shares (excluding anchor investors' portion), data available with the NSE showed.
11:35 am Reforms for energy sector: Prime Minister Narendra Modi yesterday said there is scope for further reforms in the country's energy sector as he met CEOs of top global and Indian firms to explore ways to raise domestic output and cut imports.
Chief executives of firms ranging from BP Plc of the UK to Russia's Rosneft, Exxon Mobil, Saudi Aramco and Royal Dutch Shell flew in specially for a three-hour meeting, in a rare display of their faith in India and its policy reforms, top sources said.
In the three-hour long meeting, the honchos appreciated the reforms initiated in the last 40 months which has created an environment for companies like BP to revive USD 6 billion in investment plan in gas production and Saudi Aramco to consider investing in refining and petrochemical projects, they added.
Modi, they said, at the meeting stressed that India in the energy sector is growing vertically – from exportation to midstream refining and fuel distribution and technological innovation, as also horizontally in taking energy to last man in the queue by giving over 3 crore free LPG connections in last 15 months and promising 4 crore electricity connections to 4 crore households in the next 15 months.
11:24 am Order win: Sadbhav Engineering informed exchanges that it has been declared the successful bidder (L1) for project work at Kandla-Gandhidham-Adipur Complex in Kandla.
The bid price for the project is Rs 167.46 crore and the construction period is 9 months.
11:11 am Jaitley on GST: Despite "attempts to derail" the recently introduced Goods and Services Tax (GST), the states are adopting the new regime at a fast pace, Finance Minister Arun Jaitley has said.
At the event jointly organised by CII and US India Business Council (USIBC) in New York, Jaitley said global integration of Indian economy is happening at a time when other economies are becoming more protectionist.
Asserting that India is now a better place to do business with because of the series of steps being taken by the government in the last three years, Jaitley said procedures have been simplified.
Now as much as 95 percent of the investments are through automatic route, and foreign investment promotion board has been abolished, he noted.
Today, 99 percent of tax queries are addressed online, he said.
10:59 am Global oil supply: OPEC's Secretary General Mohammed Barkindo called on US shale oil producers to help curtail global oil supply, warning extraordinary measures might be needed next year to sustain the rebalanced market in the medium to long term.
"We urge our friends, in the shale basins of North America to take this shared responsibility with all seriousness it deserves, as one of the key lessons learnt from the current unique supply-driven cycle," said Barkindo.
10:50 am Adani Transmission gains 10%: Reliance Infrastructure today announced that it has entered into a period of exclusivity until January 15, 2018 in relation to discussions for the proposed sale of its integrated business of generation, transmission and distribution of power for
Mumbai City to Adani Transmission Limited (ATL).
The proposed transaction is subject to confirmatory diligence, definitive documentation, and customary approvals. Accordingly, there can be no certainty that a transaction will result.
Reliance Infra intends to utilise the proceeds of the proposed transaction entirely to reduce its debt, and further strengthen its financial position to tap mega growth opportunities in defence and EPC for the infrastructure sector.
10:45 am Market Check: Equity benchmarks remained positive in morning, backed by index heavyweights Reliance Industries, Infosys and HDFC Bank.
The 30-share BSE Sensex was up 83.17 points at 31,930.06 and the 50-share NSE Nifty gained 22.95 points at 10,011.70.
The BSE Midcap and Smallcap indices gained 0.6-0.8 percent on strong breadth. About two shares advanced for every share falling on the BSE.
10:36 am Drug patent: Suven Life Sciences announces today that the grant of one (1) product patent from New Zealand corresponding to the
New Chemical Entities (NCEs) for the treatment of disorders associated with Neurodegenerative diseases and these Patents are valid through 2034.
The granted claims of the patents include the class of selective 5-HT4 compounds and are being developed as therapeutic agents and are useful in the treatment of cognitive impairment associated with neurodegenerative disorders like Alzheimer's disease, Attention
deficient hyperactivity disorder (ADHD), Huntington's disease, Parkinson and Schizophrenia.
10:26 am China growth: China will have no problem meeting its economic growth target of around 6.5 percent this year, and may even beat it, the head of the Statistics Bureau said today, confirming widespread market expectations.
A flurry of government measures to rein in the overheated property market have also been effective and will remain in place, Ning Jizhe told reporters in a briefing in Beijing.
Analysts have expected full-year growth would meet or exceed the government's target after the world's second-largest economy expanded by a stronger-than-expected 6.9 percent in the first half, fueled by heavy government infrastructure spending and a property boom.
That could see China's economic growth accelerate for the first time in seven years, after it slowed to a 26-year low of 6.7 percent last year.
10:11 am Management interview: Most of the proceeds from oxygen plant disinvestment will go towards debt repayment, said Naushad Akhter Ansari, CEO-Steel Business at JSPL in an interview to CNBC-TV18.
We have an option of buying back the oxygen plant assets, so in good time we can get it back, said Ansari.
Internal rate of return (IRR) for this project is 11 percent, he said.
Talking about promoter warrant, he said the board has approved for Rs 4.8 crore convertible warrants, which can be converted into shares. However, price of warrants issued to promoters not yet decided, he added.
He expects to get approximately Rs 600-700 crore via shares/warrants issued to promoter.
10:03 am Buzzing: Shares of Biocon added 3.4 percent in morning trade on the back of complete response letter (CRL) from USFDA.
The US Food and Drug Administration has issued a complete response letter (CRL) for Mylan's biologics license application (BLA), a proposed biosimilar pegfilgrastim.
This said product is a part of the biosimilars portfolio being developed jointly by Biocon and Mylan.
The CRL relates to the pending update of the BLA with certain CMC data from facility requalification activities post recent plant modifications.
The CRL did not raise any questions on biosimilarity, pharmacokinetic/pharmacodynamic data, clinical data or immunogenicity.
"We do not expect this CRL to impact the commercial launch timing of biosimilar pegfilgrastim in the US. We are committed to working with the agency to resolve the issues stated in the CRL expeditiously," company said in release.
9:59 am Rupee trade: The rupee appreciated by 9 paise to 65.26 against the dollar today as rising risk appetite pushed back the US currency amid a higher opening in domestic equities.
The risk-on approach pushed exporters and banks increasingly away from the dollar.
The greenback ran out of luck overseas too, snapping its winning streak, as it fell against major peers.
The rupee uptrend got a leg-up from a positive opening in the local stock market, according to traders.
9:48 am Record date fixed: India's second largest software services firm Infosys has fixed November 1, 2017 as the record date for its up to Rs 13,000 crore share buyback programme.
"The Buyback Committee has approved and fixed November 1, 2017 to be the record date for determining the entitlement and the names of the equity shareholders to whom the letter of offer will be sent and will be eligible to participate in the buyback…," Infosys said in a regulatory filing.
It added that the buyback proposal had been approved by the Board on August 19 and by the shareholders earlier today.
The share buyback, which will be the first in the company's 36-year long history, will see Infosys buying back over 11.30 crore shares at Rs 1,150 apiece.
9:40 am Management interview: Tata Steel has potential to double its domestic capacity, according to its chairman N Chandrasekaran.
"I think it's fair enough to say whether organic or inorganic, we have a potential to double our capacity in India," Chandrasekaran told CNBC TV18 in an interview.
Tata Steel India, he said, is a well-run business and it is slated to perform extremely well as there is a demand as well as a market in the country.
9:30 am Order Win: Larson & Toubro (L&T) has emerged as the lowest bidder of the tender issued by it for the procurement of 50 lakh smart meters to be installed in Uttar Pradesh and Haryana, state-owned EESL said on Monday.
L&T share price gained nearly 1 percent in early trade.
At the rate of Rs 2,722 per smart meter quoted by L&T, the total worth of order works out to be Rs 1,361 crore.
"L&T has emerged as the lowest bidder of the tender issued by Energy Efficiency Services Ltd (EESL) to procure 50 Lakh smart meters," the EESL said in a statement.
According to the statement, the company has been selected through an international competitive bidding. The meters will be installed over a period of 3 years in a phased manner in Uttar Pradesh and Haryana. L&T quoted the lowest price of Rs 2,722 per smart meter.
9:25 am IPO subscription: The initial share sale offer of MAS Financial Services was oversubscribed 4.81 times on the second day of subscription on Monday. The issue will close today.
The IPO, to raise Rs 460 crore, received bids for 3,42,91,872 shares as compared to the total issue size of 71,24,910 shares, as per NSE data.
The category reserved for qualified institutional buyers (QIBs) was oversubscribed 5.74 times, non-institutional investors 47 percent and retail investors 6.29 times.
9:20 am Buzzing: Shares of Lupin rose 2 percent in early trade on the back of USFDA approval for Nadolol tablets.
The company has received final approval for Nadolol Tablets USP 20 mg, 40 mg and 80 mg from the United States Food and Drug Administration (USFDA).
The Nadolol tablets is a generic version of US WorldMeds, LLC Corgard Tablets, 20 mg, 40 mg and 80 mg.
The tablets are indicated for management of patients with angina pectoris and for the treatment of hypertension.
9:15 am Market Check: Equity benchmarks started off trade on a positive note Tuesday despite mixed global cues, backed by healthcare, metals and select banks stocks.
The 30-share BSE Sensex was up 82.94 points at 31,929.83 and the 50-share NSE Nifty gained 23.75 points at 10,012.50.
About 777 shares advanced against 214 declining shares on the BSE.
Lupin, L&T, Indiabulls Housing, IndusInd Bank, M&M, Aurobindo Pharma, Cipla and Tata Steel were early gainers while HDFC, Kotak Mahindra Bank and Axis Bank were under pressure.
Nifty Midcap was up 0.4 percent. SPARC, Biocon, NCC, NBCC, TVS Electronics, Graphite India, HEG, Goa Carbon and Bombay Dyeing rallied up to 15 percent.
Asian markets were mixed, with the Japan's Nikkei 225 rising 0.43 percent after markets reopened for trade following a long weekend. South Korea's Kospi surged 1.85 percent while China's Shanghai was down 0.3 percent.
Discussion
Rules of Discussion on Live Index
1. This forum is for discussion of financial markets. Please respect others view even if they are contrary to you.
2. Member's comments should lead to value addition in forum discussion.
3. If anyone is found making repetitive Explicit/Abusive/Racial comments, his account shall be banned and old posts will be deleted.