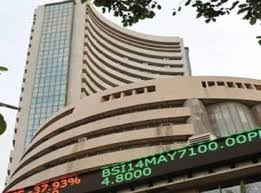 Market Live: Sensex falls over 150 pts, Nifty below 9,850 as rupee slips further
12:28 pm InvIT launch likely: Reliance Infrastructure is in the process of launching an infrastructure investment trust (InvIT) of Rs 2,500 crore in the coming quarter, reports CNBC-TV18.
12:23 pm Market Check: Equity benchmarks cut down losses in afternoon, following rally in metals and PSU oil exploration stocks.
The 30-share BSE Sensex was down 78.95 points at 31,547.68 and the 50-share NSE Nifty fell 26.45 points to 9,846.15.
The market breadth strengthened further as about five shares advanced for every four shares falling on the BSE.
The Nifty Metal index gained nearly 2 percent as Vedanta, Tata Steel, Hindalco Industries, Hindustan Zinc, NMDC, Jindal Steel, JSW Steel, NALCO and Coal India gained 1-3 percent.
12:10 pm Fundraising: Vivimed Labs has signed definitive agreements to facilitate an investment of USD 42.5 million by OrbiMed Asia into the company's subsidiary, Vivimed Labs Mascarene.
Vivimed Labs Mascarene is the holding entity of company's API business, UQUIFA.
The company will utilise these funds for debt reduction and optimisation of capital structure at the parent entity level; and investment in API business for capacity augmentation and organic growth.
UQUIFA, which contributes approximately 60 percent of the company's total consolidated revenues and a higher proportion of the reported EBITDA, has three USFDA inspected manufacturing sites across Spain and Mexico.
11:59 am Management interview: Century Plyboards rallied 42 percent in 2017 so far given the goods and services tax (GST) benefits expected.
"We are expecting 20 percent revenue growth for FY18, Sajjan Bhajanka, CMD said in an interview to CNBC-TV18.
He further said that EBITDA margin in medium density fiberboard (MDF) is always high.
11:45 am Rupee outlook: Pritesh Mehta of IIFL Private Wealth said the USD-INR retraced 50 percent of the entire move from 58 to 69. The same is placed near its 200-weekly moving average.
An activity of consolidation near the 50 percent retracement finally resulted in an upmove. We expect the currency to depreciate towards 66.20 mark in the medium term, he said.
11:40 am GST collection: The revenue from goods & services tax that implemented from July 1 slowed down in August compared with July.
As of September 25, the government has collected GST of Rs 80,000-85,000 crore against Rs 95,000 crore earlier.
Out of Rs 80,000-85,000 crore, Rs 15,000 crore collection was from integrated GST on imports.
11:30 am Buzzing: Shares of Coal India lost over a percent intraday as investors could have turned cautious of a target price cut on the stock.
Nomura, in its report, stated that it had maintained its neutral stance on the stock, but reduced the target price to Rs 260, implying a downside of around 19 percent from the previous target.
The global research firm observed that the earnings risk is quantified, while coal price revision is imperative. Further, a no revision in non-coking coal prices is key downside risk to the stock. It also cut FY18-19 EPS by 16/10 percent, while it saw normalised EPS at 2-3 percent below mean consensus.
11:20 am IPO subscription: The Rs 482-crore initial public offering of Prataap Snacks has been oversubscribed 2.8 times, as per latest data available on exchanges.
The issue has received bids for 1.01 crore equity shares against IPO size of 36 lakh shares, excluding anchor investors' portion.
11:16 am Modi's new Economic Advisory Council: Prime Minister Narendra Modi yesterday constituted a new Economic Advisory Council, which will seek to address the nation's macroeconomic issues.
The Economic Advisory Council will be chaired by NITI Aayog's Bibek Debroy. Other members, including renowned economists such as Surjit Bhalla, Rathin Roy and Ashima Goyal, will be part-time members. These members have earlier served as economic advisors to the nation.
Ratan Watal has been appointed as the Member Secretary of the Council. He will further notify the government of the developments made in the Council.
11:13 am FIIs outflow: The Nifty fell more than 350 points from its record high of 10,178.95 hit on September 19, following North Korea tensions and fiscal woes.
Even foreign institutional investors have been net sellers to the tune of more than Rs 6,000 crore in September so far.
11:05 am Market Check: Benchmark indices extended losses in morning, dragged by banks, auto, FMCG, oil marketing and pharma stocks.
The 30-share BSE Sensex was down 162.02 points or 0.51 percent at 31464.61 and the 50-share NSE Nifty declined 50.80 points or 0.51 percent to 9,821.80.
However, the market breadth remained positive as about 1,188 shares advanced against 906 declining shares on the BSE.
10:52 am Rupee: The Indian rupee fell further in morning, down sharply by 24 paise or 37 percent against the US dolllar, from previous close.
The heavy demand for the American currency from importers and banks caused decline in rupee.
It was trading at 65.34 against the US dollar, compared to 64.10 in previous session.
10:42 am Buzzing: Edelweiss has initiated coverage on Adani Transmission with buy and and NPV-based target price of Rs 154, citing likely strong growth ahead. The stock rallied 4.4 percent intraday Tuesday.
The research house has estimated the company to clock 19 percent and 36 percent EBITDA and PAT CAGR, respectively, over FY17-19.
It expects Adani Transmission to generate robust free cash flow, though it does anticipate high growth and M&A (merger and acquisition) appetite.
10:32 am Market Check: Equity benchmarks fell marginally in morning, with the Nifty breaking 9,850 level on selling pressure in index heavyweights HDFC, HDFC Bank and Reliance Industries.
The 30-share BSE Sensex was down 72.12 points at 31,554.51 and the 50-share NSE Nifty declined 26.55 points to 9,846.05.
IOC, HUL, BPCL, Asian Paints and Dr Reddy's Labs were top Nifty losers, falling 2-4 percent whereas Vedanta, ONGC, Adani Ports, Indiabulls Housing, Sun Pharma, Tata Steel and Hindalco gained 1-3 percent.
About three shares advanced for every two shares falling on the BSE.
10:25 am UBS upgrades Hero: Global research house UBS has upgraded Hero MotoCorp to buy from sell as it believes the company is expected to benefit from increasing robust rural and urban demand for motorcycles.
Volume growth of 10 percent CAGR over FY17-19 is not priced in, it said while raising FY18 2-wheeler industry sales growth forecast from 10 percent to 12 percent.
According to the research firm, double-digit volume growth over FY17-19 is expected to drive a re-rating on the stock.
UBS has also increased its target price for the stock to Rs 4,750 per share, from Rs 3,100 earlier.
The rise in target price was after it raised EBITDA (earnings before interest, tax, depreciation and amortisation) margin estimates for FY19 to 15.9 percent and earnings per share estimates hiked by 3/12 percent for FY18/19.
10:15 am P Chidambaram on ED action: Former finance minister P Chidambaram called the ED action against his son and a firm as "a crazy mixture of falsehoods and conjectures".
"I will not be intimidated," the senior Congress leader said in a statement issued after an ED order attaching assets of Karti Chidambaram and the firm under anti-money laundering laws.
Chidambaram said that the Enforcement Directorate (ED) press note is "intended to intimidate me and to silence my voice."
"The allegations in the press note are a crazy mixture of falsehoods and conjectures," he said.
"I have read the press note released by the Enforcement Directorate. It cleverly skirts the issue of jurisdiction of the ED when the only charge sheet filed in the case (Aircel-Maxis) has been quashed by the special judge," Chidambaram said.
He said that as and when the attachment order is served, "suitable action will be taken in accordance with law."
10:03 am Market Outlook: In the past two months, the markets have moved largely sideways, believes Vibhav Kapoor of IL&FS.
"I expected a correction. Stocks have been as expensive as ever and there is no case of buying right now," Kapoor told CNBC-TV18 in an interview.
But, going forward, a correction will take place and there are multiple reasons at play, he said. "Macros are deteriorating and oil price movements need to be watched. As a result, current account deficit could see strain, rupee will fall, among others. Plus, interest rates in the US could go up," he told the channel.
He stressed on the fact that many midcaps had 'ridiculous valuations' in pockets such as a few NBFCs, and FMCG, among others.
9:58 am Offshore stocks gain: Selan Exploration, Dolphin Offshore Aban Offshore and HOEC rallied 5-11 percent.
9:55 am Market Check: Equity benchmarks remained rangebound in morning but broader markets rebounded with mild gains on positive breadth.
The 30-share BSE Sensex was down 19.09 points at 31,607.54 and the 50-share NSE Nifty declined 5.70 points to 9,866.90.
The BSE Midcap and Smallcap indices gained 0.2-0.4 percent as about two shares advanced for every share falling on the exchange.
Experts expect the volatility to continue ahead of expiry of September futures & options contracts on Thursday.
"Volatility will remain high due to the upcoming derivatives expiry and erratic swings on global front. Thus traders should limit their positions and wait for some stability," Jayant Manglik, President, Retail Distribution, Religare Securities said.
9:50 am Power reforms: Prime Minister Narendra Modi launched a Rs 16,320-crore scheme – Pradhan Mantri Sahaj Bijli Har Ghar Yojana 'Saubhagya' – to provide electricity connections to over 4 crore families in rural and urban areas by December 2018, on Monday.
"Rs 16,000 crore will be spent to bring a monumental change in the lives of the poor," Modi said while launching the 'Saubhagya' scheme here.
The Rural Electrification Corporation Limited (REC) will remain the nodal agency for the operationalisation of the scheme throughout the country.
9:46 am Stake buy in PSU bank: LIC has acquired an over 4.5 percent stake in public sector lender Dena Bank in preferential allotment of shares over a period of nearly three months to mid-September.
LIC, the country's largest and the only state-owned life insurer, bought nearly 4.52 percent shares in Dena Bank in a period between May 23 to September 18, the bank said in a regulatory filing.
The equity sale to LIC was done through a preferential allotment of shares. Prior to this additional stake purchase, LIC held over 9.73 percent (96,705,466 shares) stake in Dena Bank.
Thus, the current shareholding in Dena Bank by LIC has increased to over 14.25 percent, representing 141,571,168 shares, showed the regulatory filing.
9:45 am Govt bonds: Government bonds on Monday received robust response from foreign investors attracting bids to the tune of about USD 700 million, against USD 429 million on offer.
The auction was conducted on NSE's e-bid platform from 15:30 hours to 17:30 hours, after the market hours.
At the end of the two-hour auction, as many as 37 bids were declared successful out of 47, the exchange data showed.
Foreign portfolio investors (FPIs) bid for investment limits in government debt securities worth Rs 4,541 crore (USD 699 million) as against Rs 2,786 crore (USD 429 million) on offer.
9:43 am Stake sale: State-owned IDBI Bank said it has sold one percent stake in Small Industries Development Bank of India (Sidbi) for an undisclosed amount in a bid to mobilise funds by exiting non-core business.
The bank has sold 53,19,220 shares constituting 1 per cent of the paid up capital of Sidbi, IDBI Bank said in a regulatory filing.
Without disclosing the name of the buyer, the bank said, the sale took place on September 22.
Sidbi was originally 100 percent owned by IDBI, when it was a term lending institution. Later in 2000, it divested 51 percent stake in favour of government owned banks and insurance companies.
9:40 am Rail merger: German industrial group Siemens is likely to decide today to pursue a multibillion-dollar rail merger with French rival Alstom rather than Canada's Bombardier , two sources familiar with the matter told Reuters.
The three major train and rail technology groups active in Europe have been looking at combining their businesses as larger Chinese state-backed rival CRRC embarks on a global expansion drive.
"I think Alstom will make it," one of the people said on Monday. The second person said Siemens' supervisory board would decide the matter on Tuesday, also describing Alstom as the frontrunner.
9:35 am Aviation stocks under pressure: SpiceJet and Jet Airways fell 3 percent each after Brent crude oil prices fell 3.8 percent yesterday but rebounded with mild gains today.
9:30 am RBI on NBFCs: Banks can no longer hold more than a 10 percent stake in a deposit taking non-banking finance company, with the exception of lenders owning equity in housing finance companies, and also regulated their commodity derivatives play, according to a Reserve Bank of India circular.
In amendments to the Master Direction – Reserve Bank of India (Financial Services provided by banks) Directions, 2016, the central bank said banks should not invest more than 10 percent of the unit capital of a real estate investment trust (ReIT) or an infrastructure investment trust (InvIT) subject to overall ceiling of 20 percent of its net worth.
9:25 am Asia growth: Developing Asia is on track to grow faster this year and next, the Asian Development Bank said today, buoyed by a pick-up in world trade and China's expansion, but it flagged risks from tightening US monetary policy.
Developing Asia is expected to grow by 5.9 and 5.8 percent in 2017 and 2018, respectively, the Manila-based lender said.
That is unchanged from its July estimates, but higher than the 5.7 percent forecast it gave for both years in its Asian Development Outlook (ADO) released in April.
9:20 am Market Outlook: Aditya Agarwal of Way2Wealth Brokers said being the expiry week, high volatility is expected in coming trading session and traders are advised to keep strict stop losses in short-term trading positions.
"For the current week, we maintain cautious view and believe that 10,180 to 10,250 range will act as a strong hurdle and it will be a daunting task for bulls to surpass this zone immediately," he said.
On the lower side, 9,740 will act as an immediate support whereas the strong support placed at 9,685. Any break below this level will confirm the medium-term downtrend.
9:15 am Market Check: Equity benchmarks opened flat on Tuesday after witnessing sharp fall in previous two sessions, and ahead of expiry of September derivative contracts.
The 30-share BSE Sensex was down 8.55 points at 31618.08 and the 50-share NSE Nifty gained 6.90 points at 9,879.50.
Lupin, ONGC, Power Grid and Sun Pharma were early gainers.
Nifty Midcap was up 0.1 percent. Jet Airways, InterGlobe Aviation, SpiceJet, JK Paper and Alkem Labs were down up to 4 percent while REC, Adani Transmission, Avenue Supermarts, Shoppers Stop and DHFL gained 1-6 percent.
The Indian rupee hit a six-month low, opening lower by 14 paise at 65.24 per dollar today versus 65.10 on Monday.
Asian markets were pressured, following declines on Wall Street overnight, as the war of words between North Korea and the US escalated.
Discussion
Rules of Discussion on Live Index
1. This forum is for discussion of financial markets. Please respect others view even if they are contrary to you.
2. Member's comments should lead to value addition in forum discussion.
3. If anyone is found making repetitive Explicit/Abusive/Racial comments, his account shall be banned and old posts will be deleted.