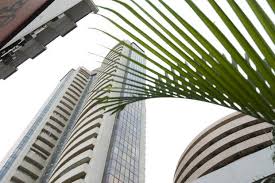 Market Live: Sensex, Nifty off day#39;s low; rupee falls further, Matrimony dips 6%
1:30 pm Fiscal Stimulus: Prime Minister Narendra Modi is considering a Rs 40,000 crore fiscal stimulus to boost exports, support MSMEs, and expand bank credit, even at the cost of letting the fiscal deficit widen a little, reports ET Now.
In the face of slowing economic growth, the government is considering giving itself some elbow room on fiscal deficit as it believes a fiscal stimulus is more crucial than maintaining fiscal deficit.
1:20 pm Nifty Pharma index up 3%:
1:10 pm Management Interview: NBCC (India), the government's construction arm, is looking to expand its overseas presence in a big way. The company is looking to increase its overseas order book to Rs 10,000 crore from the present Rs 700 crore in the next five years, Anoop Kumar Mittal, CMD, NBCC said.
"We have floated a subsidiary NBCC International to undertake projects abroad. We are currently in the process of constructing projects in Turkey, Maldives and Mauritius," he said.
In Maldives, the government's construction arm, is developing the National Prison Academy. The project is worth Rs 200 crore.
In Mauritius, the company is working on the Supreme Court building and construction of around 700 units under the social housing project. These units are being developed with the grant received by Mauritius from the government of India. This project is worth Rs 350 crore.
1:00 pm Analyst meet: Analysts maintained their positive stance on state-run defence company Bharat Electronics after analyst meet held on Wednesday.
IDFC Securities has retained its outperformer rating on the stock, with a target price of Rs 220 per share as it feels annual order inflow momentum will sustain at Rs 15,000 crore over FY18-20
The company is well-positioned to capture the growing defence spend, it said.
The research house expects EBITDA (earnings before interest, tax, depreciation and amortisation) to grow at CAGR of 14 percent over FY17-19 but its margin is expected to drop by 170 bps to 18.8 percent over FY17-FY19.
Sustained order inflows, long-term earnings potential & improvement in return ratios are key triggers going ahead, IDFC said.
Jefferies has also maintained its buy call on the stock with a target price of Rs 195 per share.
12:50 pm Tata Steel deal analysis: European operations, which have been at the heart of Tata Steel's major problems, are now entering a more interesting phase wherein investors can hope for better profitability and reduced balance sheet risks.
Yesterday, Tata Steel announced its decision to form an equal JV with thyssenkrupp (Thyssen). Apart from thyssen's European operations, comprising about 11 million tonnes, the JV will operate Tata Steel's European operation thereby creating a combined total steel production capacity of close to 21 million tonnes.
Both the companies hope to leverage their synergies. Tata Steel Europe, for instance, is considered to be having a good hold on industrial steel whereas Thyssen is strong in the OEM segment.
From Tata Steel's perspective, it's a big relief as it will not only diversify its risk in Europe, the combined entity will also have greater strength in terms of balance sheet and profitability.
12:40 pm Market Check: Benchmark indices were off day's lows in afternoon, with the Nifty clawing back above 10,100 level despite sharp fall in rupee post Fed hinted the next rate hike by December.
The 30-share BSE Sensex was down 90.74 points at 32,309.77 and the 50-share NSE Nifty fell 36.30 points to 10,104.85.
About two shares declined for every share rising on the BSE.
Matrimony.com extended losses after flat opening, down 6.5 percent to Rs 921.20 against issue price of Rs 985 per share.
12:35 pm Europe trade: European markets opened slightly higher, after the Federal Reserve announced a plan to begin unwinding its balance sheet and signaled one more interest rate hike for this year.
The pan-European Stoxx 600 edged up around 0.27 percent shortly after the opening bell, with almost all sectors and major bourses in positive territory.
12:25 pm Car launch: Tata Motors has launched Nexon with a price tag of Rs 585,000 ex-showroom Delhi.
12:15 pm Rupee trade: The rupee fell sharply by 32 paise to 64.58 against the dollar at the interbank forex market in afternoon as the greenback strengthened overseas.
Forex dealers said the greenback rose against other currencies overseas as expectations of rate hike by the US Federal Reserve grew stronger.
The US Federal Reserve yesterday kept its policy rate unchanged but expressed confidence in the outlook for the real economy.
12:05 pm USFDA approval: Orchid Pharma has received the Establishment Inspection Report (EIR) from USFDA on the successful inspection of the Active Pharmaceutical Ingredients (API) manufacturing facility located at SIDCO Industrial Estate, Aalthur, Kanchipuram District, Tamil Nadu, India.
This facility was inspected by USFDA in May 2017.
11:55 am Buzzing: Divis Laboratories share price continued to rally for third consecutive session as research house Axis Capital upgraded the stock and also increased its target price sharply after re-inspection of unit-2 by USFDA.
The stock rallied nearly 20 percent in three consecutive sessions.
Axis Capital has upgraded the rating on stock to buy and hiked its target price to Rs 1,080 from Rs 625 per share, following increase in earnings estimates.
The research firm has increased its FY19 EPS estimates by 15 percent with improved visibility on US FDA resolution.
The quick re-inspection by the US Food and Drug Administration could be due to large dependence of innovator/generic companies, it said.
11:40 am New PPP policy: The Centre has announced a new public-private partnership (PPP) policy to promote private investment in affordable housing, reports NewsRise.
Assistance of Rs 250,000 per house will be made available for building houses on private lands.
11:30 am Market Check: Equity benchmarks trimmed losses in late morning trade, with the Sensex falling over 100 points but the Nifty was still below 10,100 level.
The 30-share BSE Sensex was down 118.02 points at 32,282.49 and the 50-share NSE Nifty fell 45.70 points to 10,095.45.
The fall in broader markets was more than benchmarks as the BSE Midcap index was down 0.6 percent and Smallcap declined 0.9 percent. About three shares declined for every share rising on the BSE.
Healthcare stocks gained momentum after Dr Reddy's Labs received establishment inspection report from the USFDA for Formulation Srikakulam Plant (SEZ) unit II, Andhra Pradesh. The stock gained 4.6 percent followed by Sun Pharma, Cipla, Lupin and Aurobindo Pharma.
11:22 am Buzzing: Tata Steel on Thursday gained over a percent intraday after analysts gave its JV with Thyssenkrupp a thumbs up. The companies signed a Memorandum of Understanding (MoU) in 50:50 joint venture for their European assets.
The flat steel business of the two companies in the Europe will be combined along with thyssenkrupp's steel mill services.
Multiple brokerages are very upbeat on the development, citing value accretion. They also raised target prices for the stock as well.
"The proposed 50:50 joint venture – thyssenkrupp Tata Steel – would be focused on quality and technology leadership, and the supply of premium and differentiated products to customers, with annual shipments of about 21 million tonnes of flat steel products," Tata Steel said in a press release.
"The proposed combination of businesses would be formed through a non-cash transaction framework, based on fair valuation where both shareholders would contribute debt and liabilities to achieve an equal shareholding in the venture," the release added.
11:15 am IPO subscription: The 12 crore shares initial public offering of SBI Life Insurance Company has been subscribed only 12 percent so far on second day, as per latest data available on exchanges.
The issue received bids for 1.09 crore shares against IPO size of 8.82 crore shares (excluding anchor investors' portion).
11:00 am NCLAT rejects Mistry's plea: The National Company Law Appellate Tribunal (NCLAT) today rejected the pleas filed by Cyrus Mistry's firms against the Tata Sons on grounds of maintainability, reports CNBC-TV18.
Mistry's firms had filed pleas on grounds of alleged mismanagement, oppression of minority shareholders and on whether their pleas are maintainable.
However, NCLAT has allowed waiver to Cyrus Mistry, while also directing the case to be decided by the NCLT in three months.
10:50 am Buzzing: Share price of NBCC touched 52-week high of Rs 228.50, rising nearly 4 percent intraday on the back of LOI from Department of Customs and Excise, Government of India.
The company has received LOI from Department of Customs and Excise, Government of India for planning, designing & construction of office complex and residential quarters at customs enclave plot, Wadala, Mumbai worth of Rs 3200 crore on self-revenue generation model.
Recently, the company has received a contract for redevelopment of ITPO Complex into Integrated Exhibition-Cum-Convention Centre (IECC) at Pragati Maidan, New Delhi. And also got a contract for canal work for Gosikhurd national project in Bhandara, Nagpur and Chandrapur Districts of Maharashtra.
10:40 am Management interview: Sobha told CNBC-TV18 that its second quarter (July-September) performance is impacted by RERA & GST but it should be able to maintain Q1FY18 sales momentum.
FY18 is tougher year than last year, the real estate firm said but it expects good performance from the company in FY18.
Margins will be maintained and could also move higher, it said.
Sobha has registered 34 projects in Bengaluru and has registered close to 48 projects excluding Bengaluru.
10:29 am Resolution plan: An interim resolution professional (IRP) for Bhushan Power & Steel has sought a potential resolution plan from prospective parties, reports CNBC-TV18.
Mahendra Kumar Khandelwal was appointed as the IRP in the case under an order passed by the National Company Law Tribunal (NCLT) on July 26.
The Delhi-based entity, which owes over Rs 37,000 crore to a consortium of lenders led by Punjab National Bank, was among the 12 large companies identified by the Reserve Bank of India (RBI) where banks were directed to initiate insolvency proceedings.
10:20 am Buzzing: Shares of Den Networks rose 5.5 percent intraday as it has received NCLT nod for demerger of its broadband undertaking with its wholly owned subsidiary.
"A scheme of arrangement for the demerger of broadband undertaking/internet service provider business of Den Networks with Skynet Cable Network, a fully-owned subsidiary of company, has been approved by the Hon'ble National Company Law Tribunal (NCLT), company said in press release.
The scheme of arrangement was unanimously approved at the court convened meeting of shareholder/secured creditors and unsecured creditors of Den and shareholders meeting of Skynet on March 11, 2017.
10:10 am Market Check: Equity benchmarks slipped into red in morning trade as the Sensex fell 173.37 points to 32,227.14 and the Nifty dropped 58.50 points to 10,082.65.
The market breadth was weak as about two shares declined for every share rising on the BSE.
10:05 am Dr Reddy's Labs surges 6%: The drug firm informed exchanges that it has received an establishment inspection report (EIR) from the US FDA, for Formulation Srikakulam Plant (SEZ) Unit II, Andhra Pradesh.
The audit of this facility by the US Food and Drug Administration had completed with zero observations on May 25.
10:00 am Listing: Shares of Matrimony.com, the online matchmaking services provider, listed at its issue price of Rs 985, the higher end of price band. But the stock soon soared over 3 percent post listing.
The company raised Rs 500 crore through the issue that comprised of fresh issue of up to Rs 130 crore and an offer for sale of up to 37.67 lakh equity shares.
The public issue, which opened for subscription during September 11-13, was oversubscribed 4.44 times.
The category reserved for qualified institutional buyers (QIBs) was oversubscribed 1.88 times, non institutional investors 41 percent and retail individual investors 18.16 times.
9:55 am Buzzing: Shares of SMS Pharmaceuticals gained 6.5 percent intraday as it is going to consider the joint venture with a Switzerland company.
The company's board meeting is scheduled to be held on September 27, to consider the proposal for joint venture, for the purpose of contract research organization (CRO) and contract manufacturing organization (CMO), with Chemo S.A (Switzerland).
9:50 am Pre-opening trade: Matrimony.com share price settled at Rs 985 per share in pre-opening trade.
Dishman Carbogen settled at Rs 350 per share and Lasa Supergenerics Rs 140 in pre-opening trade.
9:35 am I-T Raid: Income Tax Department has conducted a search operations at multiple locations of Cafe Coffee Day, the leading retail coffee chain in India.
Search operations are underway at residence of VG Siddhartha, CMD of the Cafe Coffee Day.
Coffee Day Enterprises shares fell nearly 5 percent.
9:25 am Buzzing: Shares of OM Metals Infraprojects touched 52-week high of Rs 80.50, adding more than 18 percent intraday on the back of share acquisition by Porinju's firm Equity Intelligence.
On September 20, 2017 Equity Intelligence India [PMS], where Porinju Veliyath is a Founder & CEO, has bought 7,30,000 shares (0.75 percent) at Rs 62.70. Also, EQ India Fund bought 5,75,000 shares at Rs 62.24 of the comapny.
However, Udgam Commercial sold 14,10,000 shares at Rs 62.23.
As on June 2017, Udgam Commercial was holding 41,18,040 equity shares (4.28 percent) in the comapny.
9:16 am Fed statement: The US Federal Reserve left interest rates unchanged on Wednesday but signalled it still expects one more increase by the end of the year despite a recent bout of low inflation.
The Fed, as expected, also said it would begin in October to reduce its approximately USD 4.2 trillion in holdings of US Treasury bonds and mortgage-backed securities acquired in the years after the 2008 financial crisis.
New economic projections released after the Fed's two-day policy meeting showed 11 of 16 officials see the "appropriate" level for the federal funds rate, the central bank's benchmark interest rate, to be in a range between 1.25 percent and 1.50 percent by the end of 2017, or 0.25 percentage points above the current level.
9:15 am Market Check: Equity benchmarks opened marginally higher on Thursday after Federal Reserve monetary policy meeting.
The 30-share BSE Sensex was up 42.42 points at 32,442.93 and the 50-share NSE Nifty rose 10.95 points to 10,152.10.
Tata Steel, Dr Reddy's Labs, Sun Pharma, Lupin, Hindalco, Infosys, HCL Technologies and Reliance Industries gained up to 2 percent.
TCS, Bank of Baroda, ICICI Bank and Ambuja Cements were under pressure in early trade.
Nifty Midcap was up 0.12 percent on positive breadth. About two shares advanced for every share falling on the NSE.
Novartis India, Om Metal Infra, Den Networks, MEP Infra, Bombay Dyeing, ITDC, Munjal Auto, Goa Carbon, Kamat Hotels and Shoppers Stop rallied 2-16 percent.
Reliance Capital fell a percent ahead of Reliance Home Finance listing tomorrow.
Discussion
Rules of Discussion on Live Index
1. This forum is for discussion of financial markets. Please respect others view even if they are contrary to you.
2. Member's comments should lead to value addition in forum discussion.
3. If anyone is found making repetitive Explicit/Abusive/Racial comments, his account shall be banned and old posts will be deleted.