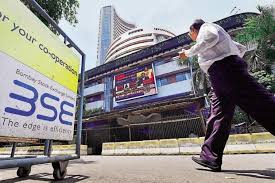 Market Live: Sensex rebounds 150 pts, Nifty opens above 9600; Tata Steel up 2%
10:20 am Strategic sale: The government is planning an outright sale of Dredging Corporation of India (DCIL) through auction, which could fetch about Rs 1,400 crore to the exchequer.
Besides, there is a proposal to sell 100 percent government holding in four unlisted companies- Kamarajar Port, HLL Lifecare, Indian Medicines & Pharmaceutical Corporation Ltd, and Karnataka Antibiotics and Pharmaceuticals Ltd.
According to sources, the core group of secretaries on disinvestment, headed by the cabinet secretary, has already approved the sale of these five companies.
The government think tank Niti Aayog too has favoured disinvestment.
The government currently holds 73.47 percent stake in Dredging Corporation of India (DCIL). At the current market prices, sale of this stake would fetch about Rs 1,400 crore to the exchequer.
10:00 am Market Check: Benchmark indices continued to trade strong on positive global cues, with the Nifty eyeing 9650 level but the broader markets underperformed despite positive market breadth.
The 30-share BSE Sensex was up 155.66 points at 31,212.06 and the 50-share NSE Nifty rose 40.45 points to 9,628.50. About 1173 shares advanced against 725 declining shares on the BSE.
Adani Ports, Tata Steel, Reliance Industries, Bajaj Auto, TCS, Bharti Infratel and IndusInd Bank gained 1-2 percent while Cipla, Lupin, Sun Pharma, Dr Reddy's Labs, Yes Bank and Tata Motors were morning gainers.
9:45 am MS on Cadila: With retaining overweight rating on Cadila Healthcare and target price of Rs 619, Morgan Stanley said with the Moraiya resolution past, it expects the new product approval cycle for the US market to intensify.
200 ANDAs are pending approval, it said, adding it expects 40-plus approvals in the next 12-15 months. Several niche products and operating leverage give strong earnings visibility – FY18-19 EPS CAGR of 39.1 percent, Morgan Stanley feels.
9:30 am FII View: Federal Reserve hiked interest rate by 25 bps and announced balancesheet reduction on June 14.
Michael Hartnett of Bank of America Merrill Lynch said the new theme would be global synchronised monetary tightening with Federal Reserve, China, Canada, UK, ECB beginning a synchronised monetary tightening in second half of 2017.
While these won't spark immediate bear market as EPS, inflation, cash, credit positives remain but this inflection point in monetary policy will become negative in coming quarters, he feels.
Also read – Buy, Sell, Hold: 8 stocks and 2 sectors are being tracked by analysts today
9:15 am Market Check: Equity benchmarks started off the week on a positive note after seeing consolidation in previous two weeks, backed by positive Asian cues.
The 30-share BSE Sensex was up 126.50 points at 31,182.90 and the 50-share NSE Nifty rose 33.70 points to 9,621.75 while the broader markets gained half a percent
The market breadth was strong as about three shares advanced for every share falling on the BSE.
Dredging Corporation surged 4 percent on stake sale buzz while Hathway Cable gained 7 percent ahead of its subsidiary IPO launch.
Jayant Agro, Indian Hotels, Hume Pipe, Ujjivan Financial and Cadila Healthcare gained 2-4 percent while Amtek Auto, Videocon Industries and Lanco Infratech fell 4-6 percent.
The Indian rupee has opened flat at 64.42 per dollar against Friday's closing value.
Pramit Brahmbhatt of Veracity has a neutral stance on the USD-INR pair in absence of any directional cues and expects it to continue to trade in a range of 64.20-64.80/dollar.
Asian bourses traded in the green as markets geared up ahead of Brexit negotiations between the UK and the European Union, and as French President Emmanuel Macron's party won a parliamentary majority at the weekend.