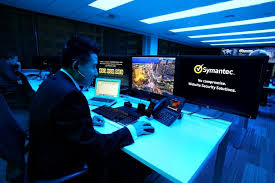 Symantec's CEO Says the Company's Got Its Groove Back
When Symantec CEO Greg Clark catches wind of rivals knocking his company, he smirks.
He has led the cybersecurity giant for about a year after it acquired network defense firm Blue Coat, which he formerly led, for more than $ 4.6 billion. Since then, he has been plowing ahead with a revamp of the 35-year-old company. At the core of that transformation are two big bets: one on the integration of Blue Coat's technology, which protects corporate networks from digital attacks; the other on a $ 2.3 billion purchase of LifeLock, which protects consumers against identity theft.
Upstart competitors may like to knock Symantec (symc) as a fusty laggard that's failed to anticipate industry shifts, but Clark believes they're the ones now living in the past. With Symantec's recent sale of Veritas, an ill-fated acquisition from a decade ago, plus the additions of Blue Coat and LifeLock, he says that Symantec is back on a path to growth after a rough patch.
Get Data Sheet, Fortune's tech newsletter
Fortune caught up with Clark ahead of the company's financial analyst day on Thursday. Below is a transcript of that conversation, edited for length and clarity.
Fortune: You're coming up on a year as CEO. Reflect on your tenure. What are you most proud of?
Greg Clark: It's been one of the better years in my career. I've really enjoyed taking the helm at Symantec, primarily because the products that Symantec has and the technical capabilities of the company are outstanding. On the enterprise side, we've transformed Symantec's ability to compete and we've proven to the industry that we are an innovator. We've also turned the company around toward a growth trajectory. Our enterprise business is very well set up over the next couple of years.
On the consumer side, the acquisition of LifeLock adds identity protection to a very powerful malware defense capability under the Norton brand. We have stemmed the tide of declines in our consumer business and we've forecasted returning this year to growth. That is a huge statement for our shareholders and also is of massive value to our consumer customers. We're bullish about the future.
Symantec bought Veritas, the storage firm, about a decade ago. The hot new thing then was marrying security with storage. Things didn't pan out as hoped. How is Symantec now combining Blue Coat and LifeLock into its businesses? How is it learning from its past?
I'm very close to board members that were there and I know many of the past CEOs. The decision to return Symantec to a pure-play security company a couple of years ago was a good one. Following the carveout of Veritas, the board was very insightful in doing transformational M&A to make our consumer business and enterprise business market leading. The acquisitions of Blue Coat and LifeLock were the cornerstones to drive the transformation in enterprise and consumer.
In that same timespan, a lot of competitors have come up in the antivirus and endpoint [device] protection space. Companies like Cylance, CrowdStrike, Carbon Black—I could probably name a dozen others. How is Symantec keeping up?
That's a really good question. These things have come up like mushrooms after a rainstorm and they get some hype. It's not about Symantec keeping up. Symantec is the leader in signature detection [identifying digital attacks] right now. We have 3,500 engineers, and we have well over 1,000 engineers working just on that problem. I'd turn that question around and say that the others will have a real problem keeping up. Customers have put in way too many security products in the last 10 years, and we can help consolidate them. When Symantec shows up, we take four of those vendors into one.
Symantec is 35 years old and attackers are nimble. What are you doing to make sure Symantec's tech doesn't become obsolete?
One of the things that you have to realize about Symantec is that we were never sitting still. Blue Coat did six acquisitions in three years. A lot of them were very innovative, amazing companies like Solera Networks, Elastica, and Metronome. These were not the laggards, but the leaders in their area. We're 35 years old, but through the malware lens and with our malware lab, we know what we're doing. We're seeing everything. I've never ran a company that didn't lead technically, and I don't intend that to change with Symantec.
Financial analyst day is coming up. On what metric should Symantec be graded?
We believe we can drive respectable growth for many years. We can do that at a profit margin that is best in class. In the consumer business, we have one of the best situations I've had in my career. We've extended malware protection across all platforms, whether Android, iOS, Mac endpoints or Windows. We've also built that into a Wi-Fi router for the home. We've coupled that, very importantly, with identity protection from LifeLock. Identity protection transcends all hardware transitions. We've forecasted the consumer segment's return to growth in fiscal year 2018. That is a very exciting set of details as it changes the investment profile for the company.
We have a substantial balance sheet—twice as big as the next competitor from a revenue point of view, with over $ 5 billion—and driving substantial cash flows. I'm excited.
Who is your business role model?
I have a few. I have a lot of respect for [PayPal (pypl) president and CEO] Dan Schulman, chairman of the board at Symantec. He's really impressed me. I love Jamie Dimon [CEO of J.P. Morgan Chase (jpm). He drives a culture change that is phenomenal. I have a ton of respect for the product oriented CEOs of the world—Steve Jobs, of course—Larry Ellison [cofounder and tech chief of Oracle (oclcf), Bill Gates [cofounder of Microsoft (msft). These guys are product people and understand the mechanics of the business.
Anything I've missed?
I'd say to our competitors that think we're a laggard and not an innovator, I crack a grin when I hear that. I think we are definitely innovative and a serious competitor. We're showing that right now.

Discussion
Rules of Discussion on Live Index
1. This forum is for discussion of financial markets. Please respect others view even if they are contrary to you.
2. Member's comments should lead to value addition in forum discussion.
3. If anyone is found making repetitive Explicit/Abusive/Racial comments, his account shall be banned and old posts will be deleted.