The World's Biggest Carmaker Made a Huge Bet on Tech. Things Went Wrong Fast.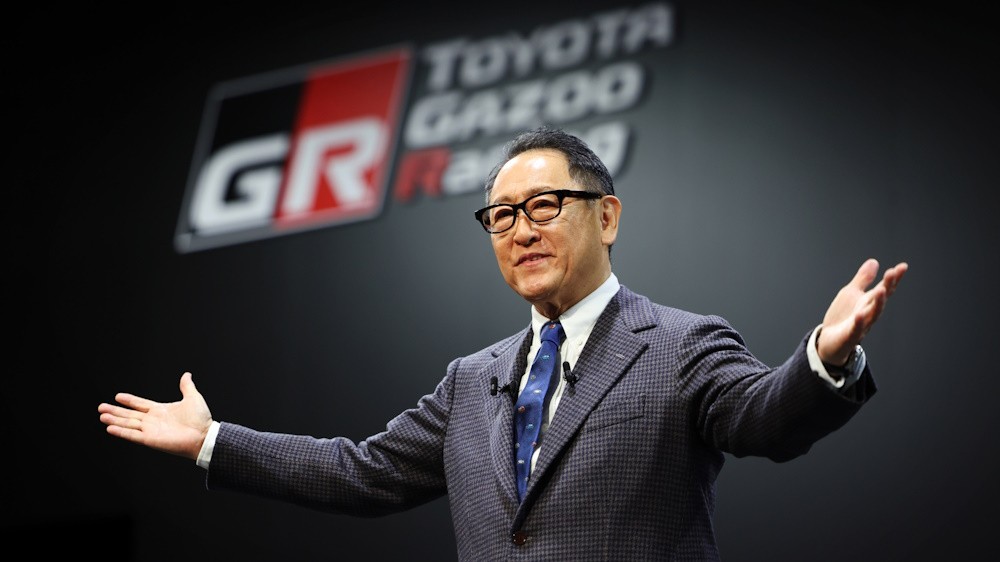 Toyota sells more cars each year than any other company, and it had similarly big dreams when it created its own in-house technology startup in 2021. It picked an American tech whiz to run it and envisioned building software for its cars that would become a standard for the whole industry.
So great were the startup's ambitions that one of its projects was building an entire new city in the foothills of Mount Fuji where it could test self-driving cars, robots and hydrogen for power production. Then-Chief Executive Akio Toyoda said the new unit would help Toyota navigate a "once-in-a-century period of profound change" in which cars become electric, internet-connected, autonomous and heavily reliant on software.
Toyoda said the company would be called Woven Planet, using the English words, a reference to Toyota's origin as a manufacturer of automatic looms in the 1920s. He took a 5% stake in the venture, personally investing $34 million to show his commitment.
Now, the dreams of Woven Planet have been curtailed. While the company maintains that its ultimate vision remains in place, Toyota's full release of software that would enable drivers to upgrade their cars wirelessly has been pushed back and the new city has yet to open. After three years of slower-than-expected progress and software that proved too ambitious to deliver on time, the American tech whiz has left, joking about the hair he has lost along the way.
The software unit's early missteps, described by current and former executives, offer a cautionary tale for leaders of traditional companies who know they need a new kind of tech expertise but struggle to meld it with old aptitudes and habits. The Woven unit started with far-reaching ambitions that ultimately didn't match Toyota's desire for concrete software features ready to be put in cars fairly quickly. Woven struggled to connect with the changing goals of its parent, which is trying to reinvent itself while building 10 million vehicles a year.
The result was deadlines that kept getting moved forward and back—at one point, as far out as 2027 for the full rollout of the software. Today, Toyota has installed veterans of its auto-making group and brought Woven closer to the rest of the company. With its new regime and structure, Toyota and Woven say the unit's plans are now back on track, with an early version of the software promised by 2025.
Toyota is a cornerstone of the economy in Japan, where it directly and indirectly employs millions of workers. For more than a half-century, it has set the standard for global carmakers with manufacturing principles that emphasize efficiency, waste reduction and continual improvement.
The company's culture, built around methodical production timelines and tight control over budgets, shuns flair. Most of the top executives, including current CEO Koji Sato, are Japanese men who have spent their entire adult lives at Toyota building a career and avoiding mistakes. The company uniform isn't a statement like a hoodie or black turtleneck but an actual uniform: a Toyota factory jacket that Sato is known to wear at internal meetings.
Woven Planet's Tokyo headquarters, shown in early 2022, was designed to emulate aspects of Silicon Valley startups. PHOTO: AKIO KON/BLOOMBERG NEWS
View Full Image
Woven Planet's Tokyo headquarters, shown in early 2022, was designed to emulate aspects of Silicon Valley startups. PHOTO: AKIO KON/BLOOMBERG NEWS
Toyota isn't the only carmaker to stumble over software. General Motors halted its self-driving car operations this week due to safety concerns from regulators, after saying it was betting the company on such technologies.
Volkswagen, the world's second-biggest automaker, spent billions and recruited an army of engineers for its own software project but ultimately got bogged down. The stumble led to model delays and contributed to the ouster of former CEO Herbert Diess.
VW and Toyota have lost ground to industry newcomersin building vehicles that resemble computers on wheels. Tesla, China's BYD and others use software extensively to control vehicle functions, meaning that everything from battery range to autonomous-driving features can be improved via over-the-air updates, like apps on a phone.
At an internal meeting in 2020, Toyoda encouraged employees of the soon-to-start unit to dream big. He said he had struggled to encourage innovation within Toyota because it was a large organization in which decisions were often made based on precedent.
"In this uncharted era, not everything can be considered using such logical mechanisms," Toyoda said, according to a transcript of the meeting. At the new company, he said, "I believe we can do great things. I believe we can change the world."
Woven Planet began using high salaries to attract top foreign software engineers and acquired a string of startups, including the self-driving unit of U.S. ride-hailing company Lyft in April 2021.
For its Silicon Valley-style office, with Segway-like personal transporters and plants to promote relaxation, Toyota took space in a central Tokyo high-rise building. It was 180 miles from headquarters in Toyota City, where the company has been known to use less air conditioning and shut down elevators to cut costs.
To run Woven Planet, Toyoda picked James Kuffner, a jeans-and-T-shirt-clad roboticist who had been with the carmaker since 2016, after serving as part of the team that created Google's self-driving car. Kuffner, now 52, managed Woven Planet's more than 2,000 employees and was also given the informal side job of mentoring Toyoda's son, Daisuke, 35, who took an executive role at the company. Kuffner made the equivalent of nearly $9 million in the year ended March 2023—some $2 million more than Toyoda, his boss.
Among the unit's futuristic projects was a multibillion-dollar, hydrogen-powered city at the base of Mount Fuji, called Woven City, where thousands of people would live and test out self-driving cars and robot-equipped smart homes.
Another project was to create industry-leading software for Toyota's cars.
Toyota named the concept Arene, a kind of operating system for cars that was envisioned as making it possible for drivers to wirelessly download a wide array of upgrades, just like Tesla. Arene-powered vehicles would connect to a cloud network, gathering and sharing data among millions of vehicles, smart homes and city infrastructure. Developers outside of Toyota would be able to use it to design their own applications and services for cars, and Arene would be open for use by other automakers as well, in the manner of Android, the mobile operating system that runs on many brands of smartphone.
Arene is named after a class of hydrocarbon molecules that are hexagonal, the same shape as Woven's logo.
It was an immense vision, and difficult to pin to concrete car-launch schedules. The task of building software was also made more difficult because the company wanted it to work on many types of vehicles, including EVs as well as the hybrid, gasoline and hydrogen-powered cars Toyota remains committed to producing. Toyota said this week that EVs aren't everything when it comes to reducing carbon emissions.
Even within Toyota and Woven Planet, many found the vision hard to understand.
Around six months ago, at an all-staff meeting at Woven, an employee's three-word query—"What is Arene?"—was voted to the top of the list of questions posed to company management. There was a brief pause before the CEO, Kuffner, said he would answer.
Kuffner spoke at length about his original dream for Arene: saving lives with its automated safety functions and going beyond simply controlling the driving functions of a car. People who attended the meeting said they recall wondering why much of the answer was given in the past tense.
At the time, "What is Arene?" was the very question being debated by management at Woven Planet and Toyota. Development of the platform was taking longer than Toyota had expected. At one point, the goal was to put out a full-fledged version of the platform in 2025, but groups planning Toyota's next-generation car lineup began to expect its delivery to be pushed back to 2027.
At a product-development meeting last year, then-CEO Toyoda erupted after hearing from Woven Planet management that many of the software updates Toyota was aiming to release in 2025 wouldn't be completed in time, according to people who know about the meeting.
Over the past year, Woven Planet began to shift its focus toward developing software that could be delivered soon. That meant designing software specifically with Toyota vehicles in mind, and bringing in leaders with automotive experience. For its initial rollout, Arene was re-envisioned to focus more on the in-car experience, with features that let drivers modify their cars to make revving sounds like a sports car or even drive as if they had a manual transmission.
John Absmeier, the unit's chief technology officer, who was brought in last year after years working in both the automotive and tech industries, said the ultimate vision for Arene, including making it an industry standard, remained the same. "What has changed over the past year is that it won't be in one big bang," he said. "It has to be step by step."
Changes at Woven hastened in January, when Toyoda decided to hand the reins of the automaker to Sato, a longtime engineer. Sato's job as Toyota's new CEO was to speed up the automaker's slow push into electric vehicles.Days after assuming his new role, Sato pledged to release 10 new EV models by 2026. He wanted Arene's full rollout to be moved up to coincide with the release of those models.
Sato pushed Woven Planet to shift its focus toward making software that could be delivered soon.
Woven Planet was renamed "Woven by Toyota" to incorporate the Toyota brand. Longtime Toyota executives such as former Chief Financial Officer Kenta Kon and Executive Fellow Koji Kobayashi joined the software unit's board.
Bonuses for the year ended in March of 2023 were slashed due to missed targets and timelines, employees at Woven by Toyota say. Former CEO Toyoda transferred his stake in the company to Toyota, making Woven by Toyota a fully owned subsidiary. Toyota said it proposed to buy Toyoda's shares of Woven for about $670,000 more than he originally paid for them, based on a third-party valuation.
In an internal publication, the company said Toyoda gave up his shares because of concern over conflict of interest if he was simultaneously chairman of Toyota and a shareholder in a firm that develops products for it. "My feelings toward Woven by Toyota, which I consider like my own child, have not changed," it quoted Toyoda as saying.
In October, Kuffner gave up his job after 2½ years in the role to Hajime Kumabe, who came from Denso, Toyota's top auto-parts supplier. Kon, the former Toyota CFO, has assumed the informal role as Daisuke Toyoda's mentor, people inside Woven said.
The canteen at Woven's Tokyo headquarters, where executives spoke at a farewell party for former CEO James Kuffner last month. PHOTO: AKIO KON/BLOOMBERG NEWS
View Full Image
The canteen at Woven's Tokyo headquarters, where executives spoke at a farewell party for former CEO James Kuffner last month. PHOTO: AKIO KON/BLOOMBERG NEWS
Kuffner is now a senior fellow at Toyota, working on digital-skill development and education within the company in addition to software development.
Toyota says Arene will debut in some vehicles in 2025, with a full-scale rollout planned for 2026. The software will initially be designed for Toyota vehicles only.
At an auto show in Tokyo earlier this week, Toyota demonstrated features of Arene, including one that enables a driver to point a finger at surrounding locations while driving and receive information on them. That and other advanced features would be ready in 2026 or potentially later, people working on the technology at Woven said.
"Learning from failure, Toyota now has clearly defined what it needs to do—what it needs to prioritize—and it has a clear-cut product plan aimed at 2026," said Takaki Nakanishi, an automotive-industry analyst and author of a recent book detailing the changes in Toyota's EV and software strategies.
"The question is whether Toyota has found what will ultimately be a successful model in the long run," Nakanishi said. "The age of Kuffner is over and what started out as a company with a California venture spirit now has a president from Denso—it's like a pure Japanese company."
At Woven by Toyota, some employees say they are having trouble adjusting to the new marching orders. Innovative software isn't something that can be ordered and delivered on a strict deadline like a brake pad or a tailpipe, they say. Others say they have more confidence in their ability to get projects to market now that Toyota has stepped in.
Woven's chief operating officer, Sinead Kaiya, a longtime software-industry executive and one of the few women in the executive ranks, recently left the company. A few months ago, employees at Woven started a union to respond to what some call unease about the company's direction, among other issues.
Absmeier, Woven's CTO, said he believes the unit maintains the right elements of startup culture, while now "being in lockstep and full alignment with Toyota."
Toyota, like the industry in general, "has stumbled over time to try to change," Absmeier said. He said the company has the foundation and road map for its software and "now it's execution and bringing it to scale."
Under Daisuke Toyoda's supervision, construction of the first area of Toyota's Woven City is due for completion next year, and Woven is currently recruiting potential residents.
In late September, Woven held a farewell party for Kuffner at its headquarters in Tokyo. Employees gathered near the company's sprawling canteen area and executives including Absmeier, Kon and Daisuke Toyoda gave remarks thanking Kuffner for his work.
Woven's new CEO, Kumabe, who had worked with Kuffner on software-development projects in the past, said his intention wasn't to abandon the previous chief's visions but to turn them into reality.
Kuffner looked tired, people at the event said. During his turn to speak he choked up, saying he was thankful for the experience and would miss his former colleagues in his new role. Another thing the American executive said he would miss: the amount of hair he used to have before taking the job.