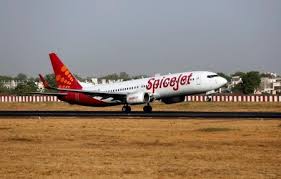 SpiceJet in provisional deal for 40 Boeing 737 MAX 10 jets
NEW DELHI/PARIS Indian low-cost carrier SpiceJet signed a provisional deal on Monday to buy 40 of Boeing's newly launched 737 MAX 10 jets, becoming an inaugural customer of an aircraft designed to blunt strong sales of rival planemaker Airbus' A321neo.
The agreement, valued at $ 4.7 billion at current list prices, includes a new order for 20 planes and a conversion of 20 of SpiceJet's 737 MAX 8 aircraft from an existing order, the companies said at the Paris Airshow.
SpiceJet chairman Ajay Singh said the 190-230-seat aircraft was right for India's growth, the fastest in global aviation.
"As happens in many countries growing at the pace at which India is growing, many airports are running out of capacity and for those airports this is a perfect aircraft," he told a news conference.
Asia, especially India, is a key market for planemakers, with analysts expecting Indian passenger numbers to more than triple over the next 20 years as millions more people become wealthy enough to fly for the first time.
SpiceJet, which was briefly forced to ground its fleet in late 2014 when it ran out of cash, is the fourth-largest Indian airline behind InterGlobe Aviation's IndiGo, Jet Airways and state-run Air India.
It operates a fleet of 35 Boeing 737s and 20 Bombardier Q400s, agreed in January to acquire 100 new MAX 737 aircraft as part of its expansion plans in the world's fastest growing aviation market.
The budget carrier plans to grow its operational fleet to 200 airplanes by the end of the decade and expand regionally with the new 737 MAX family of airplanes. SpiceJet will take delivery of its first 737 MAX in 2018.