Biden, McCarthy Attempt to Revive Budget Talks as Debt Default Looms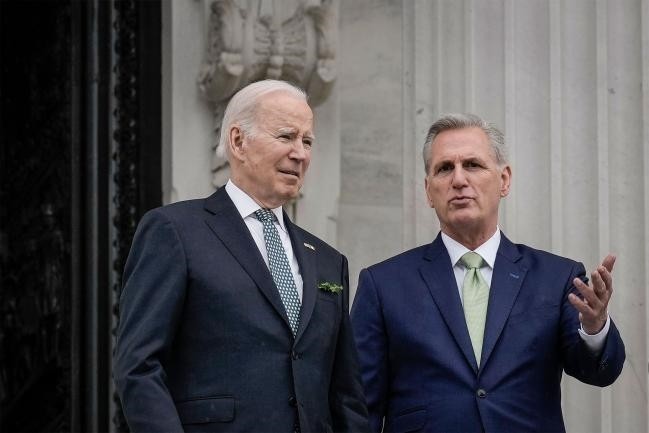 President Biden and House Speaker Kevin McCarthy agreed to meet Monday afternoon in a last-ditch effort to reach a deal to avoid a default on U.S. sovereign debt after negotiations to raise the federal borrowing limit reached an impasse. Talks between White House and House Republican negotiators largely ground to a halt this weekend, with both sides blaming the other for a failure to bridge their differences over spending levels.
Following a Sunday afternoon phone call with the president, McCarthy said negotiators remained far apart. "There's no agreement," the California Republican said. The two leaders instructed their teams to resume talks, and on Sunday night the negotiators huddled on Capitol Hill for roughly 2½ hours. Steve Ricchetti, a senior Biden adviser, told reporters after the meeting that the negotiators would keep talking.
Earlier Sunday, during a news conference in Japan on the sidelines of the Group of Seven summit, Biden took a sharper tone on budget negotiations, saying that House Republicans have taken "extreme positions." He added that their current proposal is "unacceptable."
"It's time for Republicans to accept that there is no bipartisan deal to be made solely—solely—on their partisan terms," Biden said before boarding Air Force One for the return trip to Washington. "They have to move as well." The president's tough words were a departure from the upbeat posture he has taken in recent days and more in line with some of the statements issued by White House officials who have been warning that talks are breaking down.
At the core of the stalemate are fundamental disagreements about spending levels, according to lawmakers, aides and White House officials. Republicans are pressing for deeper reductions than Democrats will accept. "I do not think it's extreme that we simply say we should spend less than we spent this year," McCarthy said Sunday on Fox News.
On Sunday, McCarthy said spending in the upcoming fiscal year must be lower than it was last year. But he stopped short of saying such spending should be reduced to levels set in fiscal year 2022, as Republicans have previously demanded. That stance could signal some wiggle room in the discussions. "The speaker has been very clear: a red line is spending less money and unless and until we're there the rest of it is really irrelevant," said Rep. Garret Graves (R., La.), one of the Republican negotiators.
The duration of spending caps is also still being negotiated. House Republicans have asked for caps on spending increases to over 10 years. The White House has proposed two years of caps. "That's all still in play," McCarthy said. House Speaker Kevin McCarthy said he had a productive telephone call with the president. Photo: Shawn Thew/Shutterstock
People familiar with the White House's position said its latest proposal kept nondefense and defense discretionary spending flat from fiscal 2023 to fiscal 2024. McCarthy said the White House had sought to increase spending in fiscal 2024, an assertion White House officials reject. The White House has privately accused Republicans of expanding their demands during the negotiations, according to people familiar with the matter, complicating efforts to reach a deal.
The people said GOP negotiators had proposed a new measure to tighten work requirements for food stamps that hadn't previously been a part of the negotiations and pushed for, including parts of the Republican-backed immigration bill that passed the House earlier this month. Republicans have also proposed cutting funding to the Internal Revenue Service as part of any final deal, the people said. McCarthy's office didn't immediately respond to a request for comment on what negotiators had proposed in the talks. But McCarthy, in remarks to reporters, was noncommittal on whether immigration provisions should be included in the final agreement.
Leaders in Washington are rushing to come up with a deal to lift the country's borrowing limit. If they are unable to do so, the country might be unable to pay all of its bills as soon as June 1, according to an assessment by the U.S. Treasury Department. Appearing Sunday on NBC, Treasury Secretary Janet Yellen said the "odds of reaching June 15th, while being able to pay all of our bills, is quite low."
Economists say that failure to lift the debt ceiling, and a subsequent default, would tip the economy into a recession. Moody's Analytics predicts that a default would cost more than seven million jobs and cause the unemployment rate to move above 8%. The ratings company also predicts that the stock market would lose a fifth of its value. Republicans said negotiations progressed in the middle of last week, giving hope that both sides understood where the other was coming from. Then talks broke down Friday.
Biden, during the news conference earlier Sunday, said that a sticking point was taxes, noting that he is frustrated that Republicans want to close the deficit solely via cuts in spending and aren't entertaining any new revenue sources such as rolling back the tax cuts approved under former President Donald Trump. But McCarthy said the president had long been aware that Republicans won't agree to tax increases. "That's been off the table for a long time," he said. Biden reiterated Sunday that his team has been examining whether he can circumvent Congress altogether by issuing debt under the 14th Amendment, a Reconstruction-era addition to the Constitution that says the "validity" of U.S. debt "shall not be questioned."
"I think we have the authority" to issue debt under the 14th Amendment, Biden said but added that he doesn't believe there is enough time between now and a possible default date to fully resolve the likely legal challenges that would arise if he invoked it. "The question is could it be done and invoked in time," Biden said.
Texas Republican Sen. Ted Cruz, appearing on Fox News Sunday, addressed the 14th Amendment argument, saying that invoking it would be "legally frivolous."
"Joe Biden can ensure that we don't default on the debt," Cruz said. "He has ample authority to do that and to do that right now, by saying we're going to pay the interest on the debt."