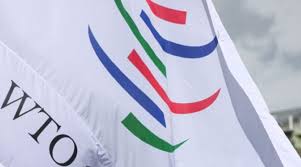 WTO chief says U.S. wants reform in trade body, has raised concerns
The United States has raised concerns about the functioning of the World Trade Organisation and asked for reforms, WTO Director General Roberto Azevedo said on Monday, as global trade tensions increased.
Azevedo, who is attending a two-day informal meeting of about 50 WTO members in New Delhi, told reporters that the global trade environment was quite risky and the trade body had sought an "open and honest" conversation with its members.
"This is a moment we are facing many challenges inside and outside WTO," he said.
The meeting is the first time WTO members have gathered since President Donald Trump's announcement last week of a 25 percent tariff on U.S. imports of steel and 10 percent on aluminum.
Two senior Indian trade ministry officials said a group of WTO members including China, Japan, India and South Korea are likely to protest against the U.S. decision to raise import taxes.
They, however, said the final stance would be known only after discussions on Tuesday.
Indian Trade Minister Suresh Prabhu has said he hopes the meeting, which is also attended by Deputy United States Trade Representative Dennis Shea, could push the multilateral process forward after talks in Buenos Aires last December failed amid fears of a trade war.
Azevedo said Washington maintained that global trade had changed since the WTO, which deals with the global rules of trade between nations, was set up in 1995.
"The U.S. wants some upgrade and reforms (in the WTO) and the conversations with the U.S. are going on," he said.
Even though the United States has declined to declare the steel and aluminum tariffs at the WTO, they can still come under its jurisdiction if countries affected raise complaints.
New Delhi is worried that a direct confrontation with the Trump administration could impact the interest of software exports to the United States, estimated at nearly 60 percent of India's $ 110 billion annual software exports.
Some local industries have suggested the government seek an exemption alongside other U.S. allies instead of raising complaints with the WTO.
India's steel and aluminum exports to the United States amount to about $ 1.5 billion and account for about 2 percent of that country's total steel and aluminum imports.
Meanwhile, Washington has raised complaints at WTO against India's export subsidies, estimated at $ 7 billion a year, which it claims flout multilateral trading rules.