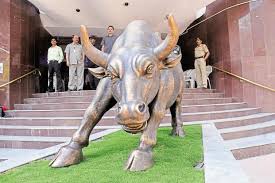 Market Live: Midcaps extend losses, Nifty below 10,200; OMCs, IT, metals, banks drag
12:20 pm Order Win: Esskay Fincorp, a leading non-banking financial company (NBFC) in India has selected FinnOne Neo Cloud, Nucleus Software's cloud based lending solution.
The company will implement this solution to support the end-to-end digitization of their lending business.
12:10 pm Lok Sabha Disruption: The Lok Sabha proceedings were disrupted for the 11th day today as the TDP, YSR Congress, TRS and AIADMK continued their noisy protests over various issues, including the banking scam and special status for Andhra Pradesh.
11:55 am Drug Approval: Pharma major Lupin has received final approval for its Desoximetasone Topical spray, 0.25 percent, 30 ml, 50 ml, and 100 ml from the United States Food and Drug Administration (FDA) to market.
Desoximetasone is a generic version of Taro Pharmaceuticals USAInc.'s Topicort Topical Spray, 0.25 percent.
It is a corticosteroid indicated for the treatment of plaque psoriasis in patients 18 years of age or older.
11:45 am Market Update: The market continued to trade lower, with the Sensex falling around 100 points, weighed by oil marketing companies, technology, metals and banks stocks.
Midcaps underperformed frontliners, with the Nifty Midcap index declining more than 1 percent on weak market breadth.
Three shares declined for every share rising on the BSE.
11:40 am Rajya Sabha Disruption: Rajya Sabha was adjourned
for the day without transacting any business after parties from Tamil Nadu and Andhra Pradesh disrupted proceedings over their state specific demands.
Andhra parties led by the TDP, and KVP Ramachandra Rao of the Congress trooped in the Well shouting slogans for special status for the state while Tamil Nadu parties – DMK and AIADMK- raised the Cauvery water issue.
Chairman M Venkaiah Naidu repeatedly asked members to allow the House to function and called for taking up listed zero hour mentions of issues of public importance.
But with members refusing to budge from their positions in the Well, he adjourned the House till tomorrow within 10 minutes of the commence of proceedings.
11:35 am CLSA on Ramco Cements: Global brokerage house CLSA has upgraded Ramco Cements to buy from sell rating and also raised target to Rs 930 from Rs 700 per share as it has upgraded FY19-20 EPS estimate by 3-6 percent.
Ramco is a top pick in the cement sector as channel checks indicate demand pick-up In Tamil Nadu, the brokerage house said.
It believes volume growth would also improve in the next 12-18 months.
The stock gained more than 2 percent intraday Monday. At 11:34 hours IST, it was trading at Rs 744.05, up Rs 2.80, or 0.38 percent on the BSE.
11:25 am BHEL in Focus: Bharat Heavy Electricals Limited (BHEL) has successfully commissioned the first 110 MW generating unit of the prestigious 330 MW Kishanganga Hydro-Electric Project (HEP) in Jammu & Kashmir (J&K), being developed by NHPC Ltd.
Located on the river Kishanganga, a tributary of the river Jhelum, in Bandipora district of J&K, the three units of Kishanganga HEP on being commissioned, will be able to generate 1,350 Million Units (MU) of clean electricity annually.
The balance two units are also in advanced stages of commissioning.
11:10 am Market Update: Benchmark indices continued to trade lower, with the Nifty breaking 200-DMA, weighed by oil marketing companies, technology, metals and banks stocks.
The 30-share BSE Sensex was down 71.18 points at 33,104.82 and the 50-share NSE Nifty fell 35.60 points to 10,159.60.
About three shares declined for every share rising on the BSE.
Here are the top headlines at 11 am from Moneycontrol News' Sakshi Batra
10:55 am Crude Oil Update: Oil prices fell as rising drilling activity in the United States pointed to further increases in output, raising concerns about a return of oversupply.
US West Texas Intermediate (WTI) crude futures were at USD 62 a barrel, down 34 cents, or 0.55 percent, from their previous close.
Brent crude futures were at USD 65.85 per barrel, down 36 cents, or 0.54 percent.
Monday's price falls in part reversed increases last Friday, which came on the back of concerns over rising tension in the Middle East.
10:45 am Order Win: Suzlon Group, India's largest renewable energy solutions provider, announced that it has won two projects of 300 MW and 200 MW each for development of wind power projects.
Suzlon will install 238 units of S111 140m wind turbine generators (WTGs) with rated capacity of 2.1 MW each. The project will be located at Kutch district in Gujarat.
Suzlon will execute both the projects on a turnkey basis and will also provide comprehensive operation and maintenance services.
10:35 am Market Update: The market continued to trade mildly lower amid volatility, with the Nifty struggling below 10,200 levels.
Midcaps underperformed frontliners, with the Nifty Midcap index falling 1 percent.
All sectoral indices turned negative, with PSU Bank, Metal and Realty indices falling more than 1 percent.
The 30-share BSE Sensex was down 56.90 points at 33,119.10 and the 50-share NSE Nifty fell 25.70 points to 10,169.50.
About three shares declined for every share rising on the BSE.
10:28 am Order Win: IRB Infrastructure informed exchanges that the company has emerged as a preferred bidder for a Hybrid Annuity Project under NHDP Phase VI in the state of Gujarat.
With addition of these projects, the company's construction orderbook stands to approximately Rs 12,000 crore to be executed in three years.
10:15 am Stake Buy: State-owned Indian Oil Corporation (IOC) and Bharat Petroleum Corporation Ltd (BPCL) may buy 26 percent stake each in gas utility GAIL India Ltd, paying the government over Rs 20,000 crore each to become integrated energy firms.
Following Finance Minister Arun Jaitley's February 2017 Budget announcement of creating integrated oil majors, IOC and BPCL had submitted separate proposals to buy the government's 54.89 percent stake in India's biggest gas marketing and transportation firm, GAIL.
A top source said since the government is not looking at actual merger of oil companies but only transfer of its ownership to a cash rich PSU, the best option would be to split the 54.89 percent holding in GAIL equally between IOC and BPCL.
At Friday's closing price of Rs 440.85 a share for GAIL on BSE, the stake is worth close to Rs 41,000 crore.
Here are the top headlines at 10 am from Moneycontrol News' Anchal Pathak
10:00 am NBCC in Focus: Diversifying into road construction, state-owned NBCC (India) said, it has bagged a contract to build Rs 2,000 crore road project in Uttarakhand.
"NBCC (India) Ltd., the navratna CPSE under Ministry of Housing and Urban Affairs, added yet another aspect to its expanding business by diversifying into the Road construction space," the company said in a statement.
It said a Memorandum of Understanding (MoU) was signed between NBCC Executive Director (Engg) Yogesh JP Sharma and Ecotourism Development Corporation of Uttarakhand Ltd (EDCUL) Managing Director Anup Malik to construct an eco-tourism circuit along Kotdwar-Ramnagar Kandi road.
The 50-km four-lane highway road project– estimated to cost Rs 2,000 crore– will be developed under Green Infrastructure/Green Road Model.
9:50 am Rupee Update: The rupee depreciated by 9 paise against the US dollar to 65.03 against as the greenback firmed up ahead of US Federal Reserve's policy meet this week.
A strong dollar and sustained foreign fund outflow weighed on the domestic unit amid rising current account deficit in the December quarter, a currency dealer said.
The current account deficit rose to 2 percent of the GDP at USD 13.5 billion in the December quarter, up from USD 8 billion or 1.4 percent in the year-ago period, on the back of higher trade deficit, RBI data showed.
On Friday, the rupee had ended 1 paisa lower at 64.94 against the US dollar.
9:40 am FII View: Laurence Balanco of CLSA said support provided by the 200-DMA and the December lows at the 10,036-10,168 area remains critical to sustain the uptrend.
Last week's test and rebound off this support zone reinforces the significance of this support zone and maintains the current uptrend, he added.
On the upside, initial resistance is provided by the 50-DMA and 27 February high at 10,608-10,639. From a long-term perspective, April 2017's breakout from the 2015-2017 consolidation pattern supports an upside target around the 12,000 area.
9:32 am Buzzing: IOC shares fell for fourth consecutive session, losing another 2 percent, taking total four-day loss to more than 11 percent.
9:28 am Market Update: Benchmark indices erased opening gains amid volatility and mixed Asian cues.
The 30-share BSE Sensex was down 49.62 points at 33,126.38 and the 50-share NSE Nifty was down 16.70 points at 10,178.50.
9:20 am Technical Outlook: Traders are advised to stay cautious as the possibility of Nifty slipping its crucial support level of 10,000 looks higher. In the event of a fresh sell-off for the current week in the wake of US Fed policy, strong support is placed around 10,141 levels which was recorded on March 7, suggest experts.
"As a chartist, if we look at the daily chart, this corrective move is not at all surprising. We could clearly see some relief move retesting breakdown points and a couple of key moving averages placed in the vicinity of 10,420 – 10,460 and then a resumption of a downward trajectory in the latter half," Sameet Chavan- Chief Analyst, Technicals and Derivatives at Angel Broking told Moneycontrol.
"The weekly time frame charts turned negative recently and are clearly proving their significance. Now, traders would keep a close eye on recent swing low of 10,141 as a slide be-low this crucial junction would reinforce the selling pressure in the market," he said.
Chavan advises traders not to make any kind of bottom fishing soon and should trade with a proper exit strategy. "For the coming week, 10,260 – 10,350 would now be seen as strong hurdles. Any possible move towards these levels is likely to get sold into," he said.
9:15 am Market Check: Benchmark indices opened the week mildly higher amid volatility and mixed Asian cues on Monday. Political uncertainty after TDP exit from NDA government last week seems digested by the market.
The 30-share BSE Sensex was up 60.89 points at 33,236.89 and the 50-share NSE Nifty was up 21.40 points at 10,216.60.
Vedanta, Aurobindo Pharma, Dr Reddy's Labs, Cipla, Sun Pharma, GAIL, Yes Bank and HUL were early gainers.
HPCL, BPCL, IOC, Hero Motocorp, Axis Bank and Tech Mahindra were early losers
Nifty Midcap was up 42 points.
HEG, Graphite India, NBCC, PNC Infratech, Sadbhav Infra, Ashoka Buildcon, United Bank, GMR Infrastructure, Syndicate Bank, Union Bank, PNB, IRB Infrastructure, Ramco Cements and Vakrangee gained up to 10 percent while SAIL and NMDC were under pressure.