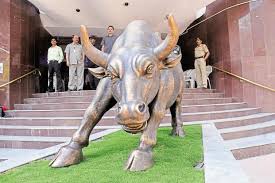 Market Live: Midcaps continue to outperform Sensex; MMTC shares rally 19%
12:15 pm Buzzing: Fertiliser stocks rallied up to 10 percent after the government approved a proposal to extend urea subsidy till 2020.
Nagarjuna Fertilizers, Madras Fertilizers, National Fertilizers, RCF, Zuari Agro, FACT and Coromandel International gained 3-10 percent.
The government on Wednesday also approved implementation of direct benefit transfer (DBT) for disbursement of fertiliser subsidy.
Urea is made available to farmers at a statutorily controlled price of Rs 5,360 per tonne. The difference between the delivered cost of the fertiliser at farm gate and MRP is given as subsidy to manufacturers.
Urea subsidy is projected to be Rs 45,000 crore for the 2018-19 fiscal, as against Rs 42,748 crore for this year.
"The continuation of the urea subsidy scheme will ensure adequate quantity of urea is made available to the farmers at statutory controlled price," an official release said after the meeting of Cabinet Committee on Economic Affairs (CCEA).
12:05 pm IPO Subscription: The initial public offer of defence company Bharat Dynamics was subscribed 54 percent on the third day of bidding today.
The IPO to raise Rs 960 crore received bids for 1,20,23,830 shares against the total issue size of 2,24,51,953 shares, as per data available with the NSE.
The IPO is of up to 22,451,953 equity shares and the price band for the offer has been fixed at Rs 413-428 per share.
11:55 am Market Update: The market continued to trade mildly lower amid volatility, with the Nifty struggling below 10,400 levels, weighed by index heavyweights ICICI Bank, Reliance Industries and HDFC.
But midcaps maintained outperformance against frontliners as the Nifty Midcap was up half a percent.
MMTC shares were up 19 percent as the board will consider bonus share issue next week.
11:40 am Buzzing: MMTC shares rallied nearly 19 percent intraday ahead of board meeting to consider bonus share issue next week
The state-owned trading company informed exchanges that the board of directors will consider and approve the proposal for issue of bonus shares subject to consent of the President of India, in its meeting to be held on March 19, 2018.
The company said the competent authority has approved for closure of the trading window for the above purpose with immediate effect i.e. from March 14 to March 21, 2018 (both days inclusive).
11:28 am Appointment: Praj Industries said it has appointed Shishir Joshipura as Chief Executive Officer and Managing Director of the company for a period of five years with effect from April 2, 2018, subject to approval of shareholders of the company at forthcoming General Meeting.
11:20 am Market Update: Benchmark indices traded lower amid tepid global cues, with the Nifty struggling below the 10,400 levels.
IOC, Reliance Industries, ICICI Bank, Yes Bank, HDFC, ITC, TCS and SBI were leading contributors to the Nifty fall whereas HDFC Bank continued to support the market.
The 30-share BSE Sensex was down 83.61 points at 33,752.13 and the 50-share NSE Nifty fell 30.60 points to 10,380.30 while the Nifty Midcap index gained half a percent.
About two shares advanced for every share falling on the BSE.
11:10 am Buzzing: Shares of Steel Strips Wheels (SSWL) rose 3.5 percent on the back of bagging export order.
The company bagged yet another big exports order for supply of steel wheels for EU Caravan market.
The order includes approximately 1,00,000 steel wheels to be shipped from company's Chennai plant from May 2018 onwards until period of 5 months.
The company is on the verge of receiving similar export orders with another European customers in next future.
Here are the top headlines at 11 am from Moneycontrol News' Sakshi Batra
10:55 am Market Outlook: While the equity market had a dream run in 2017, trends on D-Street so far this year may not make investors happy. Benchmark indices have given flat to negative returns and experts believe there could be more in store.
"Risk factors such as more assertive US on trade barriers along with rising interest rates are couple of risk factors. So, the overall situation could be volatile," Mihir Vora, Director & CIO, Max Life Insurance told CNBC-TV18 in an interview.
Stressing on the low base effect of demonetisation and GST rollout, Vora said it needs to be seen whether earnings will sustain post October-November period. A fresh call on the same could be taken after that period, he added.
10:40 am India's Growth Forecast: Fitch projected India's economic growth to rise to 7.3 per cent next fiscal and further to 7.5 percent in 2019-20.
In its Global Economic Outlook report, the US-based agency forecast Indian economy to clock a growth rate of 6.5 percent this fiscal, a tad lower than official estimates by the Central Statistics Office (CSO) of 6.6 percent. The economy grew 7.1 percent in 2016-17.
According to Fitch, the pick up in growth is likely as "the influence of one-off policy-related factor which was dragging growth has now waned."
It said the money supply recovered to its pre-demonetisation level in mid-2017 and is now increasing steadily, similar to the previous trend.
Also, disruptions related to rollout of the goods and services tax (GST) in July 2017 have gradually diminished.
Showing signs of recovery, the Indian economy hit a five-quarter high of 7.2 percent in the October-December period on good show in key sectors like agriculture, construction and manufacturing.
10:24 am Fertiliser stocks rally:
10:20 am Market Update: Benchmark indices recovered opening losses, with the Nifty trading above 10,400 levels, supported by HDFC Bank, Tata Motors and ITC.
Midcaps extended gains, continuing to outperform frontliners. The Nifty Midcap index was up 0.8 percent on positive market breadth.
About two shares advanced for every share falling on the BSE.
10:15 am Goa Mining Crisis: The five-decade-old mining industry in Goa is staring at another bout of uncertainty as the Supreme Court order on closure of iron ore extraction activity in the state comes into effect tonight.
Goa agriculture minister Vijai Sardesai had yesterday said that the state would face the "biggest" crisis from tomorrow, when the mining ban comes into force.
The mining and tourism industries are the key revenue earners for the coastal state.
A cabinet committee had yesterday decided to urge Chief Minister Manohar Parrikar, currently in the US for medical treatment, to file a review petition in the apex court as a last-ditch effort to save the industry and its stakeholders.
The state government fears that the sudden stoppage of extraction of fresh ore would result in two lakh people, working at mining sites on different assignments, losing their jobs.
10:10 am IPO Opens: Kolkata-based Bandhan Bank has opened its initial public offer for subscription.
The initial public offer of up to 11,92,80,494 equity shares will open for subscription on March 15. The price band is fixed at Rs 370-375 per share.
The offer consists of fresh issue of up to 9,76,63,910 shares, an offer for sale of up to 1,40,50,780 equity shares by IFC and up to 75,65,804 equity shares by IFC FIG.
The private sector lender is expected to raise Rs 4,413.4 crore – Rs 4,473 crore at lower and upper end of price band, respectively.
The company has already garnered Rs 1,341.9 crore through anchor investors' portion on Wednesday.
Here are the top headlines at 10 am from Moneycontrol News' Anchal Pathak
10:05 am Buzzing: Indian Oil Corporation shares fell nearly 5 percent intraday after the stock adjusted for bonus share issue.
The state-owned oil marketing company, on January 30, recommended issue of bonus shares in the ratio of 1:1 i.e. one new equity bonus share of Rs 10 each for every one existing equity share of Rs 10 each fully paid up.
The record date for the purpose of ascertaining the eligibility of shareholders for issuance of bonus shares has been fixed as March 17, 2018.
9:55 am Rupee Trade: The rupee depreciated 9 paise to 64.92 against the US dollar on fresh demand for the greenback from importers and banks.
Also, foreign capital outflows amid a lower opening in the equity market weighed on the domestic units.
However, weakness in the US dollar against select currencies on lingering worries of a global trade war limited the fall in rupee, dealers said.
Yesterday, it had ended higher by 6 paise at 64.83 against the dollar as the American unit weakened against major currencies following US inflation data and Secretary of State Rex Tillerson's exit.
9:45 am Market Update: The market continued to trade mildly lower amid global weakness, with the Nifty hovering around 10,400 levels.
Midcaps outperformed frontliners, with the Nifty Midcap index rising 0.3 percent.
9:37 am Buzzing: Share price of Havells India rose 1.5 percent as the company signed an agreement with South Korean firm.
The company signed an agreement with South Korean major Hyundai Electric & Energy Systems Co. for manufacturing of magnetic contactor.
Under the agreement, Hyundai Electric will provide technology know-how and grant a license to manufacture and market magnetic contactors under Havells brand.
Ameet Gupta, Whole Time Director, Havells India said, "This strategic alliance is in sync with the government Make in India initiative as it will not only fortify Havells position as a strong manufacturing base for global procurement but will also reinforce the company's commitment to manufacture quality acclaimed products."
The share gained 23 percent in last 1 year.
9:28 am Banking Fraud widens: Country's second largest public sector lender Punjab National Bank has detected another case of Letter of Undertakings (LoU) fraud in its Brady House branch in Mumbai, according to CNBC-TV18 quoting sources.
The state-owned bank has field complaint with Central Bureau of Investigation for a fraud of Rs 9 crore against Chandri Papers and Allied Products.
Both PNB employees named in Nirav Modi scam are part of the complaint, which are Gokulnath Shetty & Hemant Kharat.
Two LoUs in April 2017 were issued by PNB to Chandri Papers worth Rs 9 crore, sources said.
The fraud was much lower compared to Nirav Modi and Mehul Choksi scam worth Rs 13,600 crore.
9:21 am Commissioning of project: Suzlon Group, India's largest renewable energy solutions provider, announced that it has completed the commissioning of 340 MW solar power turnkey projects across sites in the state of Telangana (210 MW), Rajasthan (60MW) and Maharashtra (70MW).
The projects have been executed over a period of time, concluding in Q4 FY18.
With the commissioning of the 340 MW Suzlon has completed delivery of its entire solar order book.
The projects have been executed by combination of joint ventures or formation of Special Purpose vehicles (SPVs) with various partners.
9:15 am Market Check: Benchmark indices opened mildly lower, with the Nifty hovering around 10,400 levels, following negative lead from global peers.
The 30-share BSE Sensex was down 54.89 points at 33,780.85 and the 50-share NSE Nifty fell 11.60 points to 10,399.30.
HCL Technologies, Wipro, Tech Mahindra, TCS, Dr Reddy's Labs, Vedanta, Aurobindo Pharma and M&M were gainers in opening.
Nifty Midcap index was up 53 points.
Nagarjuna Fertilizers, RCF, FACT, Zuari Agro, GSFC, Himadri Chemicals, Oberoi Realty and Venky's rallied up to 4 percent.
HDIL, Jaiprakash Associates, Ashok Leyland and GMR Infrastructure were under pressure.
Asian markets edged lower, with regional stock indexes recording slight losses after Wall Street declined amid concerns over heightened trade tensions.
The Dow Jones industrial average fell as Boeing shares pulled back on worries the US could engage China in a trade war. The 30-stock index lost 248.91 points at 24,758.12.